October 4, 2021
---
Features to build Best On-Demand Tailor Solution.
What will give you more joy than finding fitted clothes? But to live this joy, one needs to put much effort into finding a good fabric, tailor, and do multiple trials for the final fitting. Indeed, the process is exhausting. With time, the demand for custom clothing is increasing. Now, everyone is looking for clothes that complement their body.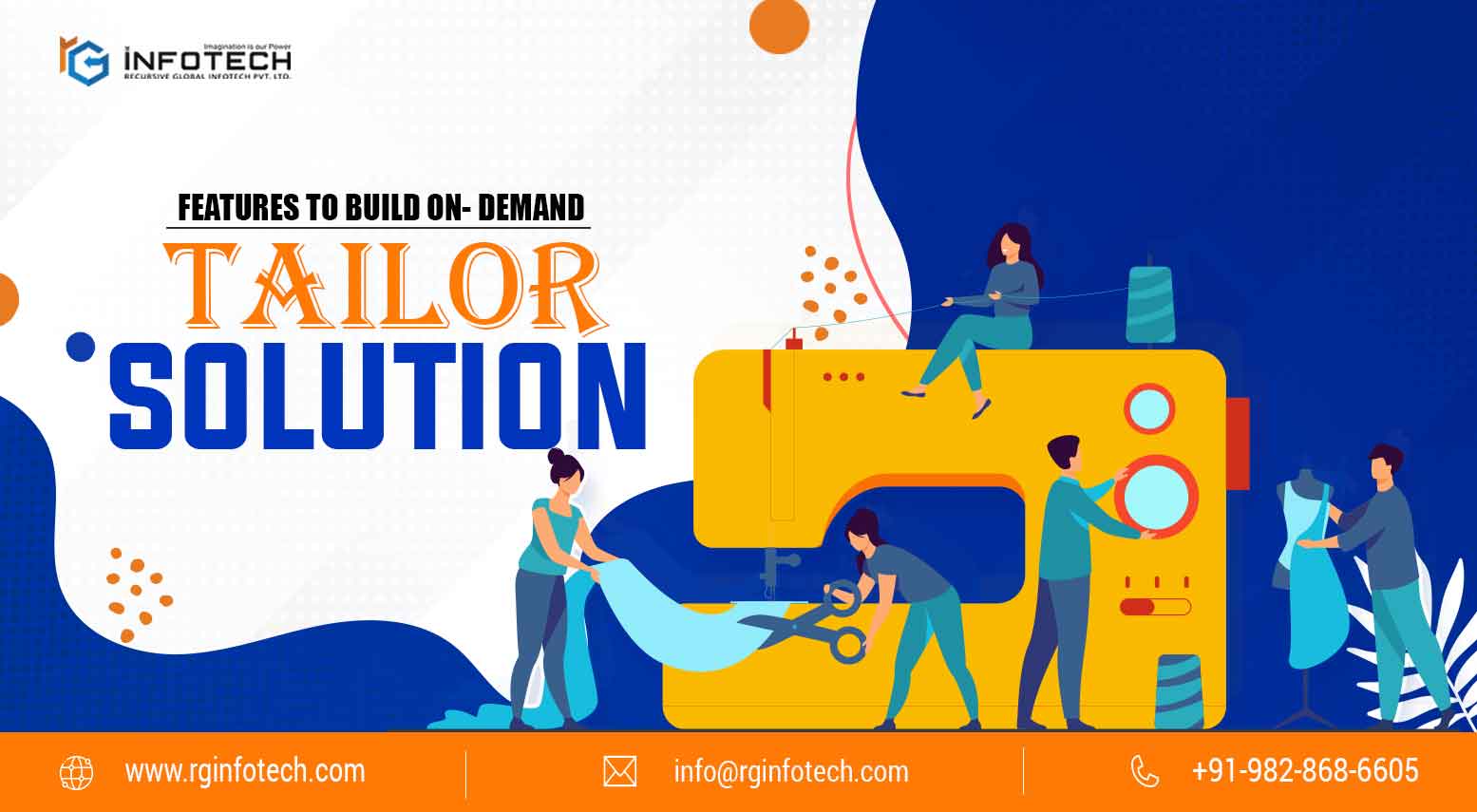 Are you planning to start your own custom tailoring business? RG Infotech is offering the best on-demand tailor solution to provide a rich personalized experience with zero complications.
First, think about the business model of your online tailor business. The customers will be expecting customized clothes of their size like shirts, blazers, pants, suits, etc. You must have an online tailor blueprint in your mind.
If you have no idea, contact RG Infotech, they are professional app and web developers. They will provide you on-demand tailor solutions and also assist you with the development.
Profile Creation and Login
Keep the login procedure short. Offer multiple signup options like using mail id, phone number, or directly from social media. You can also allow users to use the few features of your on-demand tailor solution before signup. For example: without signup, you can allow users to check fabric and designs. For measurement, signup will be required. Attract users by offering few features without login.
Your custom clothing solution must have a neat and easy-to-use interface. Make all the features and landing pages easy to navigate. The user interface is responsible for user experience and decides whether the customer will visit your website again and again.
Offer multiple features and options to let your customer customize their whole clothing. Offer them features like the type of fabric, apparel type, styling, etc.
Guide for measurement
A measurement guide is the must-have feature of any online tailoring business. Include standard measurements and also manual options to enter their size. Always show a pop-up of the image to define the measurement and also attach a list of different measurements.
Style Guides
An online tailor business must have a guide or catalog kind of thing on their website. Show all types of clothes that you will be tailoring. Providing a catalog with a high-resolution picture will make your users' favorite.
Video Guides
You can add small videos about your product and the type of designs on your website.
Make sure you are integrating multiple payment methods in your on-demand tailor solution. Incorporate third-party payment gateway, allow credit/debit card, built-in web or app wallet. The payment process should be effortless as it is the last method of placing an order.
Integrate order tracking feature in your online tailor solution. Tracking the live location of placed orders will build trust among users for your services.
Benefits of Online Tailor Solution!
Along with every business going digital, why not a tailoring solution? People have already started using online tailors to get customized clothes. It is a golden opportunity to expand your tailor business.
The digitalization of your tailoring business will reduce the expenses of traditional marketing. Via digital and social media marketing you can target a larger audience. Your investment in the business will be less and ROI will be more.
A business person can reach out to potential customers across the globe through digital marketing.
You can showcase all your work and services via video and images or make a catalog. The presence of samples will give an idea to the customer about the services you are providing.
Digitalization will help you in targeting customers all over the world. The offline business limits the demographic due to the geographic location. But online business breaks all kinds of barriers to provide the best services.
As everything is digitalized, there is less investment in resources. Buy on-demand tailor solutions from RGI and expand your tailoring business.
The online on-demand tailor solution also eases the process of taking the measurement, showing multiple designs, providing the details of fabric, etc. The AI saves your time in giving all the mini details to the customer.
For tailor business owners, the on-demand solution helps to keep the track of all the placed orders in one place. If any customer is repeating their order, the on-demand tailor solution providers can go to the order history and can easily repeat the order without wasting any minute.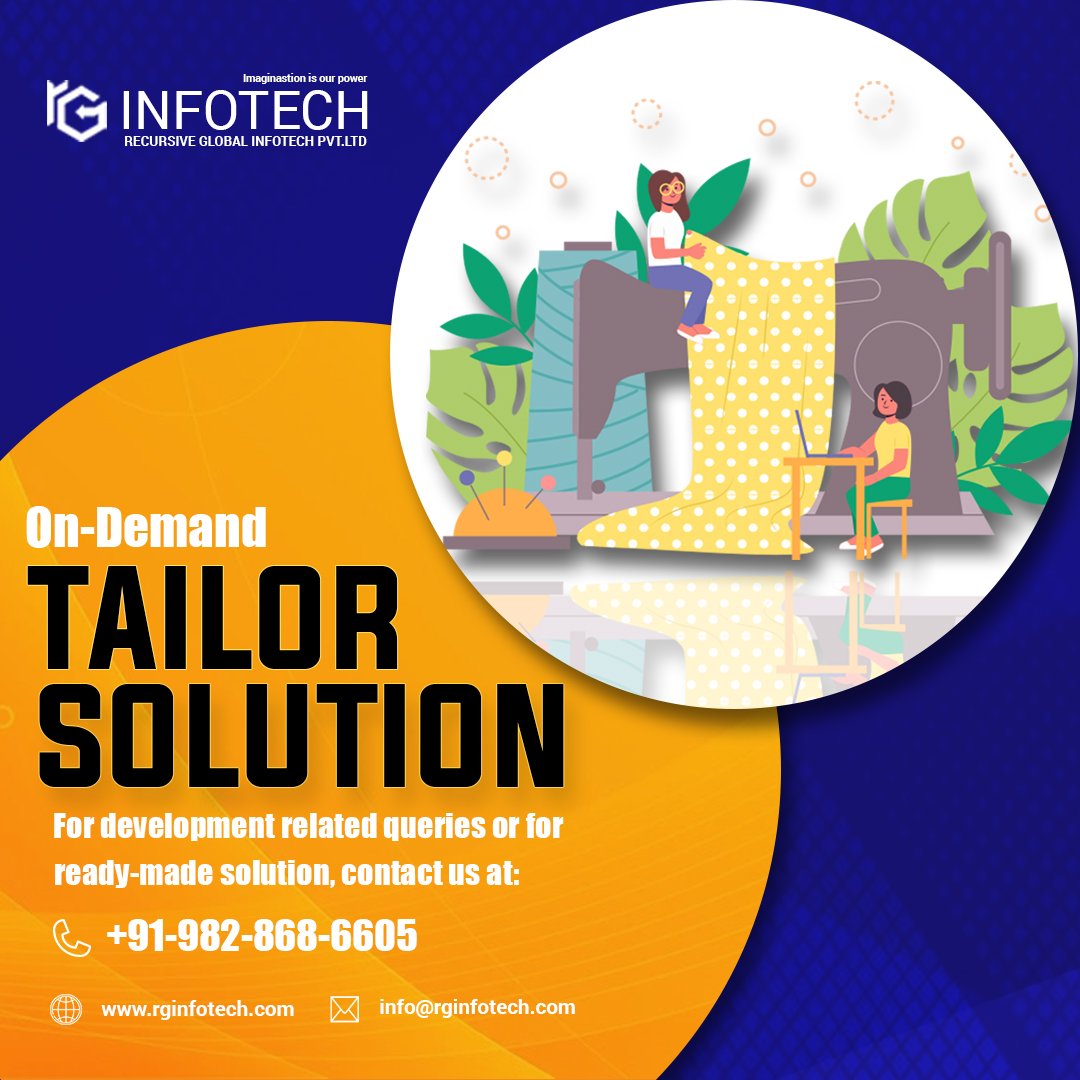 Online Tailoring is slow due to the growing trend of customized and fit clothing. Turning your offline tailor shop into an online business or starting an online tailoring business, both are great choices.
You can either get the online website/application or purchase the on-demand solution from RG Infotech. The On-Demand Tailor Solution will be better for all, as it will already have the basic features required for any tailoring business.
To know more about On-Demand Solutions, keep reading: