August 18, 2021
---
Real Sports to Fantasy Sports – Changes that make it a billion-dollar industry.
In the last few years, the sports industry has grown too much. Now, it is not limited to watching live matches from the comfort of your couch, moreover, sports fans can participate in these matches. Fantasy Sports has become an integral part of the sports industry and generating billion-dollar revenue for the country. Pandemic has worked as a catalyst in the growth of fantasy sports in India.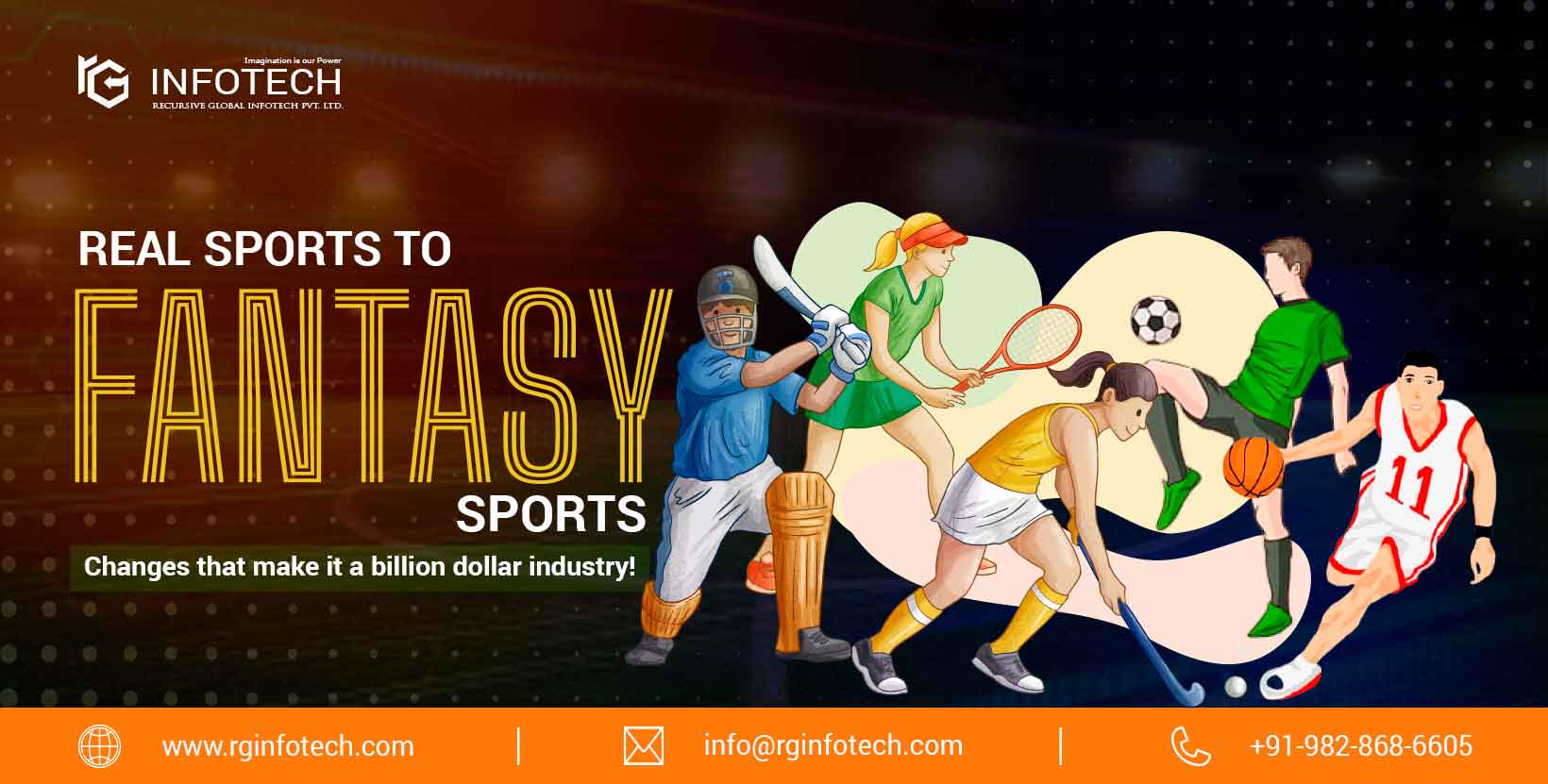 Sport is a vital part of Indian culture and we all know how people worship cricketers and treat the game as religion. In recent years the opportunities in the sports industry have increased. Mr. Sanjay Gupta MD of Star India said that the sports industry of India has the potential to grow up to $10billion in the upcoming 5-6years. Now, India has 15 domestic leagues like kabaddi, football, wrestling, boxing, etc. 
India Premier League is the most popular format worth $5.3 billion. In the past five years, Indian sports have grown to $2.7 billion from $1.3 billion. In 2018-2019, the Pro Kabaddi league attracted 1.2 billion while Premier Badminton League reached up to 200 million views. In 2019-20, the Indian Super League between the ATK and Kerala attracted the attention of 34 million viewers in the opening match. Also, the Pro Volleyball League's first match was viewed by 14.3 million viewers in 2019.
Now, the Sports Industry is not only limited to watching sports tournaments from the couch, sports fans are looking for equal opportunity to participate in their favorite game. 
Beginning of Fantasy Sports in India
Online gaming was introduced in India. 17 years ago, in 2001 with the name ESPN Super Selector. Both ESPN and Joy Bhattacharya co-created a game where the 11 cricketers are picked under a defined budget. The points were allotted based on the on-ground performance of the player. During the Cricket World Cup, 2003 in South Africa, Super Selector nearly attracted 5, 00,000 participants.
Dream 11 was launched in 2008 during the first Indian Premier League and has completely changed India's view towards Fantasy Sports.
Fantasy sports in India have grown mostly in the last few years as per the Indian Federation of Sports Gaming (IFSG) studies. Approximately 30 new fantasy operators were launched in the year between 2017-18 alone.
Fantasy Cricket continues to dominate online sports. Along with the emerging interest in football, basketball, volleyball, and baseball. According to the Fantasy Sports 2020 report conducted by FIFS-KPMG, the fantasy sports market has grown from ₹920 crores 2019 to ₹ 2,400 crores in the year 2020. The fantasy sports in India have attracted foreign investment worth ₹ 1, 500 crores between 2018-19. The respective industry paid almost ₹166 crores in GST in 2019 and almost ₹ 445 crores in 2020.
The Online Fantasy Platforms deducted tax of ₹ 250 crores in FY 2020 on the winning amount. KPMG claims that the Indian online game industry revenue will reach up to $118.8 billion in the year with a CAGR of 22.1 percent. However, fantasy sports in India are growing at a compound rate of 32% and will be worth $3.7 billion by the year 2024.
Investment Attracted by DFS.
As per Tracxn Technologies, the online gaming sector attracted 78% more investment worth $173 million in CY 2020 which was $97.1 million in CY2019. Mobile Premier League attracted investment of $90 million from the investor's Pegasus Tech Ventures, Sequoia Capital, and Times of Internet.
Investment of $40.1million in JetSynthesys by DSP Group, Triveni engineering and industries, and Jetline Group. A bunch of investors raised an equity fund of $18 million in equity funding.
Fantasy Sports App Development
A decade back there was only one fantasy sports platform for all. But now things are different. Now there are multiple fantasy sports platforms available in the market. As slowly, fantasy sports is becoming legal in a few states, people are investing in building their own Fantasy Sports Applications. The demand for fantasy sports app development services has increased in the last few years.
All the online fantasy sports operators are working to provide the best user experience. The fantasy sports owners are focusing on developing the UI along with the customized features to attract sports fans.
Many fantasy sports platforms like Vision11 and Royal11 started offering instant cash withdrawal options to build a strong relationship with their customer. Fantasy sports is a game of experience and fantasy operators are providing real live gaming experience.
The fantasy sports industry will be worth $48.07 billion by 2027 and is expected to grow by a CAGR of 12.8%. In India, the fantasy sports industry will be $ 3.7 billion in 2024. Now, almost 100 million people only view sports on these platforms, guess what if these 100 million people will start playing sports on the platform.
Fantasy sports have a bright future in India. All the fantasy operators, investors, and sports fans are eagerly waiting for all the state governments to legalize online games playing in their respective industries.
However, many people avoid playing on fantasy platforms due to the legalities issue. Hope, the government will understand the business model and give a chance for fantasy sports to grow more. The industry is already bringing huge revenue to the sports industry, and it will flourish more in the coming years.