May 2, 2019
---
Why the trend of Fantasy Sports is growing in INDIA?
India is known as the second largest online market due to its high population and the huge number of internet users, still the country has untapped potential that needs to be explored. According to the Statista, there were around 483 million internet users in 2018, which is projected to reach 666.4 million by 2023 (source).
India is also considered as one of the top five markets of mobile gaming due to the numbers of active gamers, which was 222 million in 2017 and assumed to reach 628 million by 2020. According to the stats, almost 89% revenue of mobile games generated from India.
There are a few stats that show the craze of gaming in INDIA:
Top played mobile game – "Ludo King" has crossed 10 million daily active users along with around 70 million monthly users.
Subway Surfer and Temple Run are following Ludo king with 5 and 2.5 million daily active users.
One-tenth of the world's gamers is from India.
According to the stats, the worth of the Indian gaming industry will reach to $1.1 billion (Rs7,700 crore) and the number of active gamers with crossed 628 million mark by 2020.
Leading Fantasy Cricket App – "Dream11" has 6+ crore daily active users on its platform, which was just 10 lakhs in 2014.
Trend of Fantasy Cricket in India!
India is the country, where most of the population only wants to know about cricket, Bollywood and politics, in which cricket is not just a game for them, it's a religion and everyone love to praise it. Remember the world Cup 2011, when India won that tournament, every Indian is celebrating their success and its like a festival in India.
Just after that year, in 2012, Dream11 launched their fantasy cricket platform, the one of its kind in India. Although at that time no one knew about it, but now every second person knows about that and most of them are using it in their daily routine. The company is generating around 4-6 crores of revenue in every match and contributing the highest amount in the $90 billion-dollar industry.
"With around 352.9 billion app downloads and expected number of 2.71 billion users, Fantasy Sports industry will become a $90 billion-dollar industry by this year."
Due to their craze and anticipation, Fantasy Cricket becomes a billion-dollar industry in just a few years and now having the highest number of users associated with such kind of apps. The craze of such apps doubled in major tournaments – IPL, Cricket World Cup, T20 World Cup, etc.
In India, there are around 340 million smartphone users and most of them are youth, who love to watch cricket, feel the thrill of the game and want to play with their favorite player. Even ICC, researched that there's 1+ billion cricket fans globally, in which India's contribution is 90%.
Due to such mesmerizing facts, there are more than 50+ active fantasy applications running online and moreover that, leading telecommunication giant – "Star India" embedded a fantasy platform in their live streaming app – "HOTSTAR", where users can view the live match and participate as well. That's a perfect example of user retention through implementing the trends with your own forte.
Why the trend of Fantasy Sports is growing in India?
There are several reasons behind it and most recognizable one is the growth of India as a digital leader. India is the only country, which have a higher consumption of the Internet with the lowest rate of per GB of Internet. Check out here, the cost of mobile internet around the world, researched by Forbes.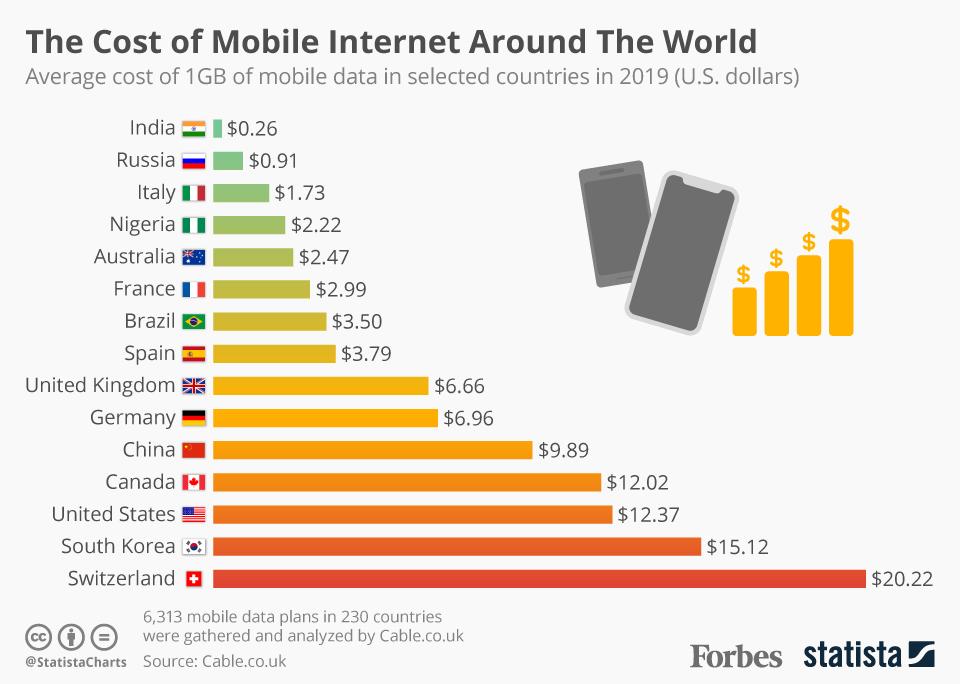 Apart from that, a few of the others are:
India is the second largest country in terms of population and active internet users.
India has the one-tenth of the world's gamers.
In India, there were around 404.1 million smartphone users in 2017 which is projected to cross 829 million by 2022.
In India, there are more than 65% below the age of 35, who are more digital & social and ready to adapt trends.
India contributes 90% of the total number of cricket fans worldwide.
India is to be expected to reach 666.4 million active internet user's marks by 2023.
India has the growing GDP, which simply shows the spending capacity of India. Whereas youth wants to explore earning options using their craze and cricket skills.
Due to such trend, there are several sports organizations or OPCs who are already entered into the segment and adapted Fantasy Sports App Development by expert developers and launched their Fantasy App in the market. Few of them are: Fantasy power 11, Lucky 11, Club11, My11players, etc.