March 21, 2018
---
WhatsApp emergence in India through P2P Payment and Business App!
A new era has begun with the digital India campaign, and several giants have already entered into the market with eminent technologies, such as – AR, VR, Payment gateways, real-time chat like WhatsApp and much more. Plenty of e-commerce and retail stores have already adapted mobile payment options to boost their business and we have witnessed the growth of "Paytm" last year as the forefront payment gateway.
Along with these, several popular applications have integrated payment options to adore their existing user-base and plenty of new appears in last few year, but the exciting ones are Google Pay, Samsung Pay and Google Tez. "Google Tez" has blasted the market and creates a new hype for UPI payments.
By the success of "Google Tez" in India, several popular giants planned to propagate their services through the integration of UPI payment gateways into their apps, and the eye-popping one is "WhatsApp". Yes! you read it right, the most adaptive messaging app has launched their Payment Platform on Android and Apple stores.
On the 24th day of February, 2009, former employees of Yahoo! "Brian Acton" and "Jan Koum" incorporated WhatsApp Inc. and launched their dream project "WhatsApp", which sounds like "what's up", on the Apple store. They have just an inception about app industry and at that time founder "Jan Koum" was relied on his savings only.
After first failure and unfavored circumstances, they somehow managed to launch WhatsApp 2.0 with push notification and messaging component, on August, 2009. This change was in their favor and the number of users suddenly increased to 250,000.
From 2009 to 2018 (in the meantime of 9 years), company grows rapidly and now have the highest number of users worldwide, around 1.5 billion (As of Dec 2017) with highest coverage in around 180 countries.
The application supports more than 50+ languages and preferred as the main messaging app in several countries. Saudi Arabia is in the top of that list, where more than 73% of population uses WhatsApp as their main messaging app (as of 3rd quarter 2017). Take a look at the beneath chart, prepared by Statista: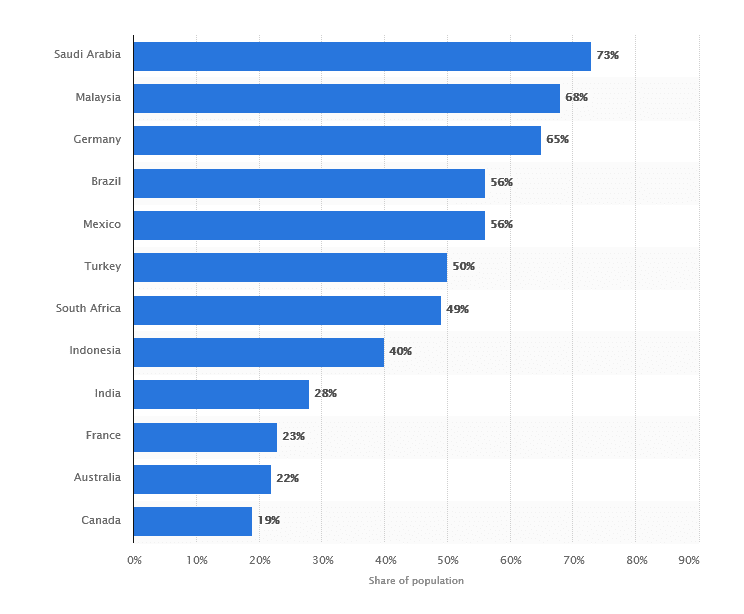 By the acquisition in Facebook, WhatsApp gets new hype and better fortune in the industry and incorporated several tempting and engaging features in their messaging app. The company has grown its reach and counted as the leading social messaging app worldwide with highest popularity. For a better understanding, go through with the charts below: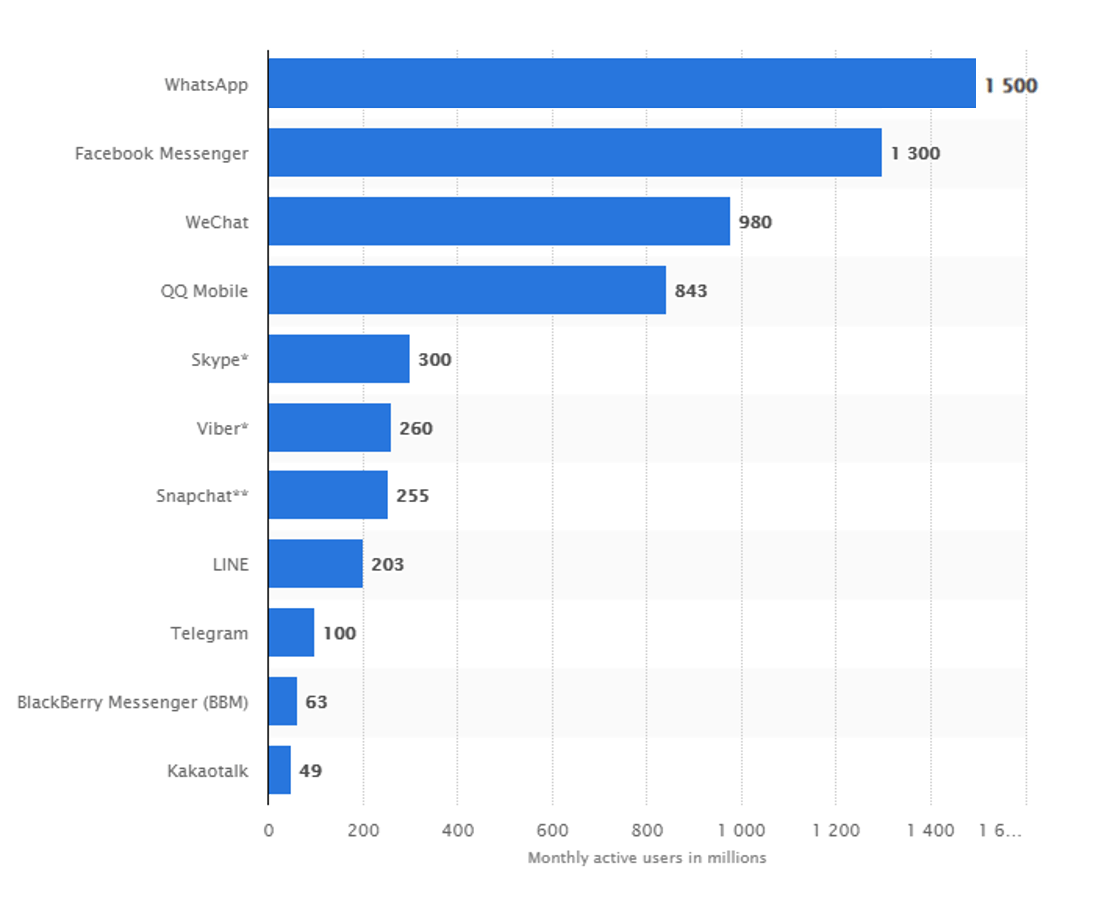 Do you want to develop real-time chat app like WhatsApp? Be in touch with us to get the cost of the app.
Leading Messaging App in India
India has always been the first choice for growing companies and for WhatsApp, it has the highest market for their app with around 200 million active monthly users (as of February 2017). Take a look at the beneath chart, where the researchers analyzed the popularity in India and graphically represented the growth of WhatsApp Users: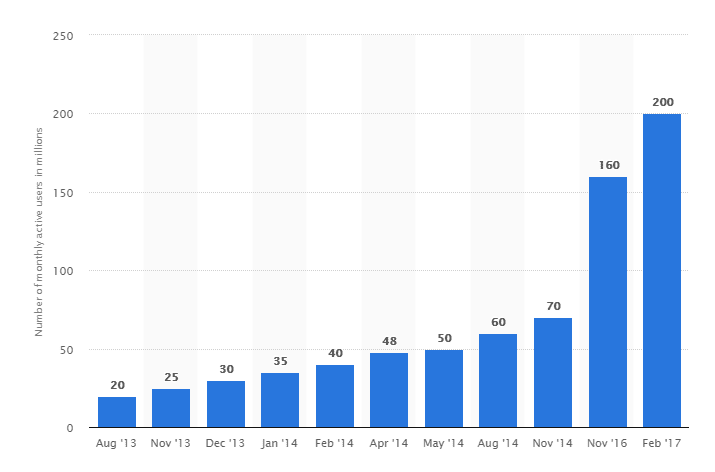 According to the stats available on Statista, India has the 2
nd
highest numbers of internet users around 462.12 million (as of June 2017) and it will be reached at 635.8 million by 2021 (
source
). Whereas, around 320.57 million users, uses the internet through their mobile devices. According to these stats, India has the potential to make a great place for businesses and always provide the opportunity to grow in the relevant industry.
In the social networking segment, researchers reported that around 49% of activities noted as social network visit (as of January 2017) and around 158.2 million users, uses mobile messaging apps in 2017. If we trust on records and stats, then with the penetration rate of 12.1%, the number will reach to 230.5 million by 2020. Check out the growth chart beneath:
Due to the interest of Indian users in mobile messaging app, WhatsApp leads the Indian Market with the penetration rate of 28% and gets the 6th position in Android play store under top free apps segment. Facebook messenger following WhatsApp in Indian market by holding 2nd position in the list with the penetration rate of 20%. Take a look at the chart of leading messaging apps in India: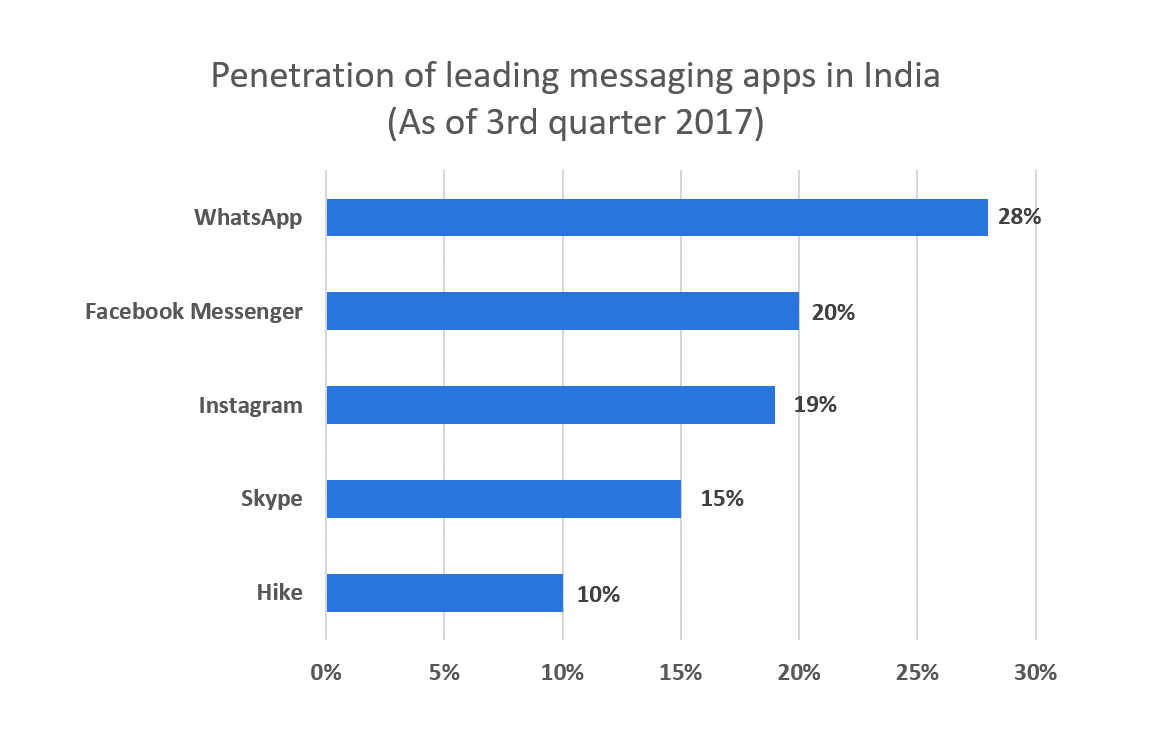 Several industries like- real estate, education, hotels, travel, entertainment, restaurants, and alike, used to collect user information to somehow use it for marketing purpose. As a traditional way, they used SMS packages to send plenty of messages to their users or do focused over email marketing, but the success rate of those methods are just 20-30%
Digital indulgence revives those methods with some interactive ways and several online promotional methods were used to entice the user to get in touch. Here in this list a new name has appeared, new but the popular one – WhatsApp.
Yes, company launches their business app to help you promote your business and get involved with direct users. You just have to download the app from app store and create a business profile. In this process, you need to verify your business number to make it more professional and accessible.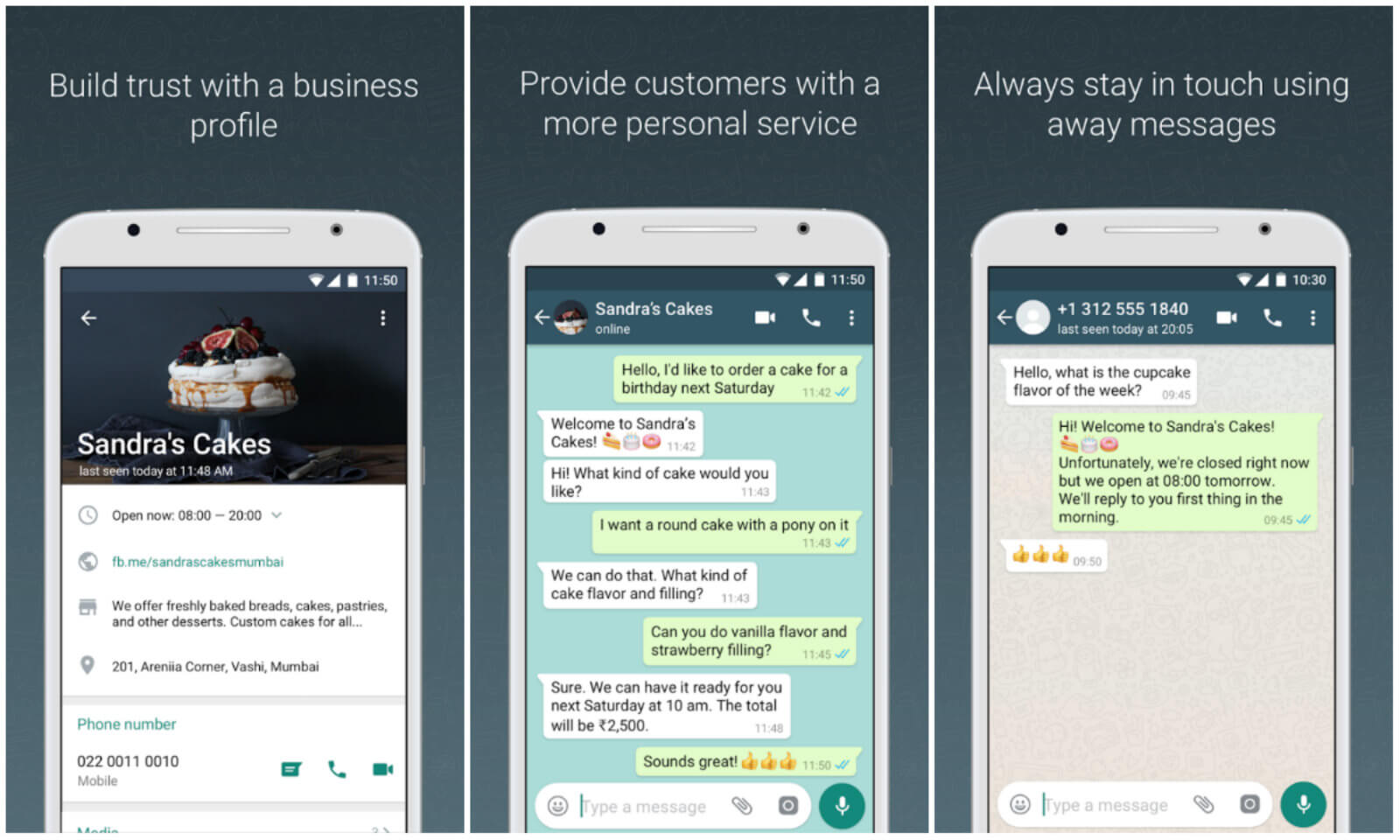 The eye-catching features like quick replies, pre-written away message and welcome messages can help you to get more users, better conversations, and instant replies. These will also help your business to involve each and every conversation, even when you are not available.
The app has successfully tested through the ticketing giant of India – BookMyShow and now available for all. Which simply means, you can use the leading messaging app for your business promotions and build up a great potential.
If you need an assistance to build up a business profile on WhatsApp, just connect with our dexterous expert!
After the merger in Facebook, WhatsApp always amaze us with something new, like- WhatsApp web, WhatsApp Video Calling, WhatsApp Status, WhatsApp Business, and alike. Recently, the Indian media company "The Ken" reported "WhatsApp P2P Payment integration" in its messaging app. And the co-founder of the company – Brian Acton's visit in India and meeting with country's IT Minister, verified the news.
The resources confirmed that the leading messaging app is using UPI payment model to allow users for cross banking payments and have already joined their hands with HDFC, ICICI, SBI, AXIS, and several other leading banks in India.
Take a look at the screenshots of WhatsApp Peer-to-Peer payment system:
P2P Payment Screens (Android)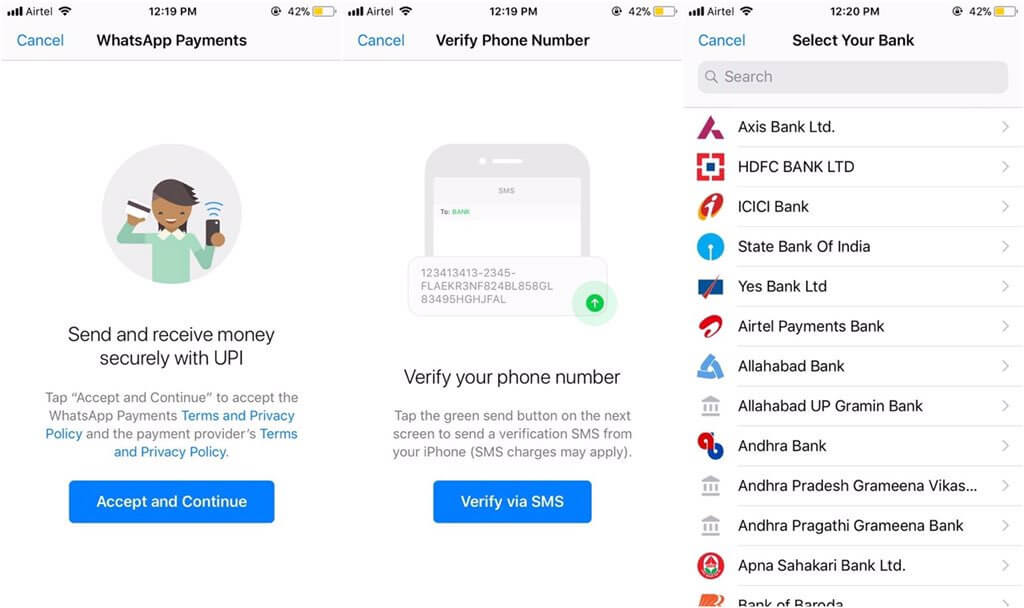 P2P Payment Screens (iPhone)
By having a look at the screenshot of the WhatsApp P2P payment system, we can idealize that several national, rural and urban banks are combined under it. Now, users can transfer their money to other's account through Unified Payments Interface (UPI) in real-time using WhatsApp P2P Payment system.
Pros of WhatsApp Business & P2P Payments
Having a WhatsApp Payment option and business account will surely enhance the usability of the leading app. Moreover that, it helps a user to utilize the chat app for payment purpose too, whereas for the business, it helps to connect directly with the potential customers. There are several pros of WhatsApp Business & P2P Payments, some of them are here:
1. Single App for multiple purposes
Being a user, we all have WhatsApp in our handheld smart devices, and used it for instant messaging more than the inbuilt message app. By having features like business app and P2P payments, we all will get more space in our device, direct connection with business representatives, and able to pay instantly. In simple manner, a single app will perform multiple operations.
By having a WhatsApp Business,
we will be touch with the potential clientele and pitch them directly without making additional efforts, spending extra cost on promotions, and indulging into several platforms.
Through using WhatsApp Business, local businesses can increase their ROI, build a great user trust, share products directly and communicate with buyers instantly.
WhatsApp P2P payment system will allow a user to instantly transfer their payments and buy their products without redirecting to other websites or platforms. This will encourage users to improve their buying behavior, whereas help a biz to create a better user-base.
4. More Secure and Real-Time
WhatsApp integrated UPI system, which supports real-time payment transactions and makes a user more confident about the security. As they have a comprehensive security system to protect users from hijacking and theft of information.
Do you want to develop an app like "WhatsApp" or something like "mobile wallet" to get benefited by Digital India Campaign, and create a great user base? If yes, then we can help you out with our expert assistance and hands-on experience. Get in touch with us now!
We have already entered into the digital era and have already been a part of digital India Campaign by adopting digital payment systems, online business stores, social engagement and much more. We have witnessed several updates, announcements and future gadgets previous years, but the eye-popping one was "Google Tez". The app changes the scenario of digital wallet systems in India and encouraged several others to enter in the segment.
Due to the success of "Google Tez" and boom of wallet systems, several giants such as TrueCaller, Facebook, and Hike have already integrated payment systems into their apps. And now, WhatsApp appears with its P2P Payment system, which integrates UPI payments.
Yes, the leading messaging app has its own payment system to encourage their users to stay more on the app, buy directly and communicate with businesses through WhatsApp Business. So, enjoy the latest feature of market leader, grow your business with direct clientele and make real-time payments without any interruption.