March 12, 2018
---
TAXI APP DEVELOPMENT – Premium featured Solution for your Taxi transportation business!
Being an entrepreneur and having an offline car rental or taxi business, what you assume to get in terms of user reach, bookings and visibility. Did you solely depend on recommendations, paper ads, or other offline methods?
If yes, then don't you think, it's a traditional way to run a biz, as in today's world everyone is having smartphones in their pocket and used to go online for any query. You might need to think again regarding business enhancement, automation and growth hacks through adopting premium featured – Taxi App Development.
Don't get it as a sales pitch, we are just trying to expose the requirements of the taxi or car rental industry to sustain and grow rapidly.
Why Taxi App Development for a car rental business?
We have already explained the need of mobile app development in our previous write-up, where we represented authentic data about worldwide smartphone users, no. of searches performed on different app stores, worldwide mobile app revenue, and upcoming trends.
According to those stats, there are more than 2.53 billion smartphone users worldwide who performs around 63% searches on app store to find out an application. Even you can take a look at the beneath graph, forecasted by Statista, clearly showing the growth of car rental services due to the growth in number of users (expected 87.2 million by 2022).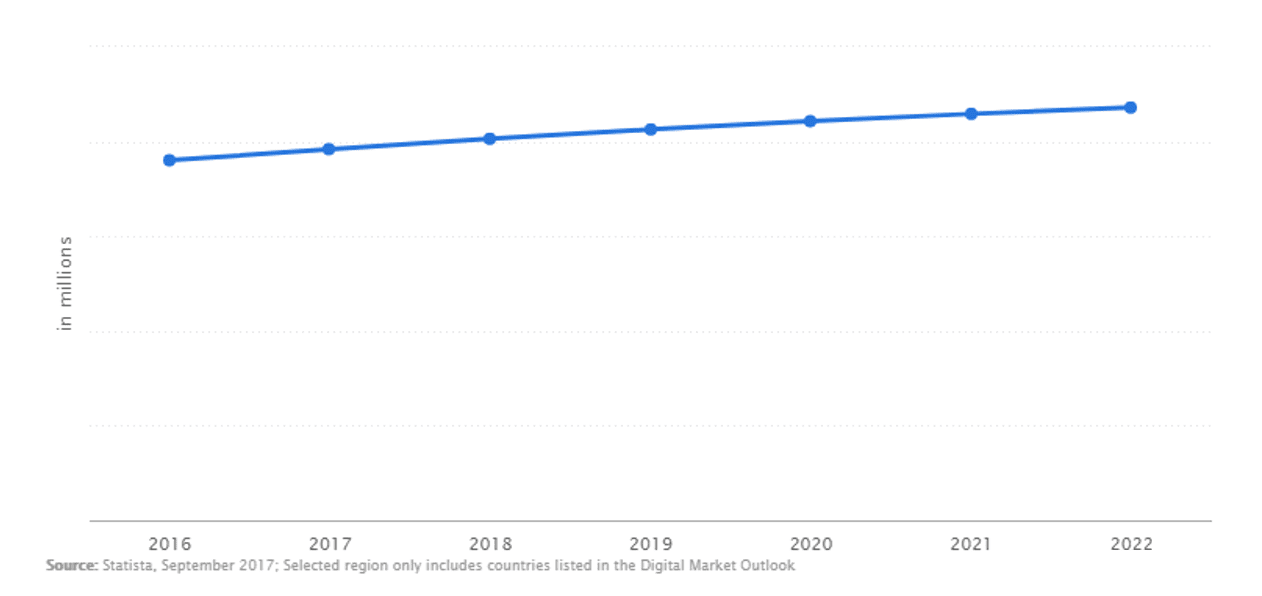 Not only in car rental segment, but also in car sharing segment there is a huge growth in the numbers of users worldwide by 2025, take a look at beneath: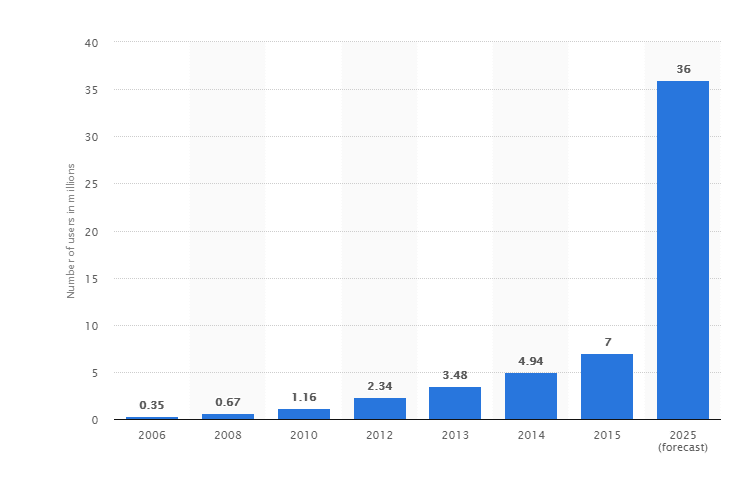 Moreover, the growth of market, taxi booking solutions will help a car rental business to automate their operations and track analytics simultaneously. It allows the owner to manage all associates, categories and other segments through web-based panel, which surely enhance the seamless working, ROI and user engagement.
Features that you own with Taxi App Development!
Taxi App Development is widely used solution for car rental services and globally accepted due to its robust, and flexible nature. Even the above stats clearly show the user behavior and preferences over online cab booking apps. The growth in numbers of users and worldwide revenue, indicates the future scope of cab booking systems like Uber, Lyft and Ola.
On-demand taxi booking apps encourage users as well as drivers to boost their indulgence into it as it gives comfortable ride to users whereas increased pay to drivers through managed time slots and one-click booking acceptance features.
If you have an inception and want to transform it, just make a click and get an estimated quote for Taxi App Development, now!
Taxi Apps used to contain three major but separate applications – 1. passenger app, 2. Driver App and 3. Admin Panel. Take a look at the detailed list of segment-wise features that taxi/fleet business owners will get with taxi app development.
Delightful experience of end-users or passengers always appear on the top in the list of requirement analysis, and development agencies used to focus on that. Being a user, we get engaged with eye-catching UI, painless navigational system and seamless booking. Apart from that, there are plenty of features required to make a user engage with the developed taxi booking solution. Take a look here:
01. Ride Booking
02. Referral Rewards
03. Seamless Payments
04. Quick Registration
05. Estimation of Rides & Payments​
06. Ride Tracking​
07. Ratings & Ride History​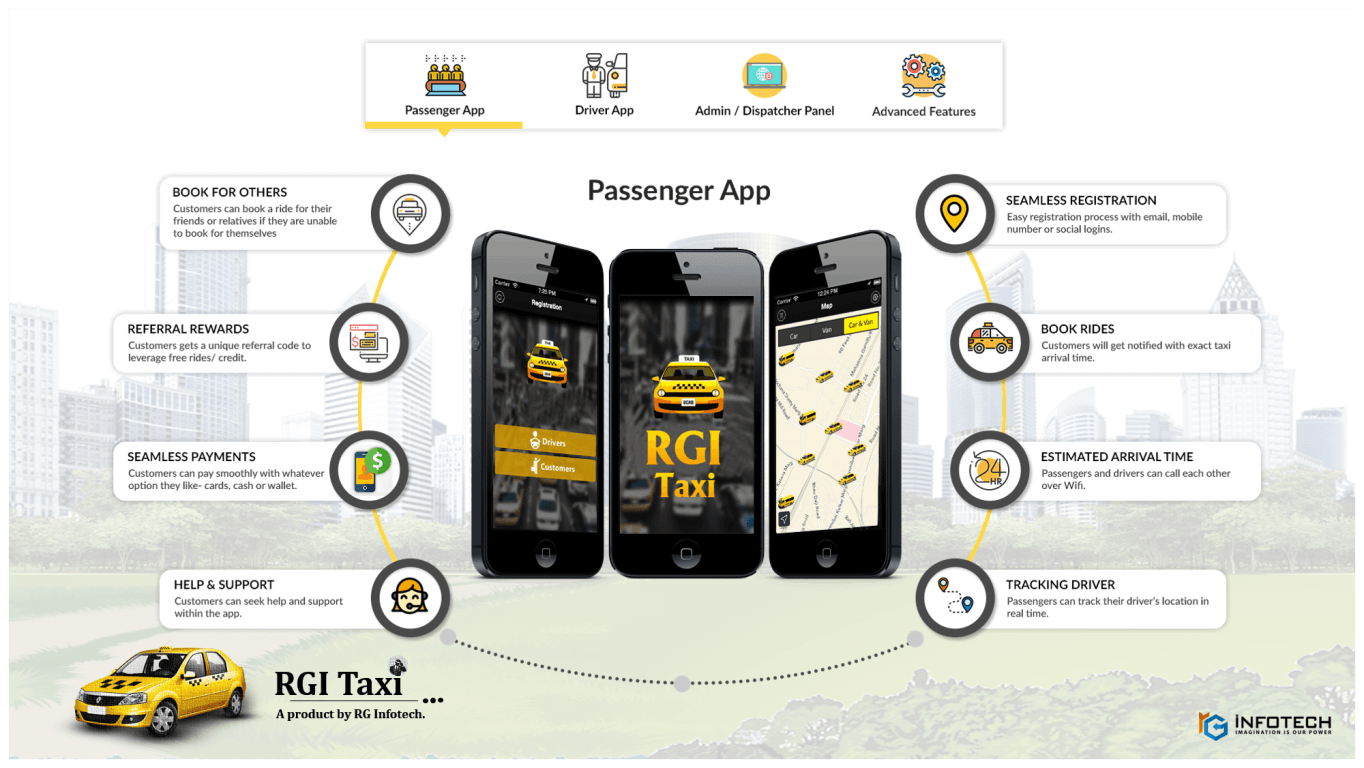 With an elegant and easy to use dashboard, driver app will enhance the experience of driver partners' through one-click acceptance and rejection of request. From quick registration to earning tracking, a non-technical driver can access everything that's available for their comfort on drivers' dashboard. Take a look at the beneath list of driver app features:
01. Instant Registration
02. Ride Information
03. Availability Status
04. Map Navigational System
05. Real Time Request Management
06. Passenger Contact
07. Trip management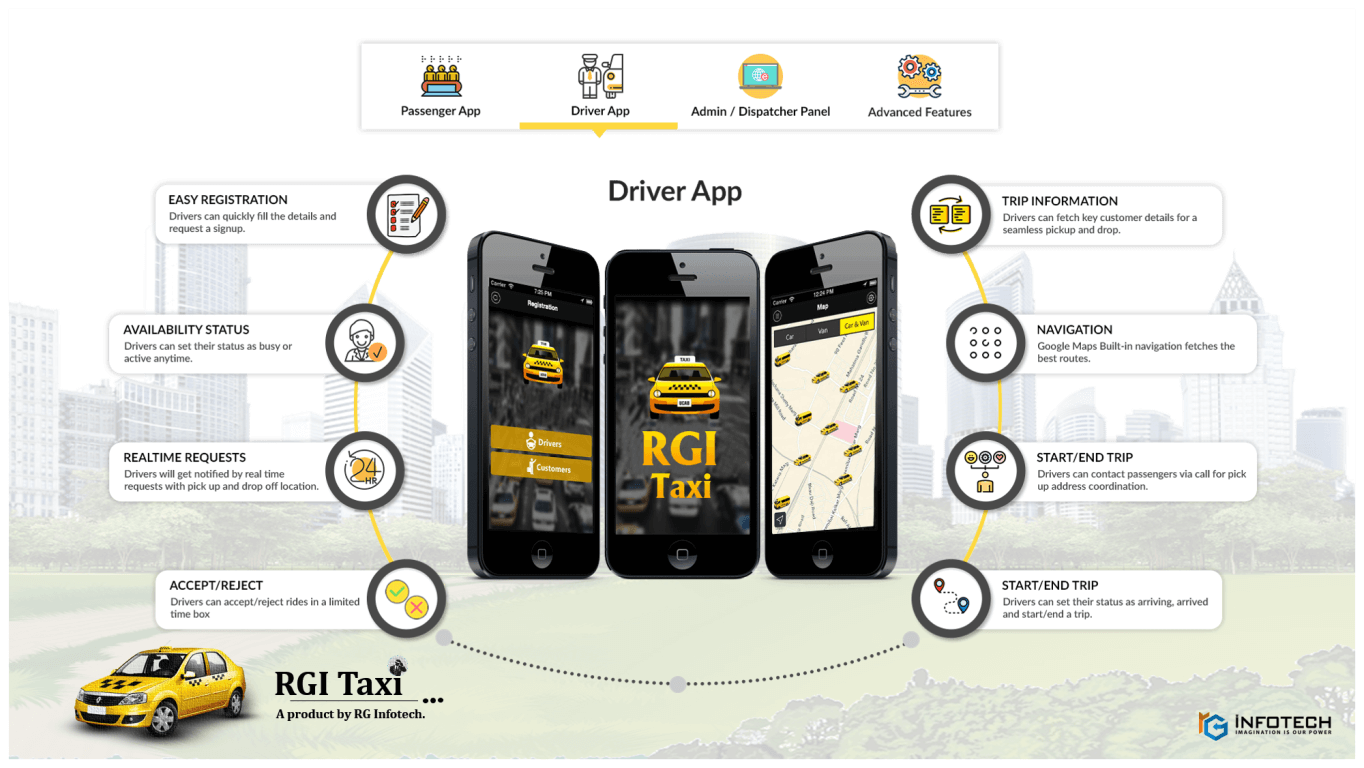 We know that you are the taxi/fleet business boss and being a boss, you always need to control all things through analyzing and taking care of things. That's why taxi booking solutions come with a separate & centralized admin panel, where the owner can track operations, idealize business growth and manage drivers, passengers, categories, vehicles and much more through web-based dashboard. Here, we have researched and analyzed major features that a car/taxi business owner requires to control booking operations:
01. Trip Tracking
02. Secure Login
03. Driver Management
04. Category Management
05. Vehicle Management
06. Passenger Management
07. Analytics & Reports
Apart from those features, a taxi booking app compresses several additional or add-on features that surely make a user or driver comfortable, while accessing the application. Take a look at the presentation beneath to know the features in detail: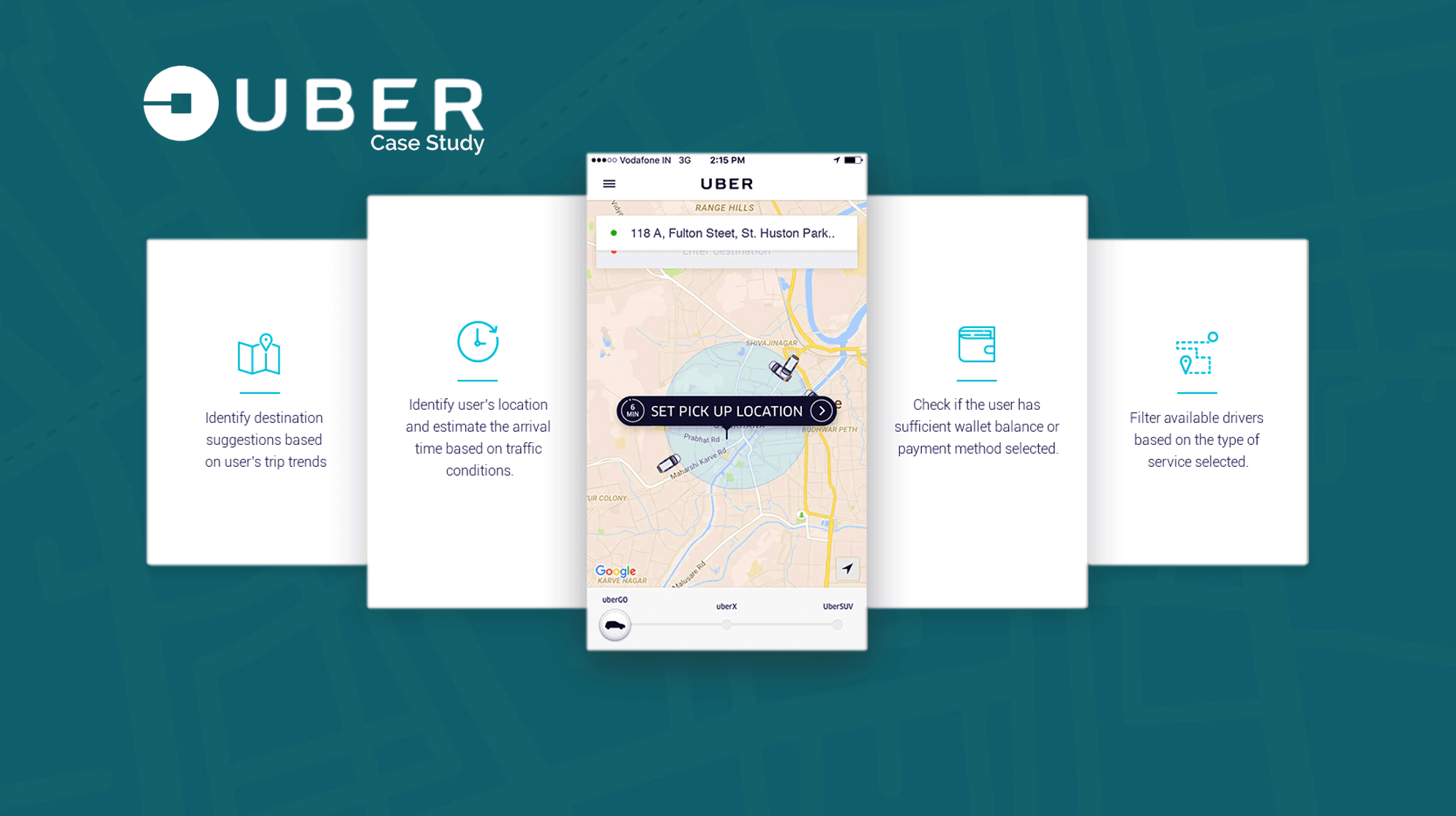 With a simple concept of safe & inexpensive taxi application, Garrett Camp, and Travis Kalanick started Uber in the year 2009 as "UberCab". It took around 1 year to launch their services first time in San Francisco, and according to the Uber stats, now the company has grown its reach in more than 84 countries and 760 cities, take a look at the world map of Uber beneath: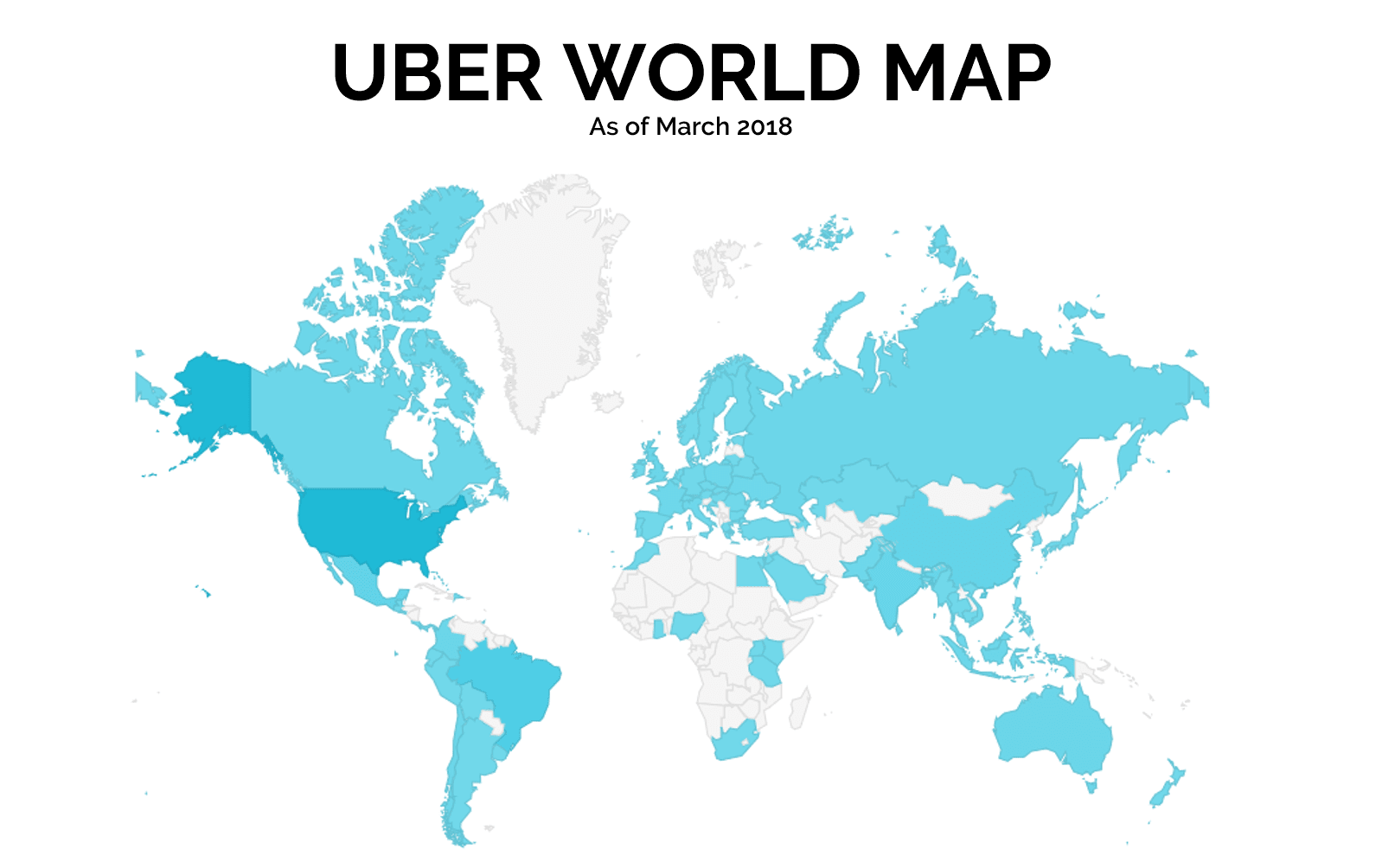 As of October 2015, Uber counted as one of the world's most valuable startups with a revenue of $1.5 billion and rapidly growing the numbers. According to the
Uber Statistics
published at Business of Apps, Uber completed around 40 million rides, monthly with 19% female drivers and in terms of revenue, Uber left its largest competitor way behind. Take a look at the last disclosed valuation (as of April 2017) graph beneath, provided by Atlas: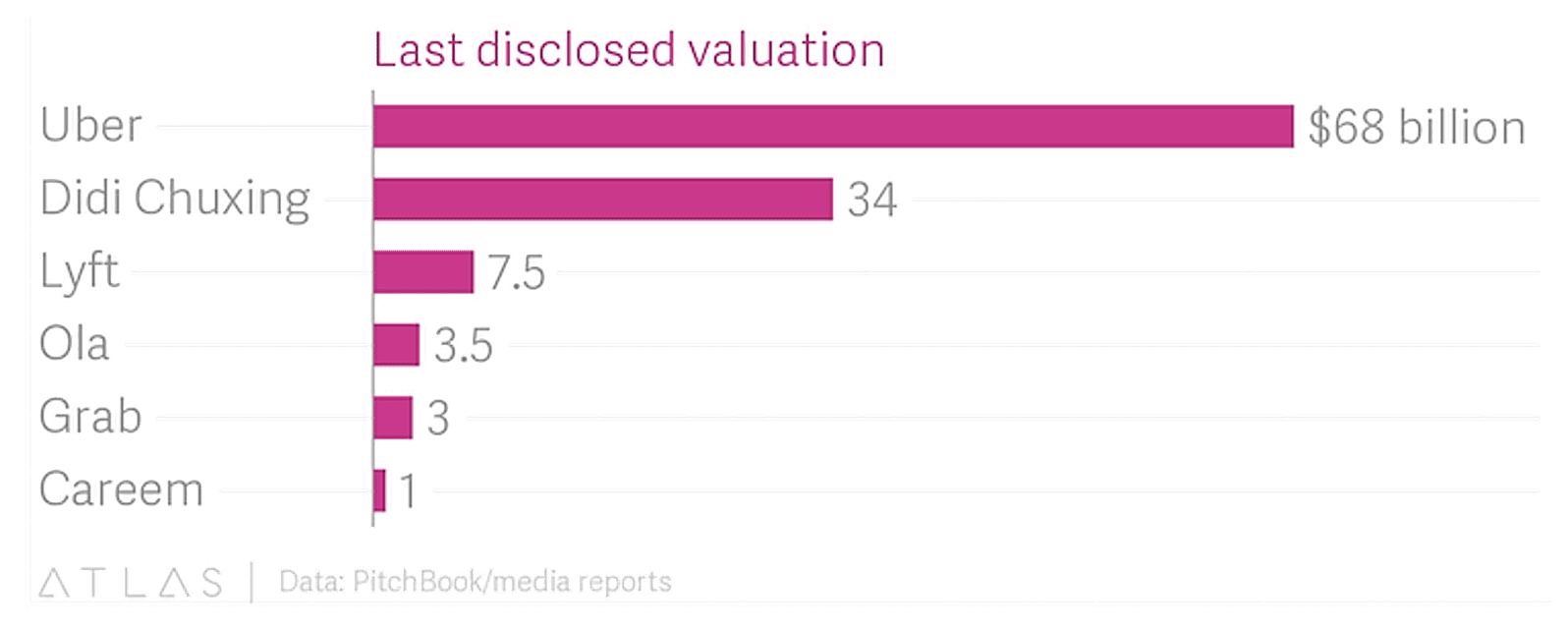 Uber took around 1 year to hire their first employee in the business, and now they have more than 16000 skilled employees across the globe. They have already adopted major market trends like – Chatbots, AI, elegant UI, eminent technologies and much more to match the pace. That's the only reason why they are growing rapidly and left their competitors behind.
Founders : Garrett Camp, Travis Kalanick
Founded in March 2009
Headquarter in San Francisco, California
57 Million Riders and 7 million drivers
19% female drivers worldwide
5 Billion Trips completed worldwide
84 Countries and 760 cities
10 Million Trips completed each day
16,000+ employees with 36% female staff
Valuation in 2017 : $69 billion
By the stats appeared above, it has been clear that with a proper planning, focused approach and indulging behavior towards market trends, you can achieve your desired success and left your competitors way behind, especially in the on-demand app market.
Get desired success in Taxi Booking business by adopting premium featured Uber Clone App. Let connect with us and discuss your inception with our dexterous developers for Taxi App Development, now!
If you are in car/fleet business, then the case study of Uber surely makes you excited and help you find out your way of success. You can look at the features and customize them as per your own requirement and market trends. So, own an on-demand taxi booking solution for your business and achieve several milestones in near future.