November 30, 2018
---
Why should you launch Fantasy Cricket Platform before 2019?
Fantasy Cricket isn't a new term at all, almost everyone has some idea about it and its growth due to the craze of cricket in India. We all knew the facts that it can make us excited, especially on major tournaments like: IPL, Cricket World Cup, T20 World Cup, etc.
Due to the craziness and anticipation of millions, Fantasy Cricket Platform get such hike and popularity in just 6 years and now becomes a billion-dollar market for sport organizations. Several has already acquired Fantasy Cricket App Development and several has plans to acquire it in coming few months.
"Fantasy Cricket keeps you engaged with your favorite game, entice the thrill in you and allow you to earn through your skills."
Market Opportunity for Fantasy Cricket Apps
With an initiation of Digital India thought, there's a huge growth measured in the numbers of smart phone users along with internet users in India. According to the stats, India is the second largest country with approx. 462.12 million active internet users (as of Jan 2018), which is expected to reach 635.8 million by 2021. Check out here: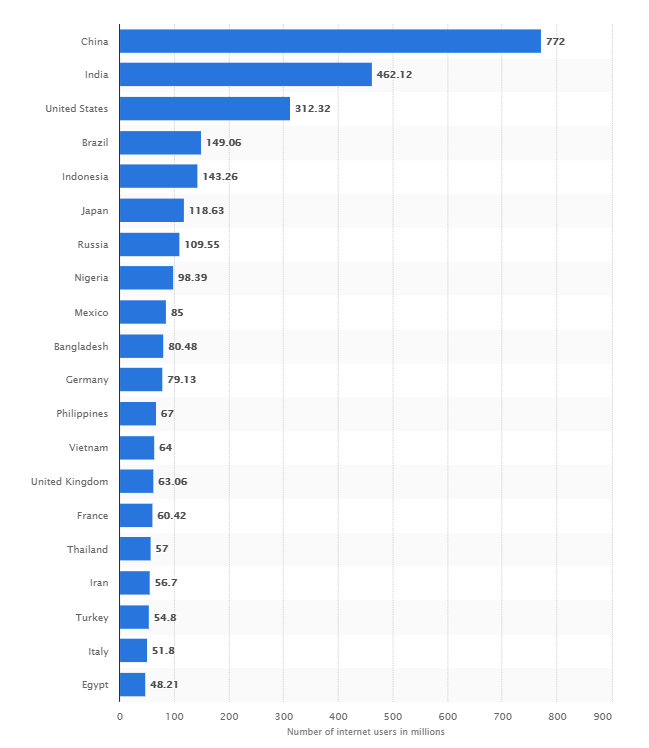 Country-wise internet users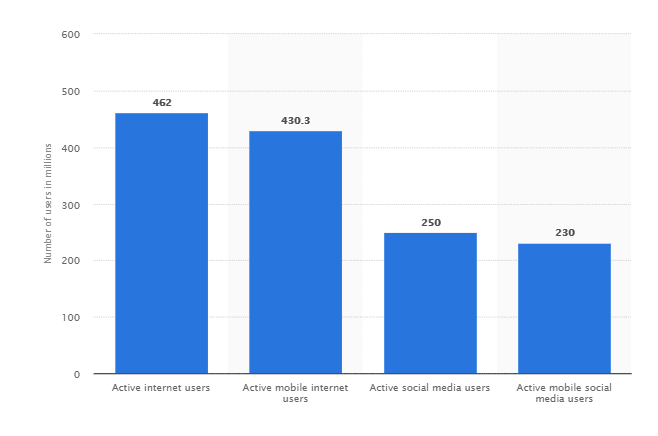 Digital Population in India
Along with that, there are almost 340 million smartphone users in India (source) with a huge ratio of youth, who love to watch cricket, feel the thrill of the game and want to play with their favorite player. Also, ICC research says that there are more than one billion cricket fans around the world in which India alone contributes 90%.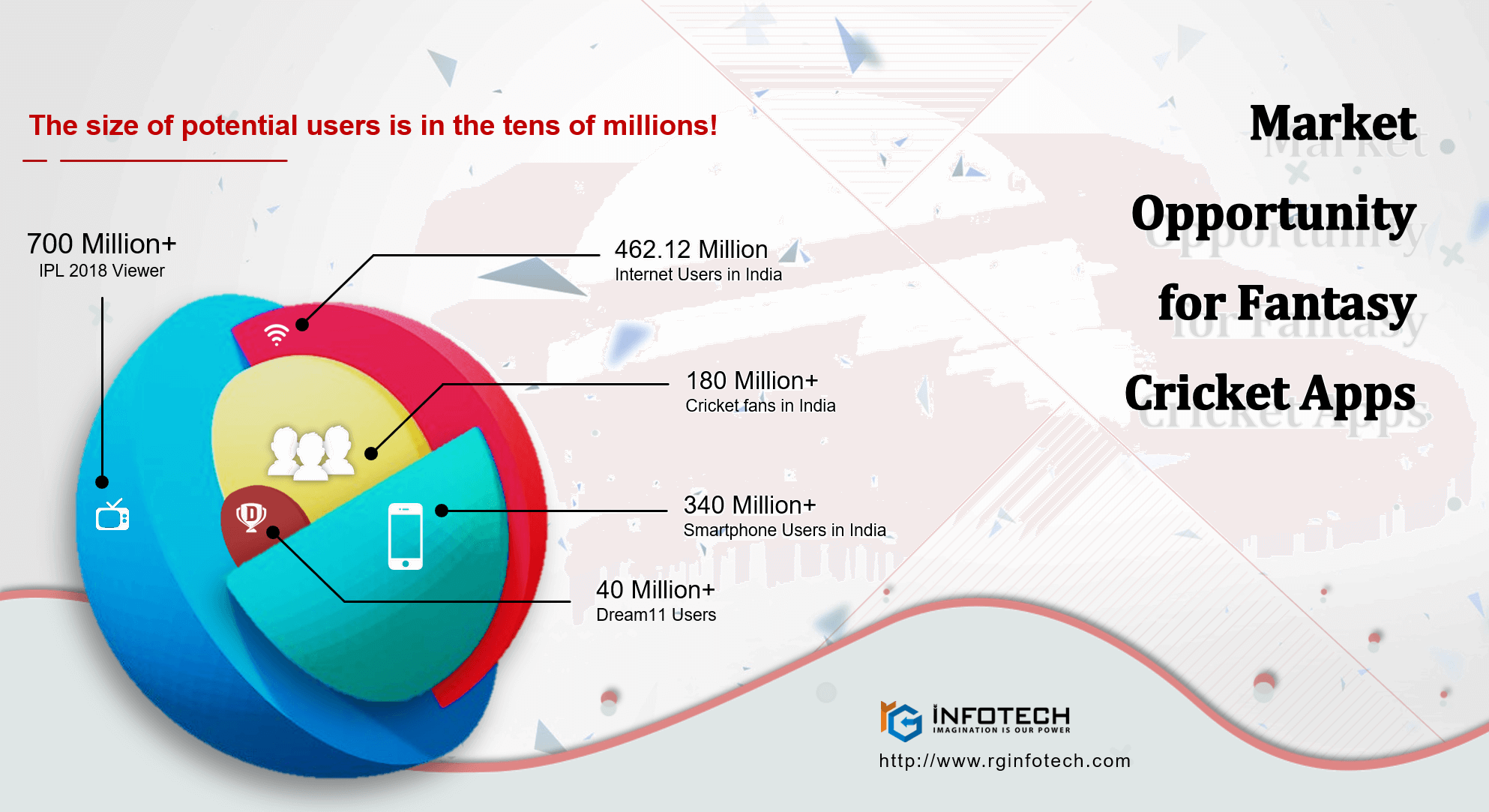 As per the Star India stats, in 2018 there are around 700 million IPL viewers recorded along with 200 million+ viewers on their Hotstar App. Even, the leading Fantasy Cricket Platform – Dream11 covers almost 90% of the market shares with their 40 million+ users.
"In 2017, growth of Fantasy Cricket App users was around 18 to 20% and now, it is expected that the numbers will reach 2.71 billion by 2019, along with 352.9 billion app downloads and $90 billion revenue."
Dream11 is generating almost 4-6 crores of revenue in every match with their hundreds of paid leagues that costs low to high. Along with Cricket, Dream11 is obliging their fans with other sports like: Kabaddi, NBA, Football, etc.
Why should you launch Fantasy Cricket App before 2019?
Industry experts are considering 2019-2020 as the "year of cricket" and there are so many reasons for that. There are dozens of international tournaments already scheduled by ICC, including two major World Cups (ODI and T20) will be played in 2019-20. According to the ICC calendar, cricket fans are going to enjoy 600 days of cricket in coming years.
Along with that cricket fans will love women's tournaments, under-19 tournaments, IPL, and several domestic series as well in 2019-2020.
01. Golden Opportunity for Organizations
Coming years 2019 and 2020 is like a golden opportunity for all sport organizations, who are looking a chance to set up their presence in the fantasy cricket market. As discussed above, 2019-2020 is a cricket year and have around 600 days of cricket to make highest revenue, user base and market presence.
Moreover that, you can oblige your users with Bangladesh Premier League, Big Bash League, Asia Cup, IPL and several other tournaments. So, missing out golden opportunity isn't an adoptable business idea.
02. Assured Global Reach with Open Crowd
There are two world cups in 2019-2020 along with dozens of international tournaments and with such golden opportunity targeting a global audience is much easier than ever as all major cricket countries are there – Australia, England, India, Sri Lanka, West Indies, Pakistan, South Africa, Afghanistan, and Bangladesh.
Along with that there are millions of open audiences from non-cricket playing countries, waiting to grab an elegant, fully functional Fantasy Cricket App to participate in those big tournaments.
03. Craze is already set up
Recent ICC Women's Championship, India vs Australia tour, Women's T20 World Cup, and West Indies tour of India, already set up the craze and the perfect atmosphere to approach a targeted audience with an elegant Fantasy Cricket App.
Dozens had stepped forward with their Fantasy Cricket App in these tournaments and audience accepted them with complete gesture. They had already taken their steps and set up their presence in the market, which surely improve their success in coming "year of Cricket". So, don't waste your time in thinking, just step ahead to get your chances and make millions.
04. It's Your Time to Lead
You have the command and you have your time now as not only you, but the developers are also looking for this opportunity. You can opt one of multiple options as there is much time for the countdown, but when it comes close you will lose your power of the bargain.
Moreover that, you can research for features and marketing strategies to make a better appearance in the market and in front of your audience.
05. Enough Time to Market with Improvisation
The countdown has already begun and you have only a few months to acquire readymade Fantasy Cricket Software or develop a fantasy Cricket app as per your requirement and market demand, but still there is enough time to make a perfect app before the actual countdown.
With an instant decision about Fantasy Cricket App Development, you can get more time to market your app and implement improvisations to make your app perfect. So, make your decision as early as possible because only early birds can get their worms.
These are the top reasons for the launch of Fantasy Cricket App before 2019.
"Grab the opportunity without losing your chances and market your Fantasy Cricket App direct to your potential audience."
But for that you have to Act Now!
Still, if you want, you can explore the case studies of top giants like Dream11, who took the step at the right time and now, followed as the benchmark.
So, don't ruin the opportunity due to overthinking, just take the action. Act now and invest in Fantasy Cricket App. Keep in mind that time is running and with every passing second, you're losing your chances.
Feel Free to contact expert for consultation regarding your Fantasy Cricket App and associate with a proficient fantasy cricket app development partner now.