September 18, 2023
---
Taxi Booking App Development Company – Cost & Features
In this modern world the advancement in technology and the wider reach of people to the internet has led to the use of mobile applications for various day to day tasks. Similarly, traveling has become easier than ever before as people now have ride-hailing mobile applications easily available on the app stores. There are several taxi booking mobile applications and the scope for the newer and better application is always there. If you're curious to know more about the Taxi Booking App Solution and wondering about the taxi booking app cost and features, then keep reading.

In this blog, we'll cover the cost and features of a taxi booking app in 2023. We'll break-down all the essential factors that influence the cost of a Taxi Booking App Development Company, and the necessary features that make a user-friendly solution for taxi booking apps. From live location tracking to secure payments, getting to learn these aspects can help you get the best taxi booking experience. Whether you are a traveler looking for the best taxi booking software or a person interested in building a taxi booking app, this blog will help you explore all the ins and outs of creating a seamless and efficient Online Taxi Booking app development Service.
How Does A Taxi Booking Mobile Application Work?
An online Taxi-Hailing App makes use of GPS (Global Positioning System) to track the location of a consumer who booked the cab and then notifies the nearby driver. When the customer reserves a cab, the activity alerts the cab driver present in a nearby area that the ride is available. After confirming the ride the app shows the users the exact location of the cab and its expected arrival time.
Benefits Of On-Demand Taxi Booking App
There are several beneficial aspects of building a taxi booking app. These Transportation Booking Applications serve as a platform where the customers and cab drivers would directly connect with each other and avail taxi booking app development services. Let us now take a look at the benefits of Taxi Booking Application for your business.
Real-Time Location Tracking
This is one of the major benefits of On Demand Transportation Apps because it makes it easy to track the route of drivers all the time with the help of this amazing feature. You can track the location of the taxi even across the city and state. It will give the proper location of passengers to drivers and passengers can track the driver's exact location as well.
This mobile-friendly ride-booking application can enhance your taxi business. Because it provides a convenient and interesting option for people to book a taxi through a mobile app. By using taxi mobile apps, you can maintain connectivity with the passengers as long as your online taxi booking app stays in their devices. There are high chances of increasing a loyal customer base by upgrading the app daisy basis.
In today's fast paced world, people tend to overlook or ignore things which are complicated and time-consuming. A quick, easy, & comfortable Taxi booking App development Solutions in the form of an application will offer a better result.
This feature comes in handy when you have to travel at odd times of the day and night. For example, you will hardly find a taxi service nearby if you have to catch a flight at 2am. Because of taxi mobile application booking, you can easily book the cab online even at the odd timings.
Taxi Mobile App Users first need to register themselves using the social log-in or contact number which turns into a valuable information for you and by saving their saved location or destination, trip frequency, you can send personal notification on the basis of this saved data. By storing these data on their next ride, apps can notify them about the latest offers and enticing prices such as coupons, discounts etc.
Due to the online booking, you'll be saved from unwanted negotiation of price between driver and passenger. When it comes to money, Mobile Apps For Taxi Service is a total game changer which has surpassed local taxi service as the rates are low like 6-7 rupees per km.
In today's digital world, Taxi App Business includes two strong big companies with reputed brand names in the market. Yes, you guessed it right! That's "Uber" and "Ola." Every online cab booking application wants to achieve their level of success by following their footprints with high-credibility, User-friendly Taxi apps, better customer support and services, and smooth and attractive UI.
Looking an app for your business? Let's discuss your idea with us on coffee.
What Are The Important Features of Taxi Booking App Development Company?
The cost of developing a taxi booking app platform is directly affected by the features of the app. Here are the lists of essential features for your Taxi Booking Solution. Generally, three panels are included in a taxi booking app development. 
The Three Panels Include- 
Passenger panel

Driver panel

Admin panel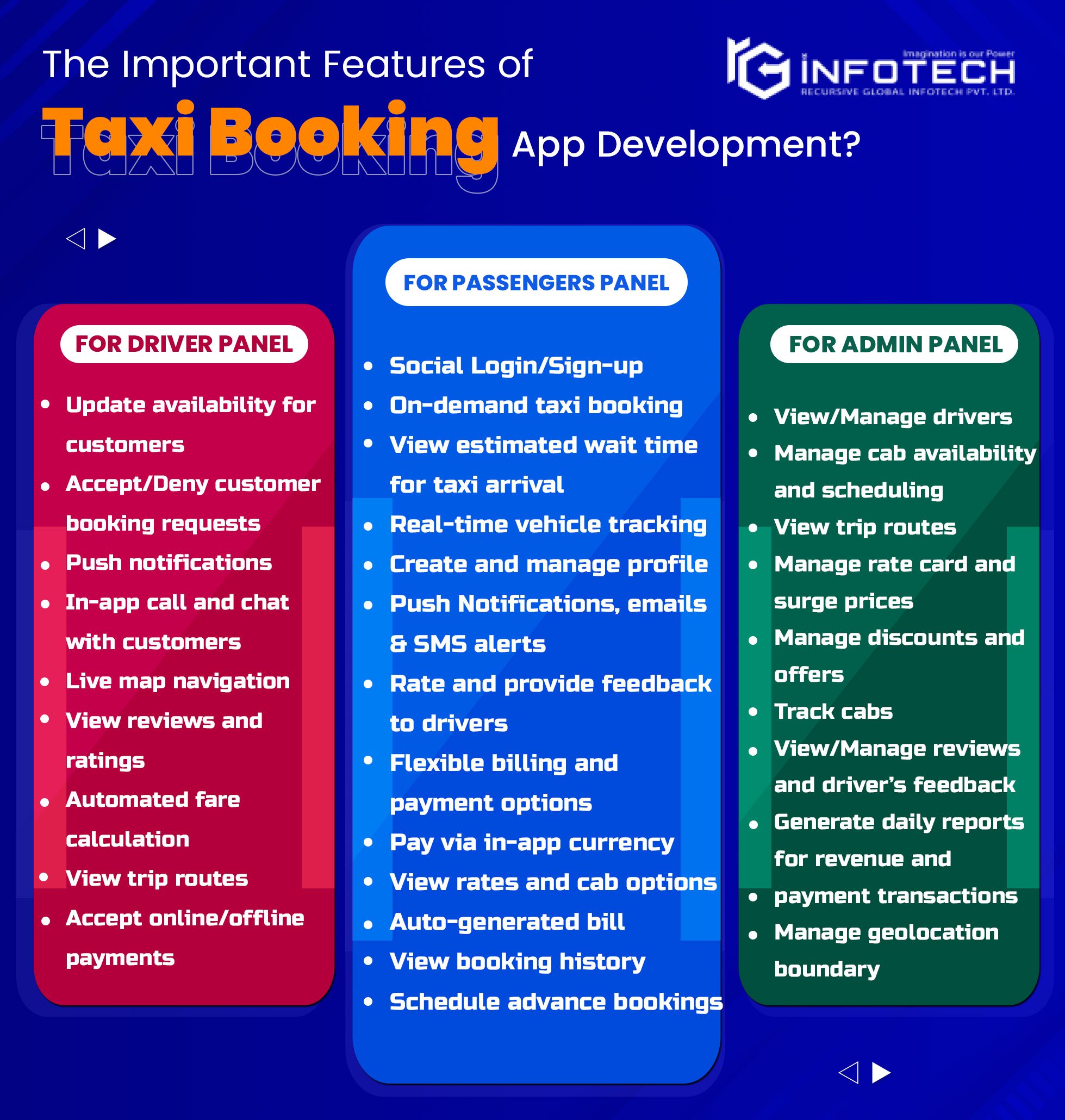 What Are The Advanced Features for Online Cab Booking Applications?
Several Ride booking app development businesses thrive to enter the competition as there is tough competition in this arena. However, incorporating advanced and unique and advanced features will give you an edge against the competitors and increase your user base. Let's move on to the advanced features you should include in your taxi booking app to make it climb the top of the ladder.
The ability to handle all of their bookings through this feature on one app makes this taxi booking software helpful for the drivers. They can keep an eye on them all at once rather than having to travel back and forth. Additionally, it aids them in receiving accurate directions to the location for which they have submitted a booking form.
Driver/User Authorization
With the help of this feature, drivers can obtain permission to operate a vehicle under the application. They are given authorization to accept reservations and link up with the mobile application.
Once the user makes the bookings, he or she gets notified via push notification feature and would get informed when the cab arrives at the destination. You can also use these push notifications when the  passenger needs to be informed about any new deals or offers and discounts that the app is launching.
This interesting feature helps users to simply link their bank account or digital wallet to the app and have all deductions made directly from their accounts. They no longer need to carry wallet or cash which saves them a ton of time.
This one is the most effective when it comes to helping the owners of taxi services learn how many taxis and drivers are available in one location so they can provide options to a user wanting to hire a cab. This entire  procedure takes only a few minutes because the user must become aware of the nearby taxis within a period of 2 to 5 minutes.
How about offering your drivers and passengers loyalty programs like offers, discounts, vouchers, etc. to give them an extra push? Users are always drawn to this feature, increasing their use of the software.
Taxi Booking App Developers must incorporate this smart feature in their app. It allows users from various regions to book taxis with ease without struggling to communicate with the people and asking someone to reserve a cab for them. This is the best feature for tourists.
Interestingly! Taxi reservation apps also incorporate Phone number masking feature to keep your contact details and other information confidential, in case you do want to share the details with a driver, or vice-versa. With the help of an in-app call feature, one can keep his number from being revealed.
Looking to Develop Taxi Booking App That Matches your Business Model?
What is The Market Size and Stats of Taxi Booking Applications?
Over the past few years, the number of online taxi booking applications has increased tremendously, and it is projected that this Cab Booking Solution will stay popular for a long time. This business will always be profitable because it provides tons of advantages to both the app users as well as tourists. The industry has a value of over $36 billion in 2017, and it is expected to increase at a CAGR of 16.5% and it is anticipated to reach $126,521 million by the end of 2025. 
The on demand Taxi Booking App Development Company has been in trend for quite some years now. It made the lives of people a lot easier by providing the ease or booking a cab and having it delivered to their door. The global ride-hailing and taxi sector is projected to generate $192,276 million in revenue. The development of on-demand taxi booking apps is advantageous to both businesses and users, which is an excellent feature.
Top Ride-Booking App Platforms Worldwide
Though there's high scope of new and better travel and convenience mobile applications, there are several online mobile taxi hiring apps that have continuously been doing very well and making huge profits. Let's take a good look at these apps for taxi booking that have been performing exceptionally well.
Uber – Easy Affordable Trips
Several companies are investing in on demand taxi app development like Uber. You can avail these Uber taxi booking services in almost 445 cities and around 70 countries. It comes with the online payment modes as well as cash acceptance in some cities of India, Kenya, and Philippines.
Gett – Taxi Cab Booking App
This one is just as competitive as Uber and is accessible on several platforms. Taxi services highly value good behavior from both the passengers and drivers. One of this app's biggest features is that users may reserve their rides two weeks in advance and avoid surge pricing.
Lyft – Become A Driver or Get A Ride
This  Cab Hiring Platform is best suited for users in the United States as it is available in more than 200 cities in the U.S. it world perfectly well on both Android and iOS, it allows the users to split the fares through the app itself.
Grab- Ride Booking Service
Want to take the wheel safely? The Grab Taxi Booking App is a must-try since the developers went above and beyond to guarantee transparency between the drivers and the passengers. Users can use cash, credit, or Grab credits to make payments. Both the iOS and Google Play stores offer the option to download the app.
This app, which is once more available on both iOS and Android, has a ton of features to set it apart from the competition. This one offers a lot to offer its users and passengers, from GPS tracking to reserving alternatives such as Ola small, sedan, and SUV. The costs of the various car kinds offered by this app can also be compared.
Why Invest In A Taxi Booking Mobile App?
Let's have a dive into the numerical insights about the taxi booking app landscape. Quantitative data is often considered one of the best means to understand the depth of any concept at one glance. The following statistics might leave you surprised as well as understand the vastness of the taxi booking app market. According to Statista, the ride-hailing & taxi market segment is projected to achieve a valuation of $332.5 billion by the end of 2023. 
The same market is expected to show a CAGR of 3.31% between 2023-2027 to achieve a valuation of $378.8 billion by the end of 2027.If we consider the user group and the utility of these applications, the average revenue per user is around US$205.92. When talking about just the online Ride-hailing & Taxi segment, it would contribute around 50% of total revenue by 2026. These numbers are just the estimates, the real results could be greater than this depending on the new patterns and situations the world may be put in, in the next few years.
What is The Cost of Taxi Booking App Development?
It's impossible to state the fixed cost of any mobile app development solution. Similarly, the cost of an online Taxi Booking App differs depending on various factors. The Taxi Booking App Development Cost can range from $10,000 to $30,000. Here are some of the major factors that can influence the development cost of a cab-hiring app. Depending on the complexity, functionality, location, and other factors of the app, the price may differ. By 2026, Statista predicts that there will be 1,665.3 million users in the ride-hailing and taxi industries. Therefore, making a current investment in taxi applications is wise for the development of your company.
What Factors Influence The Cost of Developing an Online Taxi Booking App?
Stating the exact cost of development is quite a challenging task. Mainly the cost of taxi booking app development depends on the complexity and features There are several factors that can influence the cost of Taxi Booking Application. But geographical location and skills of developers also play an important role in deciding the development cost. Here are some of these cost influencing factors you need to consider:
Features are indeed the most crucial element for any mobile app and it can make or break your app. So, needless to say you need to incorporate the right features into your taxi booking app. The more advanced features you may include in your application, the more efficient and functional it will become, and the Taxi Booking App Development Cost will go even higher. So include limited and important features if you don't have more budget  for development.
The complexity of an application is the first thing that you should consider while setting the budget for  Cab Booking App Development. For example, the basic features of the app will cost around %10,000, and including advanced features may go beyond $30,000. A more complex the app is, the more time it will take. Hence, it will require more manpower. Therefore, you will need a higher budget compared to a less complex app.
The type of platform you will select for the development of a taxi booking app will surely increase or decrease the cost of development. If you are developing an app for iOS then the cost of it will be different than Android. And if you want to develop a cross-platform application, then your taxi booking mobile app might cost even higher than the ones mentioned before.
Each county and city might have various Taxi Booking App Development Costs considering the skills of app development teams, complexity, and resources available, etc. take a closer look at the amount you need to spend on these apps region wise. 
U.S.: USD 150 – USD 250 per hour

Europe: USD 40 – USD 150 per hour

India: USD 10 – USD 80 per hour
Technologies used for developing mobile applications  functions and technologies that we use in the taxi reservation app development play an important role in deciding the overall cost of development. Starting from planning and developing the front-end and back-end of the application,  using a budget-friendly tech-stack is highly beneficial and recommended. The technology stack that you may need while creating a  application for taxi reservation are: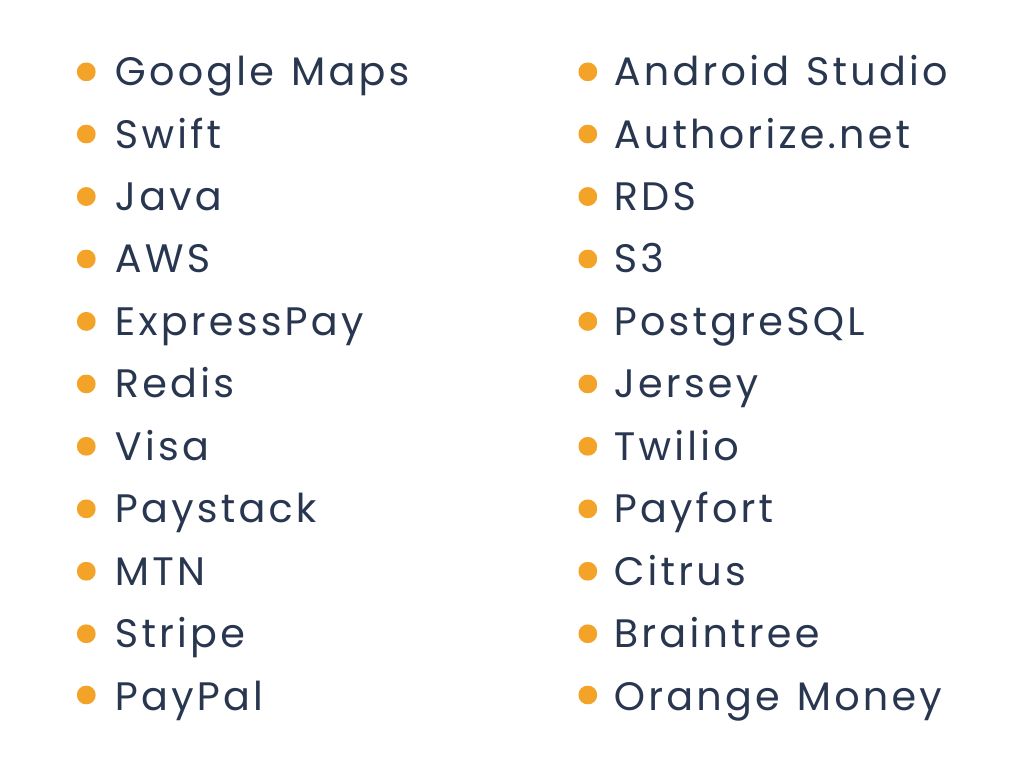 Time Required For App Development
It's difficult to put an estimate of how long it will take to construct an application that is completely functional. It relies on the quantity of resources used and the complexity of the project's integration requirements.
Driver App
Drivers Android App Design & Development:- 35 Working days

Drivers iPhone App Design & Development:- 35 Working days
User App
Users iPhone App Design & Development:- 40 Working days

Users Android App Design & Development:- 40 Working days

Users Web App Design & Development:- 38 Working days
The above provided information highlights the cost and features of taxi booking apps. The best way to get a fully functional and improved version of an online taxi booking app is by hiring a best taxi app development company. The best way would be to get the reliable expert developers for all the development work while you relax and wait. Visit our experts for the development of a world-class taxi booking app development.
Frequently Asked Questions (FAQs)