December 26, 2017
---
SEO 2018 – Search Engine Optimization Guide – Top 5 tips to follow in 2018!
"Change always makes you forward and your strategies a milestone for others – unknown"
The above statement inspires me and somehow explains the journey of SEO as well. Over the past few years, we have seen several changes in the implementation of SEO and the outcomes that we get through it. Who adopt it earlier, sets a milestone for others and now, as we have almost reached at the end of 2017 and have faced several ups & downs in this year, it's a quite impressive time to think and adapt changes of SEO 2018.
There are plenty of techniques that we used to promote a website or biz and get results according to the desires, but as required, we have to improve them to match the pitch of the market.
Being one of the leading digital marketing specialists, we have researched over them and selects few that will surely have a heavy weightage as SEO 2018.
Content and Links
Voice Search
Video Marketing
Mobile First Index
RankBrain & UX signals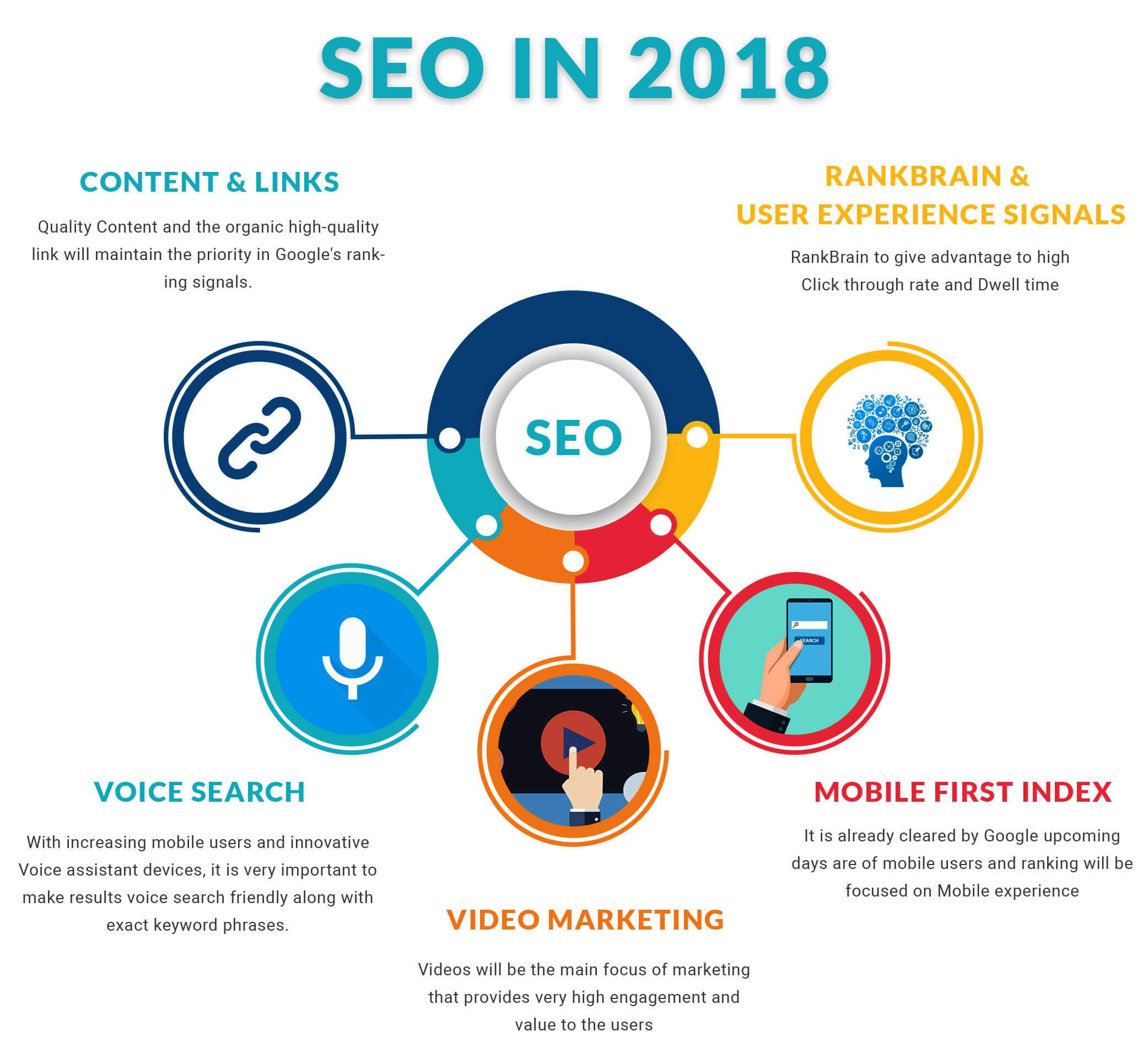 Quality Content and Link Relevance in SEO 2018
One of the traditional strategy and the backbone of SEO, Content, and Links are still as worthy as they were. The change that has appeared, in the previous years, is the quality and relevance.
In 2018, you have to focus on the quality content that contains long-tail keywords and a solution for user queries. Even republishing older posts by improvising the content, keywords, and pitch, you can make your website alive and updated for major search engines.
You can append LSI in your long-tail keywords that will help a user to get better results for different, but similar meaning words. Even it helps a search engine to rank your content for different search queries.
Along with the quality content, the relevance of back-links will also be a major aspect of SEO 2018 to consider. The relevance of a link impacts on your ranking signals and allows a search engine to up or down the ranking. Even, having relevant back-links from authentic websites and domains will also impact positively.
Trending Voice Search Assistants
Now, we all know that Google launched pixel2, Samsung appears with Galaxy S8 and iPhone smashed the market with iPhone X. But did you know, what comes in their features on top? – Voice Search Assistant!
Google has embedded its assistant to all Android devices, while iPhone already has SIRI, who can answer anything and get results for your voice search. Even, the stats show that around 40% of adults used voice search feature to search on Google (source) and 20% of mobile searches are usually voice searches (source).
So, Digital Marketing Specialists, it's time to enable your content and promotions for voice searches to make it worth for SEO 2018.
But, how to enable Voice Search feature in content optimization?
First optimize your content to get ranked on first page.
Try to make it appear in featured snippet through optimizing it for specific queries.
And last, but not least, try to append a question along with its answer in that content.
By indulging in the voice search practices, you can get better results in the near future and make your audience convinced to reach towards you.
Adapt Video Marketing Strategy in SEO 2018
A human being or audience always performs a search to get a practical solution rather a formatted text content.  It helps them to understand each step, in detail with a practical implementation that's why "YouTube" is the second largest search engine.
Even according to the stats, users keep skipping Google for practical search queries and moving towards the video platforms. As it makes everything clear and feasible and allows them to implement accordingly.
If we look at the Google search results, it shows at least one video result in the SERP, which always came from YouTube (although it also a part of Google service), but video marketing should be considered as a prominent strategy for SEO 2018.
So, try to prepare video content in 2018 or at least include a video in your text posts to get ranked on search engines.
Keep your focus on Google's Mobile First Index
Increasing demand in mobile industry somehow affects the behavior of a prominent user. As it makes their searching more convenient. According to the states, user prefers to search through their handheld devices, which seems to reach around 60% (source).
Even Google already announced an SEO update in 2015 that tends to improve search ranking for mobile responsive websites. And last year they announced they're switching over mobile first indexing, which simply shows Google's consideration.
Although Google's mobile-first index isn't live yet, but it surely exploded in near future. So, prepared for it by making your website responsive and completely visible for desktop as well as for mobile users, as hidden content won't get ranked.
Optimize for RankBrain & User Experience Signals
Google announced "RankBrain" update in 2015 and considered it as one of their top 3 important factors of ranking now. Being a Digital Marketing Specialist, we all know how frequently Google improvises its algorithm and ranking signals, which influence the strategies and techniques, we follow.
Due to their continual refinement process, RankBrain will definitely get more importance in SEO 2018. But, for the newcomers or beginners, it's obviously a brainstorming question–
What is RankBrain and how can we optimize our website for it?
Well, for those, RankBrain is an artificial intelligent machine learning system that allows Google to refine search results according to the user behavior. In layman language, it gathers the data how a user interacts with the search results and modify the ranks accordingly.
For a better understanding:
Let's assume you searched for "SEO updates" in Google and gets a list of results like beneath.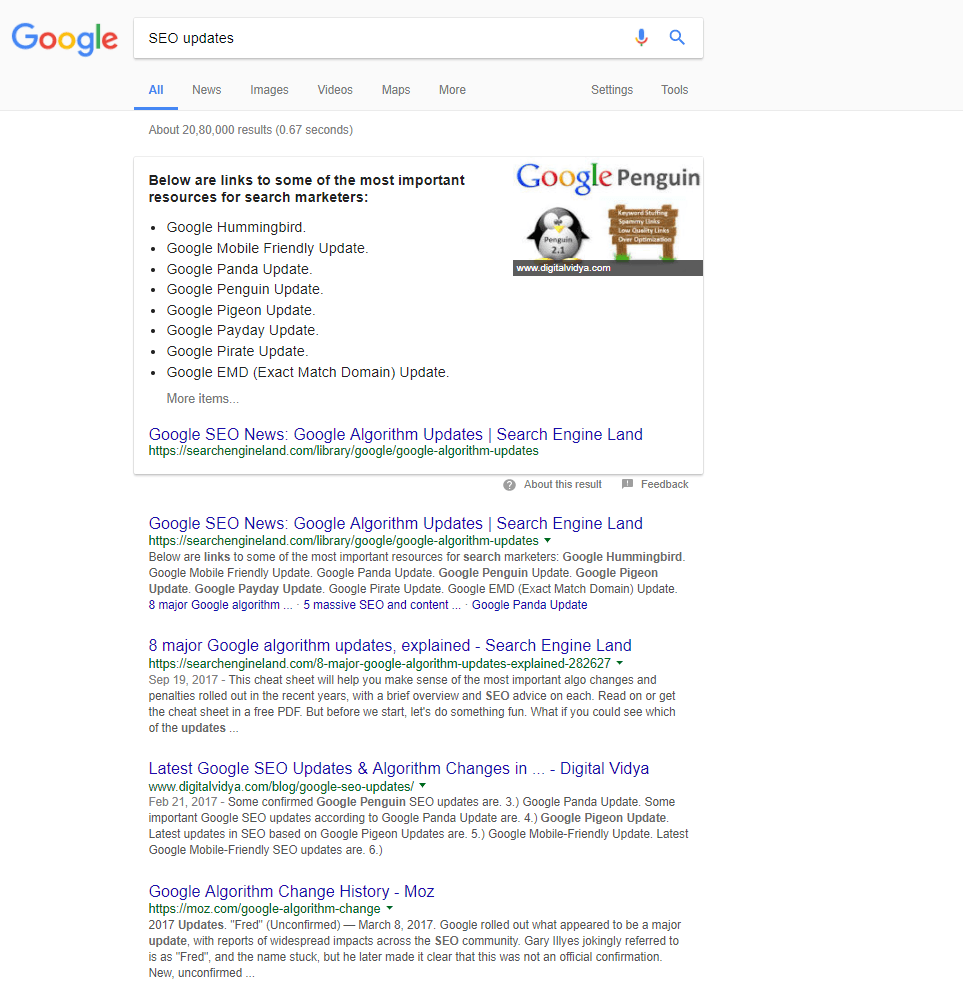 From that instance, you clicked on the first result without even reading its text and when you reached to the resulting page, you get worse content ever and just get back without even wasting your single second.
Now, you clicked on the third result as it looks more convincing to you and you get great content that binds you to read the full article.
Google's RankBrain will note your actions and behavior for both results and marked it down in its system.
On the other side, other user read down all results and click directly on the third result without visiting any other result. He got what we want and spend a great time to read it completely.
RankBrain will also note down this behavior on the system and act accordingly. Now what we get through these examples:
The time a user spends on the webpage (Dwell Time)
The bounce rate of the resulting web page.
The CTR of a search result.
RankBrain refines their results according to these three factors and up-grade or down-grade a result. So, be active to optimize your web content according to the RankBrain algorithm in 2018.