May 16, 2018
---
(Infographic) Taxi App Development – Why you need to own it?
Taxi, a must to have concept in every city, every state to adore population with instant services and pick & drop facility. Although, complying the rules and regulations makes Taxi app development and taxi services complex for private service providers, while competing with brands like Uber, Ola, Lyft, etc. also considered as a biggest nightmare in this segment.
Well, if we segregate the risk factors and competition from future scope, then we can easily mesmerize with the opportunities that the Taxi app development segment has. For a brief understanding of opportunities in Taxi booking solutions like Uber, take a look at the stats provided by Statista:
#1 – Increasing no. of smartphone users
We all knew the impact of smartphones in our routine and it becomes an addiction for Gen Z. We act like crazy, if we missed our cellphone for a while even, it seems like impossible to stay away from it for a day or week. It's obviously one side of the coin, on the other side, it has plenty of benefits from improved knowledge to increased sales.
According to the stats, there are 2.32 billion active smartphone users worldwide in 2017 and it will be reached to 2.53 in current year 2018. Moreover that, prediction says that the number will reached to 2.87 billion by 2020. Which simply means, you have a vast market to target.
#2 – Increasing Demand of Car Rental Services encourage Taxi app development
Since the launch of Uber App in San Francisco (year 2010), market geeks started capturing the movement and user penetration rate to analyze user behavior towards it. According to the forecasted data and with a user penetration rate of 1.7%, car rental segment will serve around 87.2 million users by 2022.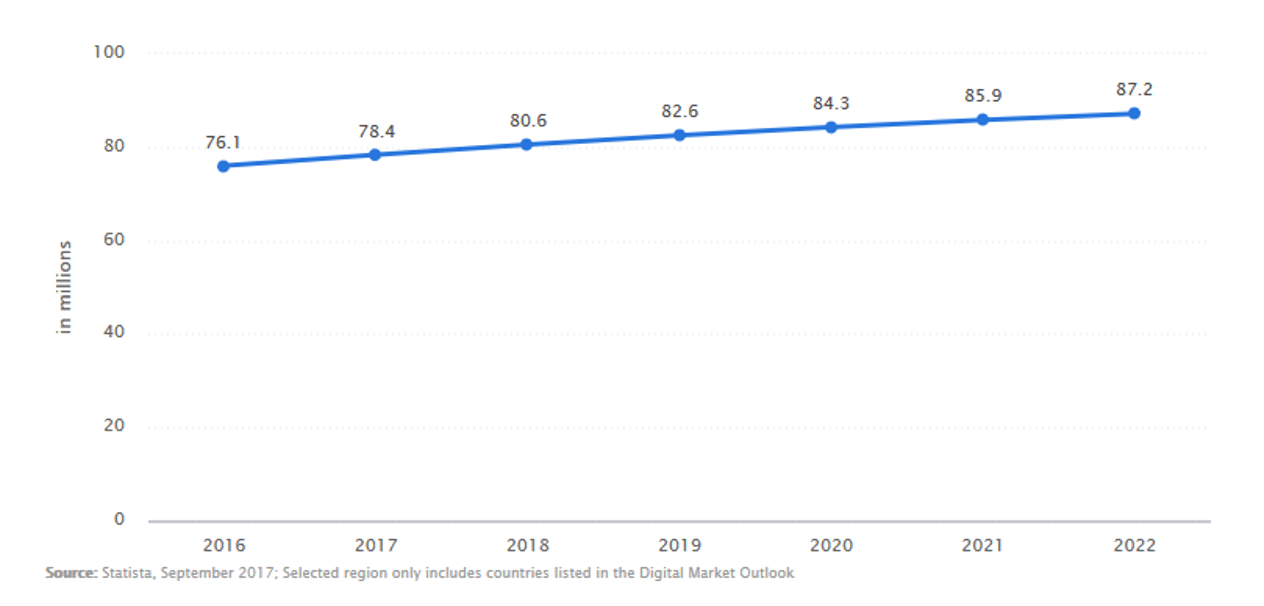 #3 – Forecasted Growth in Car Rental Revenue
The number of forecasted users can easily make us assume the growth in revenue. But for a clearer view of market growth and to get why you need to own a taxi booking solution, we have gathered revenue figures from Statista.
On the basis of research, current revenue in car rental segment is $21,034 million in 2017 and the amount expected to reach $24, 391 million in 2022 with an annual growth rate of 2.8%.
#4 – Increasing Demand of Ride Sharing Users
Similar to the car rental segment, ride sharing industry also saw a boom in previous years. According to the stats, industry has around 425.73 million active users in 2017 and forecasted to reached at 684.4 million worldwide users by 2022.
#5 – Increasing growth in Ride Sharing Revenue boost Taxi app development scope
Increasing demand of Ride sharing services also impacting the revenue of the industry. According to the stats, in 2017, the revenue of Ride sharing segment is around $44,360 million, which is predicted to reach $106,398 million by 2022.
The numbers, and opportunities always encourage us to indulge into the segment, but still if you have any doubt about why you need to own it, you can explore the case studies of industry giants such as Uber, Ola, Lyft, etc. They all have significant milestones and competing with each other to adore their clientele.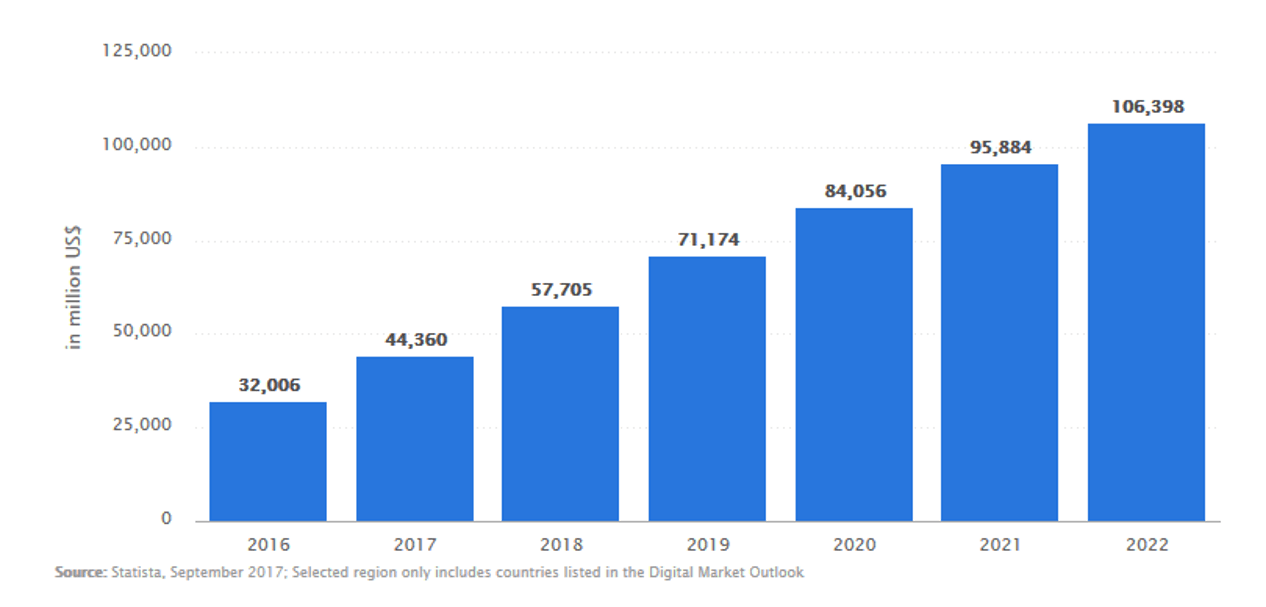 Those studies will surely boost up your confidence and amplify you to opt out the system. Here's a brief analysis of what you will get with the system.
RGI Taxi is a "Uber kind taxi booking system" that comprises several essential and modern features to enhance functionality and user belief over the taxi application.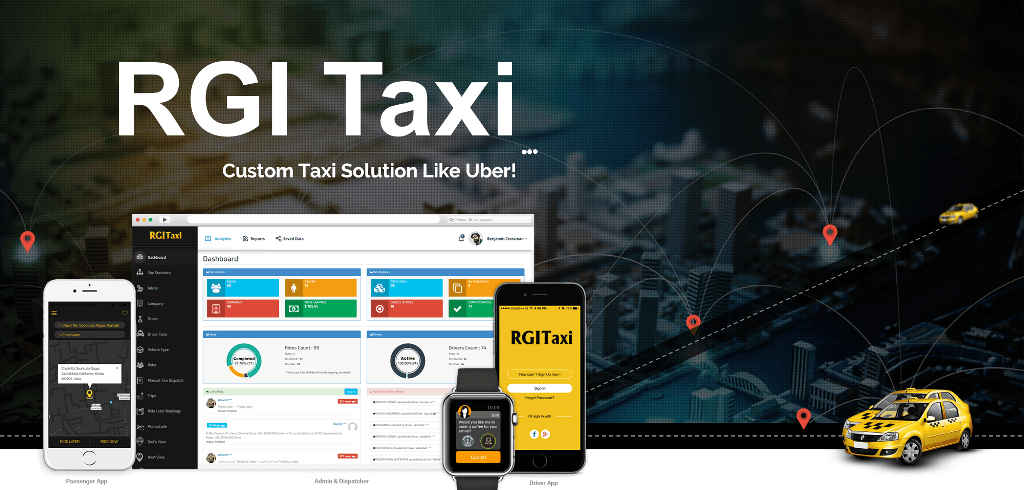 Along with that, Taxi app development and taxi booking solution has a robust nature to make you more comfortable and your business grow simultaneously. The system has three basic parts to maintain user bookings, and operations:
Along with several mind-blowing features in Taxi app development, delightful experience of passengers always appears on the top in the list of requirement analysis. Features that Passenger App usually consists,
01. Ride Booking
02. Referral Rewards
03. Seamless Payments
04. Quick Registration
05. Estimation of Rides & Payments​
06. Ride Tracking​
07. Ratings & Ride History​
From quick registration to earning tracking, a non-technical driver can access everything that's available for their comfort on driver's dashboard. Here's the list of driver app features under Taxi app development,
01. Instant Registration
02. Ride Information
03. Availability Status
04. Map Navigational System
05. Real Time Request Management
06. Passenger Contact
07. Trip management
A to Z everything will be visible to the Admin, who's going to handle operations, communications, and co-operation to maintain the feasibility of the system. What admin can manage listed below,
01. Trip Tracking
02. Secure Login
03. Driver Management
04. Category Management
05. Vehicle Management
06. Passenger Management
07. Analytics & Reports
Being an enthusiastic car/taxi business owner, you surely require an option to manage all your physical tasks and smoothen your work flow. With RGI Taxi app development, you can focus on the growth and expenditure of your business, rather indulging into the operations and management. If you have any query or want to discuss your doubts, we welcome you to
talk with our dexterous developers
, directly.
For a go-through understanding, we have prepared an infographic that comprises the above information in a graphical form. Take a look at the Infographic, here: