December 7, 2023
---
How To Create A Streaming App Like Netflix?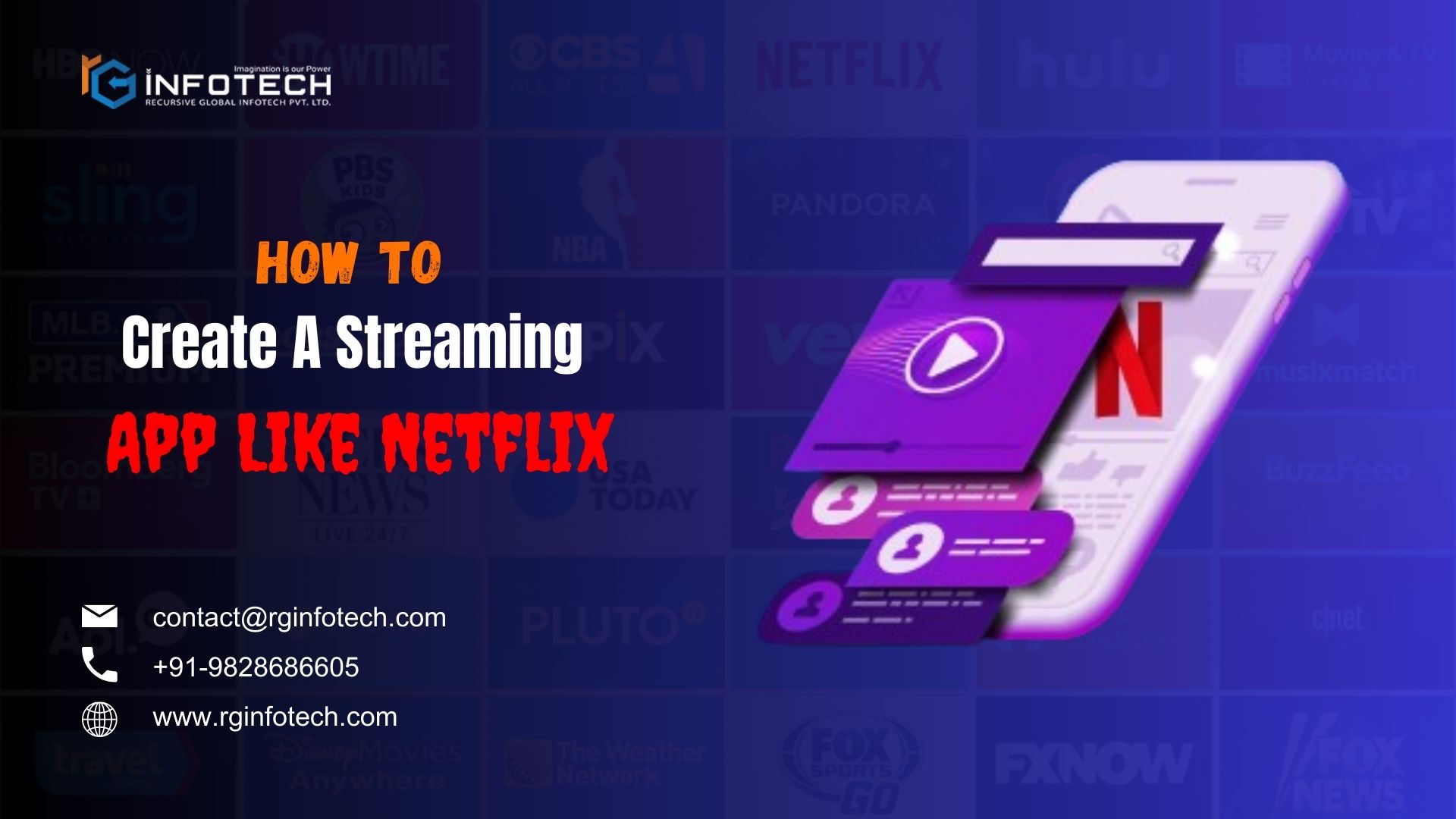 With the aid of on-demand app developers, you may utilize OTT
Mobile app development
for commercial needs, which is a fantastic idea. In order to walk you through the details of the actual cost to develop app like Netflix, we have gathered some facts here. However, the average price of a streaming app like Netflix is $25,000, and everything after that depends on the features and specifications. The breakthrough Netflix like apps or video streaming apps have taken the place of more conventional video entertainment techniques. Netflix is the most popular OTT (over-the-top) video streaming app, despite the fact that there are many others. Its extensive video library, which is available to subscribers, has more than 15000 titles available for viewing.
The Netflix subscribers, 247 million, compared to other OTT apps in 2023. Amazon Prime is the second app with the most worldwide subscriptions. It raises the profile of solutions for the entertainment business. There are 74.38 million combined Netflix customers from the US and Canada, if we are talking about the US market. According to statistics, its customers watch a video on the Netflix app for an average of 3.2 hours per session. Even while the OTT platform user base was already growing before the Pandemic, it surged dramatically during the global shutdown. According to eMarketer Projects, 136 million American households will exist in 2023. Nowadays, people have their own prime time that they can change according to their preferences, giving them the opportunity to watch their favorite shows and movies whenever they want.
Advertisers took advantage of this new trend as well as spectators. They don't need to reserve a time slot as they did with TV in order to display their advertisements on the Netflix-like app at any time. Advertisers can run their adverts whenever any video is playing on platforms with ad support, such as Netflix, YouTube, Amazon Prime, and Disney+. YouTube is the app with the most advertising out of all of these.
Netflix: A Brief Overview
Netflix was founded in 1997 by Reed Hastings and Marc Randolph in Scotts Valley, California. This is a well-known video streaming service that is accessible through the Google Play Store and Apple App Store. After logging into its website,
Netflix.com
, fans may also watch their favorite movies and television episodes. You can find a variety of well-regarded series, motion pictures, anime, documentaries, and other video stuff here. It is the best media streaming software since you may view as much as you want without ever seeing an ad. On smartphones, laptops, desktops, smart TVs, and other media streaming devices, users can watch Netflix. Here, customers must make the appropriate purchases of subscription plans, which come in a variety of monthly options. This pattern is used by the majority of apps, including Netflix, to increase user engagement and retention.
Key Features of Create A Streaming App Like Netflix
Features are the most crucial component of every program. If your goal is to create an app similar a Netflix, you must pay attention to the elements that will help you make your app strong and distinctive in order to capture consumers' attention in a significant way. So, these are some essential components that your OTT app must have.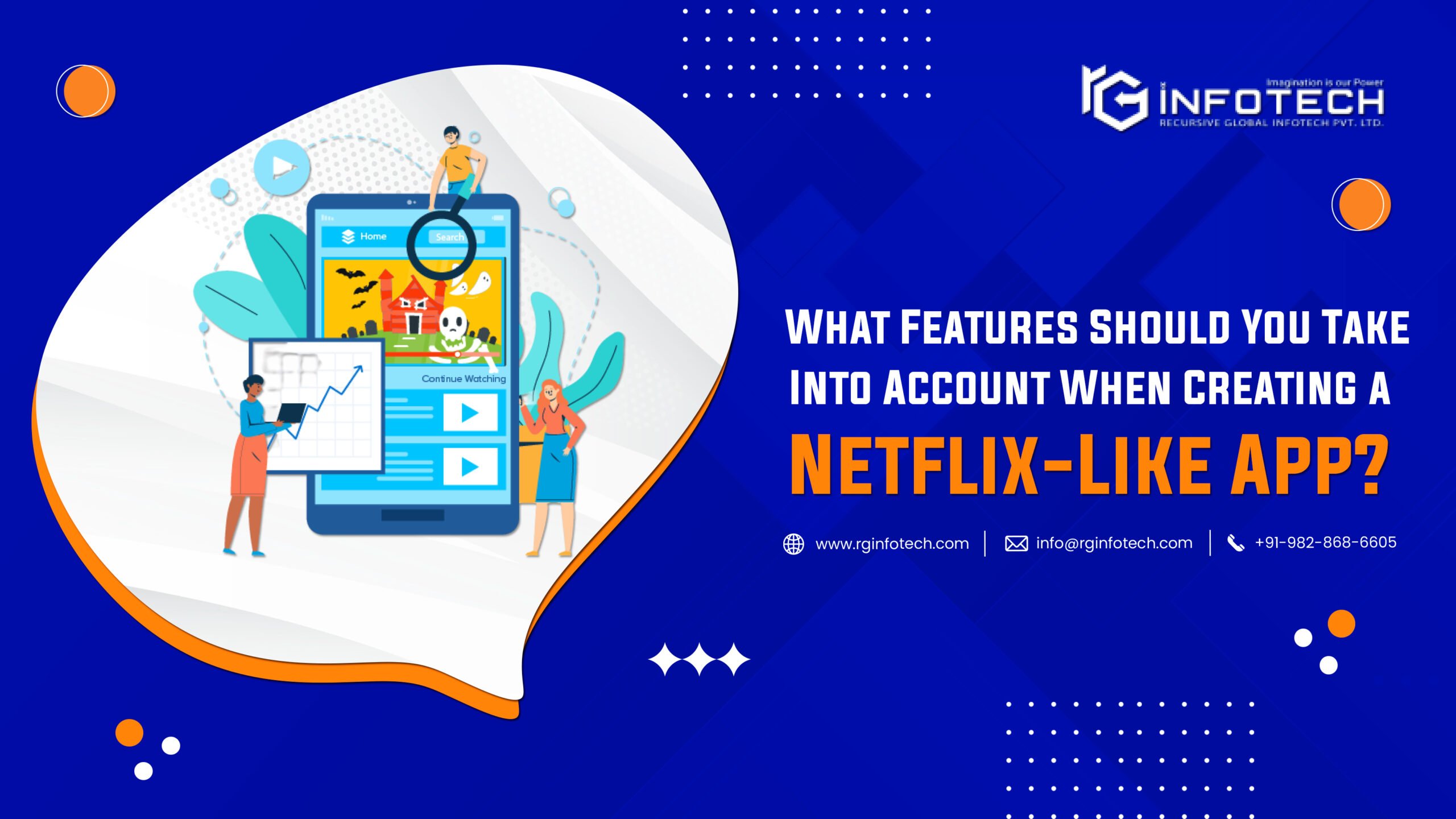 Login and User Registration
User login and registration are essential for an app's security. A user must enter information upon registering for the app, including their preferred user name, email address, phone number, social network account ID, and password. Users can log in to the app with their username and password after filling out all the information.
Users may easily create and manage their profiles using this feature. They can add or remove any non-essential information, such as a backup phone number or email address.
Nowadays, the majority of people share their movies in real time over the internet. Therefore, you can implement a feature here that lets app users share their real-time video with others and you can also live stream the developed material you've created. The users can be engaged the best this manner.
Purchase of A Subscription Plan
You must include a feature that enables users to select and pay for the membership plan of their choosing if you want to make money from a similar app like Netflix. You can limit the content according to the membership plan and choose from plans like monthly, yearly, or per pay watch.
Modern apps desperately need to provide different payment alternatives, and this idea also applies to apps like Netflix. Users must be given the option of paying subscription fees using their preferred payment methods, such as net banking, credit cards, and debit cards.
The audiences of your app are not restricted to a certain geo-location from which a user can access it. Your app needs to support multiple languages to break down language barriers because it is also beneficial to the business.
The majority of media streaming applications support multiple devices. The user might have various devices at home and at work, therefore it would be pointless to buy a subscription for each device in order to watch the series. You must see to it that the user can use the same subscription to sign in to the desired device at the same time.
Your app can become fantastic if it has a strong search function that allows users to easily find the desired material. Here, using different filters to make it easier to search the material would be beneficial. It is intimately related to the adage that you should put yourself in the shoes of your customers.
Users can make a playlist of their favorite content to watch in a day or over several days, which is an intriguing option. Multiple playlists must be able to be made by a user.
Users are able to utilize the app appropriately thanks to the setting. In the same way that YouTube allows viewers to modify the video quality from 480P to 1080P or greater, they may adjust the volume up and down, the screen resolution, and the streaming video quality.
One of the most recent features, practically all apps have it. A user can download the video solely for their app using this functionality. It won't buffer when they watch it later. Additionally, it aids in preventing content piracy because if you are permitted to download a video directly, it can end up being used to disseminate pirated content.
Notifications Through Push
If you're creating an OTT or Netflix like app for business, push notifications are more valuable. Directly sending messages or notifications to the user's inbox will be helpful. It can also be used to give clients promotional offers.
Reviews and ratings are more crucial for quality control because you can address and resolve problems that consumers express in the form of reviews. The best thing to do is to raise the caliber of an app.
Looking an app for your business? Let's discuss your idea with us on coffee.
How Much Does it Cost to Develop An App Like Netflix?
The majority of users on the internet search for the following terms while trying to determine price:
How much does it cost to create an app like Netflix?
How to buid a Netflix clone?
Is it feasible for me to construct a Netflix-like app on a budget?
What is the price of creating a streaming app?
If you intend to create and release your own app like Netflix, keep in mind that the cost of developing an app depends on a number of variables. Although the actual cost to produce an OTT app ranges from US $10,000 to US $35,000 for the entry-level version. If you wish to include the advanced features, the price will go up. It is the sole variable that affects the price; the other variables are as follows:
The operating system you want to use to start your program, such as Android or iOS:
Team Size
Technology Stack
Employing a Model
Functionalities & Features
Cost of marketing and promotion
Hiring expertise to develop OTT video apps is the most crucial cost-related aspect. Businesses can hire developers in one of two ways: on a project-by-project basis or on an hourly basis. It will cost you between $25 and $50 per hour to hire engineers to Netflix clone app development. The best approach, however, is to hire developers on a project-by-project basis as they will handle every aspect of the work, from designing to developing.
A great software to utilize as inspiration while developing an on-demand video streaming app is Netflix. Since Covid-19 affected the entire planet, there has been an unforeseen shift in the viewer's behavior. People switched from traditional TV to media streaming app like Netflix as a result of the global lockdown, where they worked from home and spent as much time as possible indoors out of fear of infection. Currently, 68% of Wi-Fi-enabled homes use streaming services for digital media. Therefore, there are many prospects in the OTT app industry if you're seeking them; all you need to do is launch a distinctive app that works like Netflix.
If you are looking forward to launching your own OTT app similar a Netflix, then you can freely contact
RG Infotech
. Here, we have an efficient team of
android
and
iOS App developers
that can help and assist you to create your own OTT platform for online video streaming. And the best part is that they are one of the best in the market and also have very budgeted fees in comparison to others.
Frequently Asked Questions (FAQs)