April 10, 2018
---
Web Development Trends in 2018– What will be your future approach?
Web Development, one of the earliest terms that exist for decades, also one of the trendiest term that opens to adopt earliest changes. With a gradual nature of emergence, it used to upgrade core functions and appears with a newer version of technology. We've already witnessed it several times, and recently with the emergence of JavaScript.
The changes are so frequent that we can't assume what comes next. Even, what we know today and indulged in, doesn't mean to stay forever. For an example, the origin of Angular isn't that exciting, tech geeks adapt it and used it, but the upgraded Angular 2.0 completely changes the scenario. It uses completely different ways, which treats an experienced angular developer as a fresher.
In last few years or months, the web development industry stroked with updated versions of PHP, .Net, JS, etc. and several reported to be appeared in 2018. Some will get a hike in second quarter of 2018, and some will get down in the same time span. So, keep your eyes on ups and downs and emergence of latest technologies to make your knowledge up-to-date and to increase your future opportunities.
Acquire a trending custom solution under a pocket friendly budget by the experience and enthusiast web developers, who have pace, efficiency, and market understanding. Make your move now!
Even according to the stats published by EDC (
Evans Data Corporation
), there are more than 21 million developers worldwide, which was 18.5 million in 2014. The number of worldwide professionals only acceptable because there are around 21 million active GitHub users, and that's not possible that GitHub holds more users than worldwide developers.
Here in this article, we'll dive deep in the web development trends of 2018, that will surely improve development process, automate operations and enhance productivity. Let's begin the debate:
Web Development Trends in 2018
Being an enthusiastic and opportunist developer, we've to explore the possibilities of every inception, flaws and drop-holes of every code, and changes in implementing technologies, so that we don't meet with the downfalls. Take your sharp eyes on the changes in Web Development Trends and make yourself flexible to adapt newer versions quite easily.
Trend #1: Push Notifications
Recently, we've seen it on several websites, and read several articles, news and posts about it. This trend will make a business more visible, an updated content more appealing, and the users more attached with trending updates.
You can understand it as a newer version of subscription model, where a form asks user info to make them aware about latest post, change in context, and increase user subscription. Similarly, Push Notification asks to enable notifications to get latest update. Once you enable it, you will get the updates even after closing your browser or exiting from that website.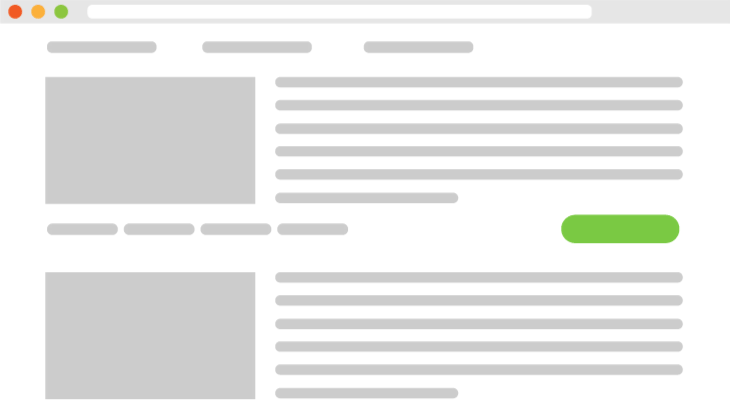 The functionality of notifications was inspired from mobile app notifications, which counted as one of finest method of user engagement. It encourages a user to navigate and reach to their favorite content instantly. While on one-side, it enhances user movement, there on other side, it also works well for re-engagement of a user.
So, get indulged into the trending possibilities of web development and make your user experience much better in 2018.
Trend #2: Automated Chatbots
If you still depend on a traditional support system, where a user needs to generate a ticket and he/she will get a resolved solution within 24-48 working hours, then you need to upgrade your system. As it is a digital era, and nobody has such time to wait for a solution. The throat-cutting competition makes it more complex, as if you don't answer it quickly user will switch to another operator.
To make it futuristic and user-oriented, there are several automated chat solutions available. You just need to implement right one in your web development solution and operate it from anywhere. Those automated chatbots will be considered as an AI version, who can answer your question, navigate you to right destination, and provide worth solution.
Enhance your user base through Automated Assistants, that can provide instant support and engage your users with your business. Let's discuss with dexterous geeks, how?
These bots also allow you to enable automated messages, such as welcome message, predefined answers, and support URLs to make your support system automated. This transformation of support system will surely encourage your users to become your customer and make your business valuable for them.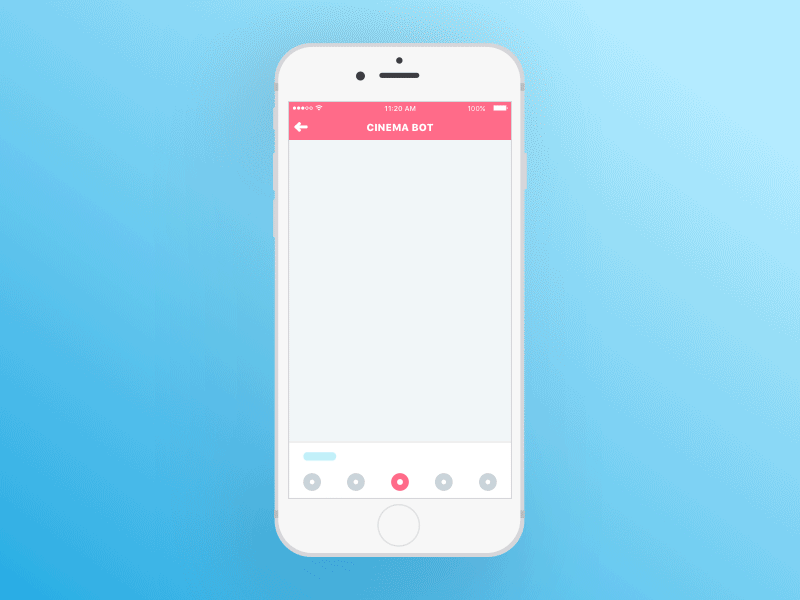 Take an inspiration from Google assistance and iPhone's "SIRI" to create your own automated chat system, that can resolve issues even when you're not in the range of your system.
Trend #3: Progressive Web Apps (PWA)
The term Progressive web apps, first appeared in the year 2015 and now it becomes one of the main competitors to native mobile applications along with an emerging web development trend. They are basically general websites, but have some functionalities that allow a user to access it offline and all credit goes to service workers.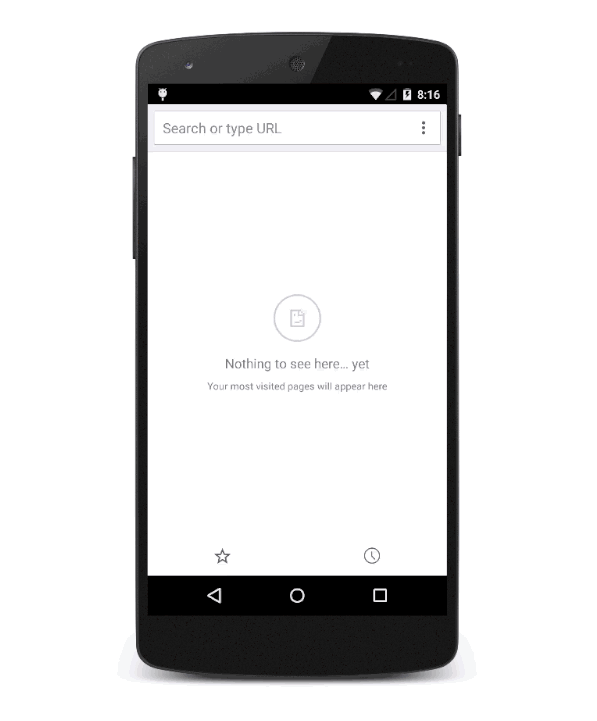 The data of progressive web apps will be stored in cache, which helps them to load instantly and also works fine in offline mode. The service workers, who help these websites to run in offline mode, run in background, so that users will see latest cache on every visit (which auto stored whenever a device connected to internet).
Users can also save a shortcut of PWA websites on their device dashboard, if they used a particular website frequently, and access it whenever they want just like an application. So, keep your website adaptive for a device through implementing PWA trend and enhance your visitors' experience in 2018.
One of the major and admired web development trend, which we've witnessed in 2017, will also conquer in 2018. We've already seen a lot of updates in front-end and back-end JavaScript frameworks, such as Angular, Node, Backbone, Vue, Ember, etc., in previous year and a few have already announced to be on-air soon.
According to the Stack Overflow 2017 survey, JavaScript has topped the list of leading frameworks preferred by web development professionals' with 81.7% shares. The leading technology is most loved programming languages and preferred to learn by beginners. You can check out the survey chart here: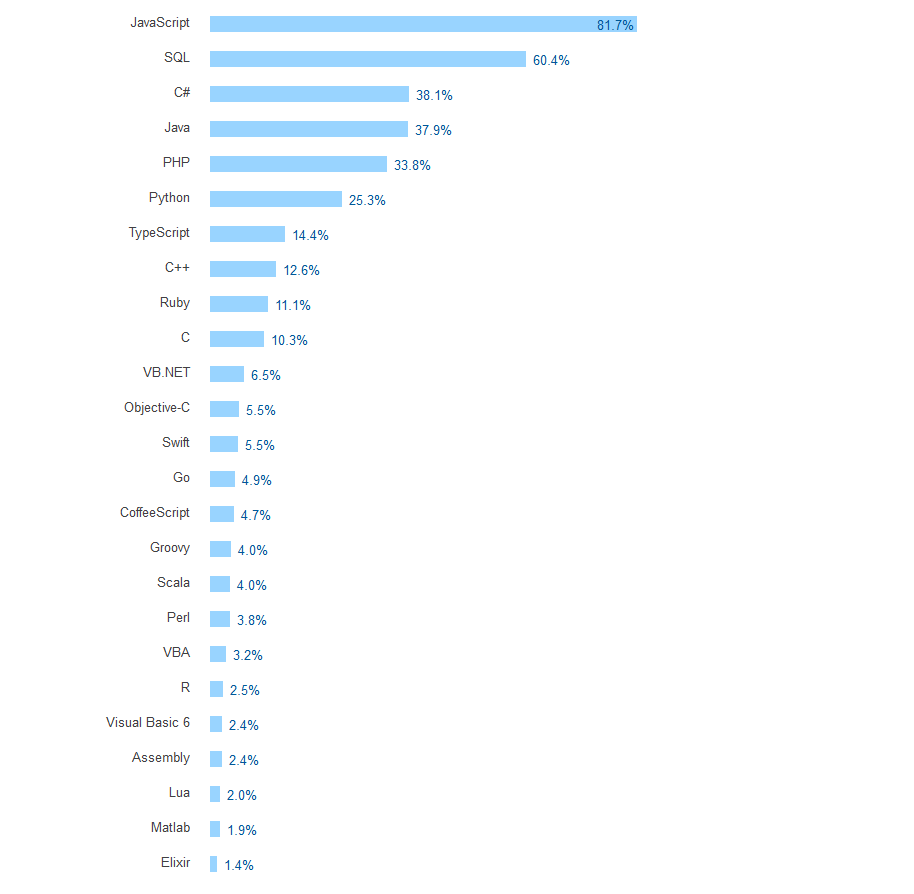 Even according to the Statista, JavaScript is the most used programming language that preferred by professionals around the globe with a market share of 62.5%} (source). Moreover that, if we further segregate JavaScript according to different frameworks, Angular leads the list of "most loved framework by professional developers" with 28.1% shares. In the chart beneath, we can see the cut-to-cut competition in between Angular and React, take a look here: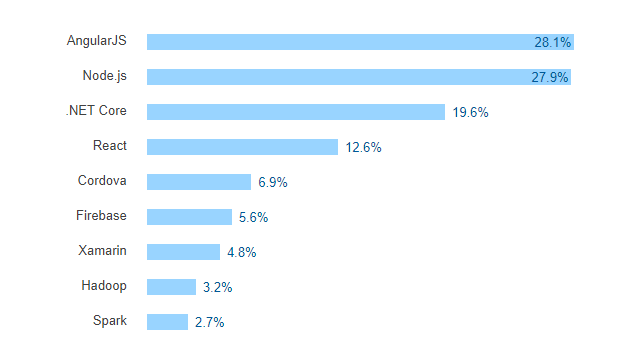 User experience is always a major aspect in web development solutions, which directly moderate conversions. While previously it identifies through functionalities, now in digital era, it recognized through smooth animations and graphics.
On the other hand, user wants something amazing that makes them engage and force them to stay more. They are used to with GIFs & flashes and somehow, they are bad for the loading as well. Which directly cutoff around 3.4% of interactions and 4.2% of conversions. So, think about it and adapt emerging web development trends of animation.
In second quarter of 2018, you should go with smooth transitions, that allow you to give life to your boring or static content and revive them with animations and motions. Try out particle.js in your header or enable some eye-catchy transitions along with hover effects, animated graphics, motion background, and modular scrolling.
Move your fortune in a right direction by adapting emerging web development trends that will surely help you to gain more users, better impressions and improved conversions. There were several changes noticed previous years and several will implement soon, so be ready to make your web development more adaptive via indulging into trending technologies, such as JavaScript, Motion UI, PWA, Automated Chat bots and Push Notifications.
Talk to our dexterous web developers and resolve your doubts about trending technologies, implementation of emerging trends and transition of your inception. We would love to help you out.
"If you think there is something that we have missed, feel free to mention it in a comment. We would love to include them in the write-up. Cheers!"