February 17, 2020
---
Things to know about Tinder like dating App!
The new age evolution has completely changed the relationship with technology and also the mindset of a human being. People are now more techno-friendly and ready to adapt new things compare to a past decade.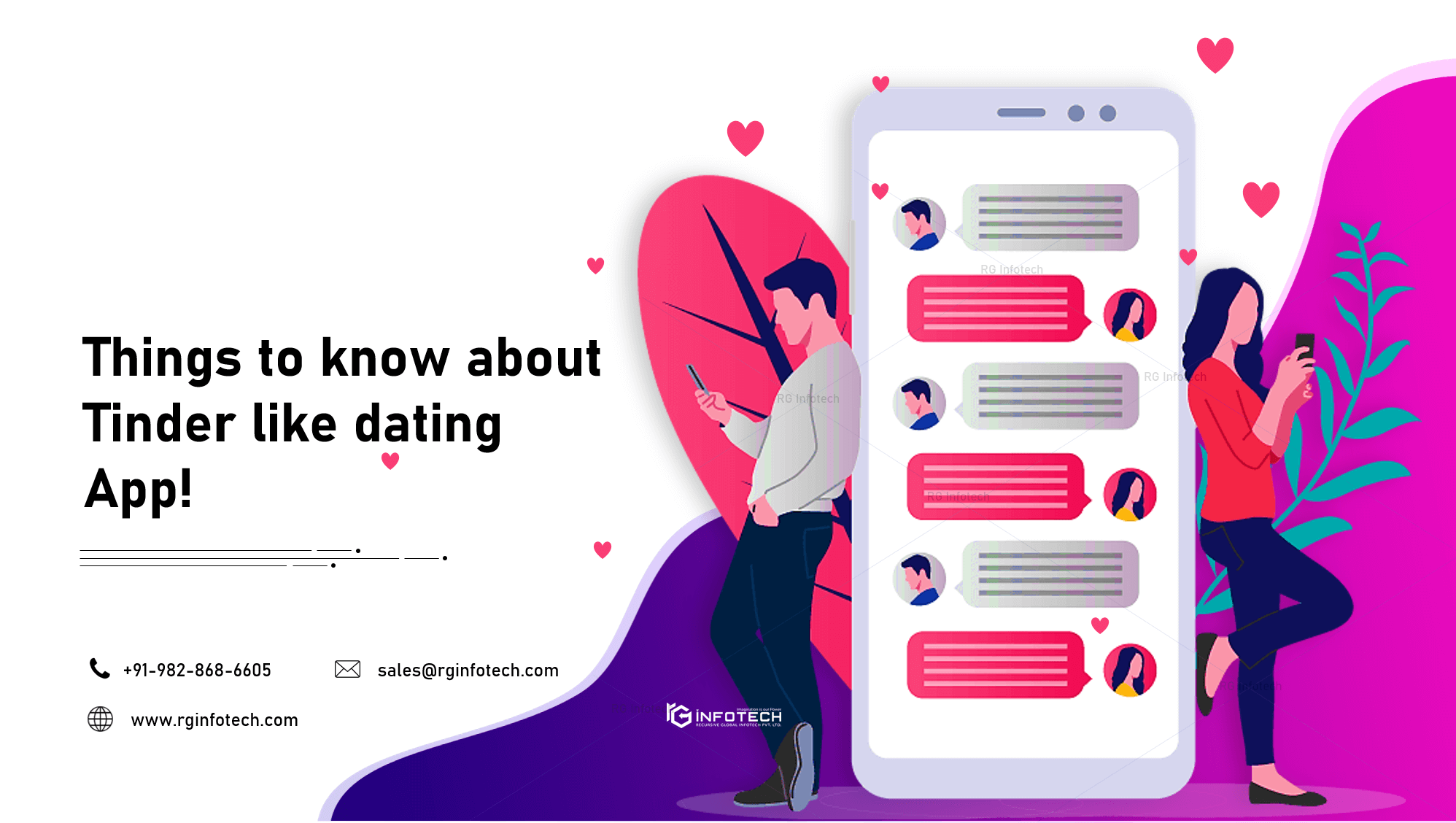 Now these days, we have new ways of messaging that works instantly rather the traditional hand-written letters that used to reach in days, we are more adaptive to social media platforms rather social events, and we are more active on internet rather community meetings. Even the special meeting with someone or dating has changed its skin, you can search your soulmate or a short-term relationship direct through the dating apps.
Just choose the preferred app, search for the profiles, filter it through the interest, connect with each other and "yuppie" that's it, now you both can share your details, fix your meeting date and so on.
These kinds of dating apps have their separate user base which is savage for several other segments. And this is a sure success mantra for organizations, if they follow a right path and select an experienced
dating app developer
.
What are the highlighted statistics of Dating Industry?
Dating industry is a vast segment for entrepreneurs as well as for App Development Companies across the globe. Almost 75% of the world population uses one of the popular dating app at least once in their life. Today, the industry is billion dollar and much easier for single around the world.
Here are a few statistics that show the growth and the tendency of the industry:
In the US only, 49.7 million out of 54.4 million singles have used dating site to search their soulmate or a relationship partner.
72% singles trust on online dating-triggered relationships rather the offline one.
Almost 77% daters regularly spend atleast 15 minutes on dating apps for potential matches or search profiles.
61% of the adult daters find this platform an easier solution to check and match profiles.
The major ratio of users on dating apps is millennial, who aged between 18-29 years.
Online Dating segment revenue amounts to US$2,141 million in 2020 with an expected CAGR 4.3% (2020-2024).
According to the Statista stats, online dating users expected to reach to 279.8 million by 2024. Take a look at the growth chart beneath: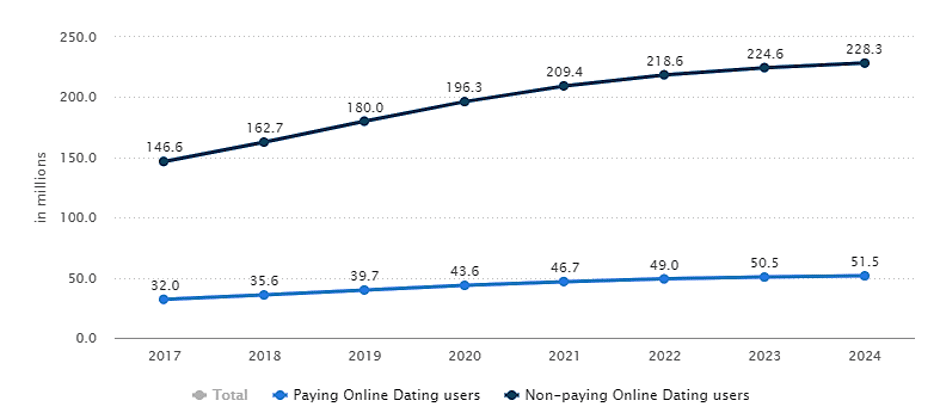 Top 5 Market leaders of dating industry!
Dating industry isn't a small segment, the industry is expected to reach $9,202.7 million by 2025 with a growing CAGR of 4.7%. According to a market research, there are around 1500 dating platforms battling with each other to draw more users.
One of the major market leaders is – "Tinder", which is a location-based social search platform and founded in the year 2012. The platform owns more than 57 million active users per month with around 4.1 million premium users. The platform is used in 190 countries and available in 40 languages to oblige each and everyone.
According to the stats, tinder made $1.2 billion revenue in the last year, which is around 43% higher than 2018.
With the same intend of dating and social networking, "Bumble" – the first feminist dating app was founded by one of the co-founders of "Tinder" – "Whitney Wolfe", who left the firm due to some personal issues with another co-founder.
This is one of the few or the original one, where women message first and the receiver has a time limit of 24 hours to reply back and start a connection. The platform has almost 46 million users from 155 countries and has almost 85% female employees.
According to the stats, "Bumble" earned the top second position in list of all dating brands with a $300 million revenue in the year 2019. This is the only platform, who empowered women to start communication and get a possible match. 
With a massive number of users, and great features similar to the other platforms OkCupid shares the market since 2004. The platform has almost 50 million registered users and allow users to send direct message to another by visiting their profile. Although, they only see that message once find their match with another person.
According to the stats, "OkCupid" earns $1 million revenue in the segment last year with almost 200K downloads by a global audience.
Match was founded in the year 1993 and purchased by the IAC in 1999, later transferred in its sub-group Match Group, which is especially created for the dating brands. Apart from Match.com, the group also owned Tinder, Hinge, OkCupid, Plenty of Fish, and 40+ other brands.
The premium dating platform allowed only paid members to message matched profile, although users can create and search in the premium version. The dating app has around 39.7 million visits per month with 30K downloads and earns around $500K revenue last year.
One of the leaders of the industry – "Badoo" was founded in the year 2006 and has around 425 registered users. The platform is available in 47 languages and used in around 190 countries. The dating app has recorded 300K daily registrations and 4 million app downloads with $1 million revenue in the year 2019.
Other than those leading apps, there are several dating apps available on Google Play and App Store, some of them are Hinge, Happn, Her, Clover, Plenty of Fish, and Grindr.
What are the features that Tinder like Dating App should have?
Comparison always took place with the leading one and industry follows the path of successful brands. Take a look at the beneath chart that shows the most popular online dating app worldwide:
According to the above chart people downloaded Tinder most. So, here's the top most features that tinder like dating app should have:
The very first thing or major feature that an app should have, is social login. The user should have the freedom to sign up through their existing Facebook, or Google account. Other apps can make it a complimentary feature, but for dating apps, that's a major feature as it clears out the interest of a particular user and allows dating algo to search similar profiles.
Apart from the technical prospectus, integration with social account will also cut down the efforts of a user to prepare a profile on such dating apps as they can fetch most of details from the social platforms.
The major feature that an online dating app should have, as nobody wants to chit-chat a person they can't meet. This feature will help applications in user retention and better user engagement. This feature will encourage users and provide suggestions based on their interest, their social activities, etc. and help to improve interest-based geolocation matches.
Although, app developers can allow users to choose their preferred region or location and find their matches apart from getting the current location from their devices.
Rather the outdated random profile suggestions, Tinder use different algorithms to suggest best suitable profiles to users. When a user creates a new profile, the algo searches the suitable profile on the basis of profile ratings.
The app uses a scoring system, where the number of likes or right swipe counts as the rating, more likes means the higher profile score. Although, matches can also be suggested on the basis of similar interests, similar locations, and similar count of scores.
A single left or right swipe can mark a score for the profile, as the right swipe means user likes the other profile and left means user dislike it and wants more options. Although, there should be an undo option, as sometimes swipe happen accidently.
Tinder introduces that feature and recognized 15x higher user activities with a 250% increased match ratio.
User can set their preferences such as gender, age, region, religion, or interest, on their profile, and filter their suggestions based on it as these kinds of online dating platforms usually have a huge database. This setting will also help to increase the rate of matches due to similar kind of interests and mutual agreements.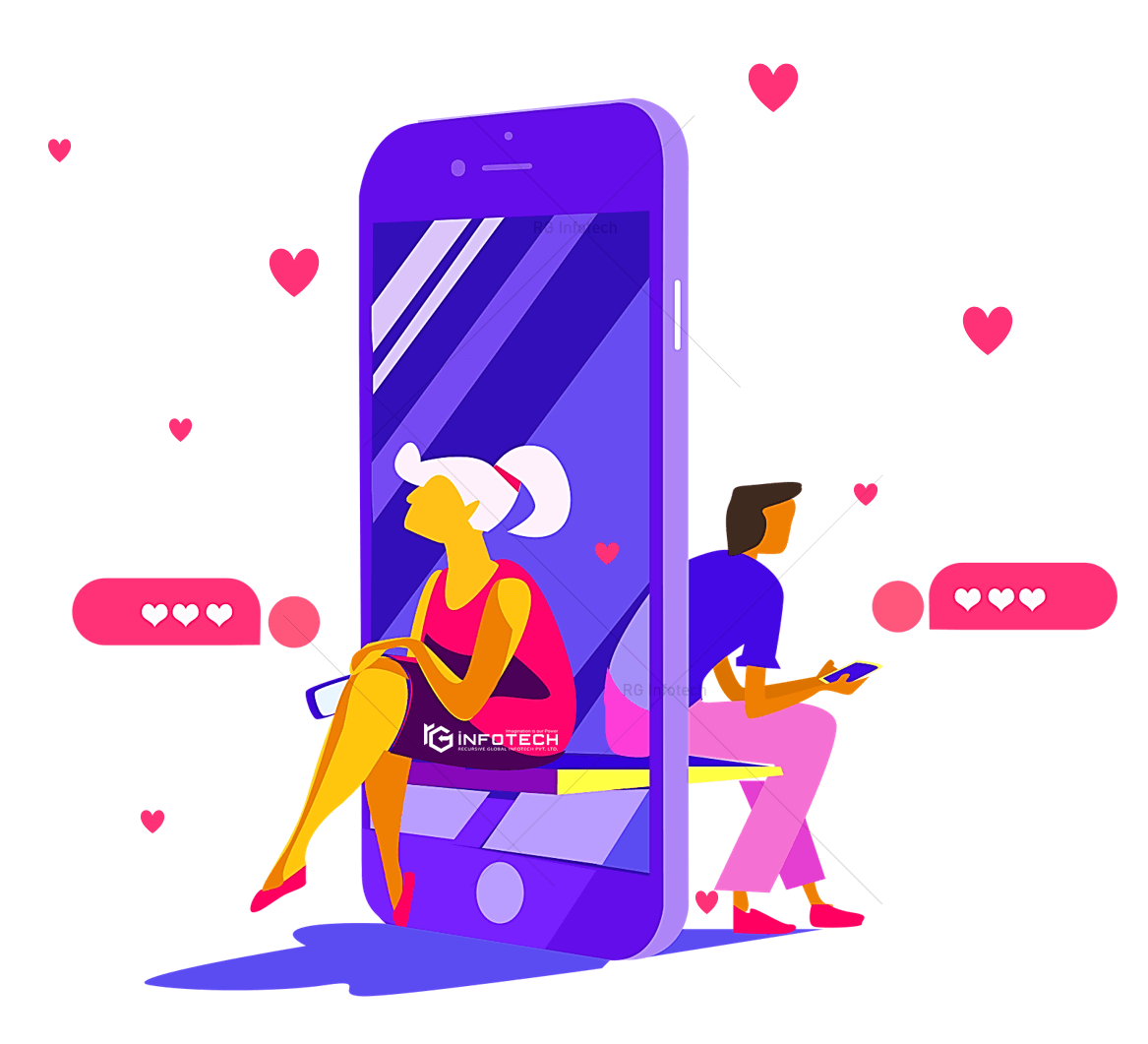 For development related queries,
please make a call on +91-982-868-6605!!
Like other apps, online dating apps should also have Push Notification to update users in real-time about recent changes, matches, messages, etc. This is a significant feature and major growth tactic to retain a user and provoke them to return back to the application.
One of the basic, but the major feature that an online dating app should have. Chat messages allow a user to communicate with the matched profile and share their interests, or pictures with each other. To enhance the text-based chat feature, dating app developer can include video chat feature too in the application.
App developers can include a real-time chat system with video calling feature, AI based chats to animate pictures, or can make it interactive through cartoon style user emojis.
To identify the authenticity of the user, a dating app should contain Anti-Fraud Screening, where user needs to verify its original identity. This will improve user belief and retention on the application and reduces the number of fake profiles.
This can also be done through two-way verification, and required document verification process along with profile completion.
Conclusion - The Bottom Line.
If we think a decade back, finding the right relation without knowing each other isn't a possible thing, but now we can. Online dating platforms made it easy for the singles and appeared as the most preferred solution for finding the right relationship.
We analyzed the industry stats and found that the online dating industry is a billion-dollar industry with a great user base and higher revenue model. There are almost 77% singles, who uses such kind of applications at least 15 minutes per day. Due to such facts, plenty of dating applications are running successfully. The Match Group owns 45+ dating brands including the leaders – Tinder, Match, OkCupid, etc.
Those figures are eye-catchy for entrepreneurs too, that's why the number of dating app developers also increasing day-by-day. Although, check those stats, top leader's strategies and their business models first, before entering in the segment.