February 15, 2023
---
RG's Accolade night: A Night worth Remembering
So, it's that time of year when we celebrate our employees' accomplishments and present them with the trophies and gifts they deserve. As you are all aware, RG Infotech has always felt that the happier the employees are, the more productive they are for the organization. The most astounding part is that we consider them to be our family. And on January 28th, our RGI family celebrated the much-needed yearly celebration.
We named it RG's Accolade Night, and it was a fun-packed night replete with music, dance, and humor, as well as the distribution of awards. So, without further ado, let us begin by telling you about what transpired during RGI's annual Accolade night.
If I tell you that practice makes perfect, you have to believe me since I witnessed it on our awards night. Even those who did not know how to dance practiced, to make the big night memorable. However, it would be inaccurate to suggest that no one in our group knows how to dance. Many members of our family have excelled as dancers. And knowing that we have talented personnel made us very happy.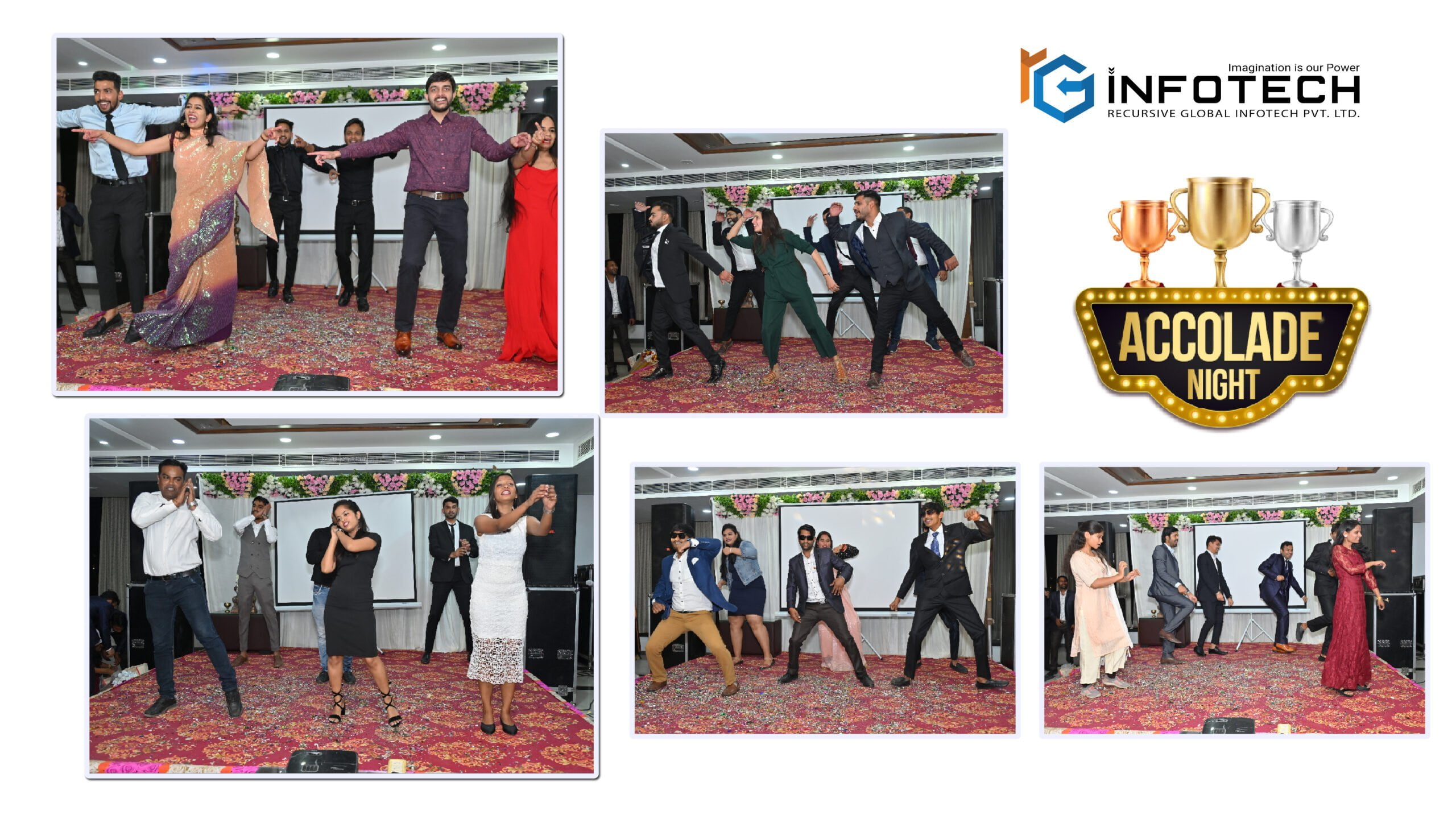 Our staff rehearsed dance for more than a month before performing with such Grace and Oneness that we couldn't believe some of them knew how to dance. The amount of fun and satisfaction we experienced that night was immeasurable. It wasn't just one team of a few employees dancing; they were divided into different groups that danced to different songs, providing an insight into what goes on in the office through the amusing dance enactment.
I must say that RG Infotech is extremely fortunate to have such individuals in our office who are not only effective in their work and give their all to our clients and customers, but also provide their all in fun activities.
Do you know how my voice sounds like a crow early in the morning when I sing a song? But I know what it's like to hear melodic voices, like birds chirping on a spring evening. That is the melody of music that captivates everyone. There are no linguistic barriers to music. You may not comprehend the language, but you can still relate to tunes, right? I enjoy listening to music and attending live concerts and events.
The finest part of the celebration was hearing members of my RG family sing in their beautiful voices. Everyone appreciated what the employees sang, and it was a fantastic night. I can imagine how fantastic it must have been for the singers to hear everyone cheering and hooting for them. It must have been a distinct and beautiful feeling for them.
It was time to talk about what our RGI Family members had accomplished. We offered awards in a variety of categories. Among them were the rising star, the consistent contributor, the growth booster, the best at teamwork, the clients' pick, the mountain mover, the high flier, a true gem of RG, the face of RG, and like a boss.
These are only a few of the award names that were given out. However, in my opinion, meaningful awards should be given to all employees because they deserve to be recognized for their efforts. Their contributions and hard work are responsible for RG Infotech's current success. But it is also critical to recognize those who work the hardest.
And when we observed how thrilled all employees were to watch their colleagues receive awards, we saw how employees consider each other as family, not just colleagues.
Our employees, too, staged a skit. My friend used to joke that every employee was born with an actor inside of them. And, for obvious reasons, I share that belief. Everyone enjoyed our employees' lively, witty, and engaging skits. It was about everyday office life as seen through the eyes of an employee.
It was a big success, with laughter filling the auditorium and everyone chuckling and laughing. Not only did the crowd love it, but so did every employee, whether they were performing or not
Such functions and experiences, however, can never be summed up or wrapped up in a single blog or post with few words. These are experiences and emotions that can only be experienced, appreciated, and remembered. And the event was a big success, complete with food, beverages, and laughing. Everyone who attended loved the camaraderie and one thing that we have as an organization. The CEO, Mr. Ramakant Gupta, deserves praise, but so does every employee who worked, practiced, and contributed to making this day a big success and one to remember.
Continue to follow RG Infotech for more blogs and articles like this. These are based not just on our office experience, but also on statistics that will help you improve and learn more about app development. We also supply you with further technical knowledge.