November 27, 2023
---
Mobile Game Development Trends (Update 2023–24)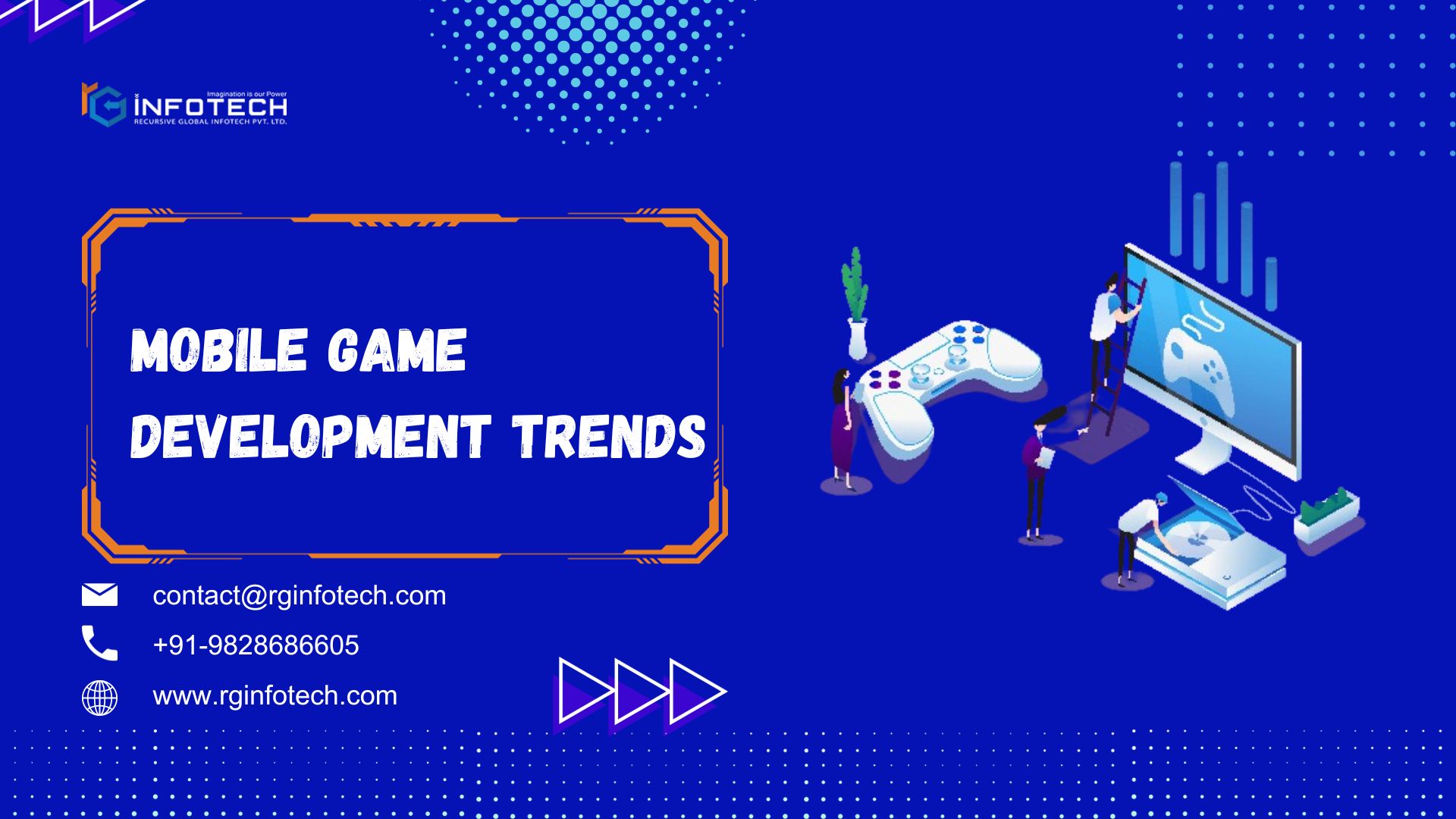 With the advancement of relevant technology, the gaming industry has also developed at a rapid pace. The top game development studios adapt to changing trends to deliver uncompromised and advanced gaming projects that are playable on repeat and are highly profitable. Both project flow and revenues are influenced by the future trends in the game development industry experienced by game developers. Nowadays, the new trends in mobile gaming apps are slowly but surely changing how consumers perceive video games. Read further to learn all about the top mobile game development trends that are temporary and will even grow further.
Mobile Game Market Trends Overview And Statistics
Over the past few years, the market for mobile gaming has witnessed tremendous growth and evolution, with a steady increase in the number of mobile gamers and revenue generated. With the massive growth and development, the size of the gaming market will continue to thrive in 2024, driven by factors such as the abundance of affordable smartphones, advancements in technology, and the rise of new Mobile Game Market trends.
As per Statista, around 40% of the global population, i.e., more than 3.24 billion people, identify as gamers.

According to reports by GlobalData, total revenue generated by mobile gaming is expected to reach $272 billion by 2030.

According to Sensor Tower, by 2025, 71% of Google Play's revenue is estimated to come from mobile games, and 42% of the app store's revenue is projected to come from gaming applications.

According to Statista 2021, Asia is in the top position in the global video game market with nearly 1.48 billion players, whereas Europe placed second with more than 715 million gamers.

According to Sensor Tower, player investment will soon reach $236 billion by 2025 across the app store and Google Play.
Looking an app for your business? Let's discuss your game idea with us on coffee.
Top 10 Mobile Game Development Trends
Game development has seen the arrival and development of several technologies at the present moment. From artificial intelligence to realistic art, blockchain to the metaverse, there are several mobile gaming trends that are shaping the course of development in the gaming industry. Here we have mentioned top 10 mobile game development trends that help to make the best trending mobile games in the gaming industry.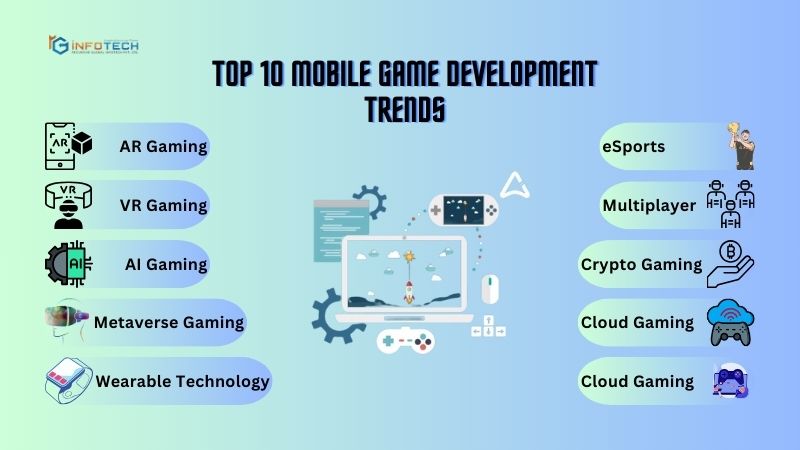 Artificial Intelligence (AI) and Machine Learning
AI has had a huge impact on the online gaming industry in the past couple of years. Nowadays, many games include AI to enhance the gameplay and make it more immersive for players. One common use of
AI in gaming
is the control of non-player characters (NPCs). These characters can interact with players in a more dynamic and realistic way, adding to the immersion and engagement of the game. As we mentioned above, popular technologies like AR and VR are becoming more and more dominant. And the combined strength of these technologies with AI will pave a new way for the gaming industry. There are high chances that AI will have a much greater impact than it already has in 2024. AI helps game developers create more tech-advanced and exciting games.
Augmented Reality (AR) Gaming
Augmented reality games
navigate the real world and then overlay game visuals with the help of sensors such as microphones, cameras, and global positioning systems (GPS). Extended Reality (XR) and Mixed Reality (MR) gaming take this a step ahead by permitting real-time feedback between the game and physical environment. The technology of AR itself holds immense potential to be used in the gaming industry. The market also displays a strong preference towards mobile gaming, setting a bar for game industry trends. For example, a Newzoo report emphasizes that revenue generated by mobile gaming will be $93.2 billion in 2021. The release of the Pokemon GO game in 2016 was a testament to how much potential AR holds when it comes to the gaming industry. The game quickly became a global hit, with millions of people playing it on their smartphones.
Virtual Reality (VR) Gaming
In the gaming sector, the virtual reality software market holds 43% of the market. With the potential of VR, it is no surprise that the gaming industry is heavily invested in the VR market. In fact, the current value of VR gaming is $1.1 billion, and it is expected to grow to $2.4 billion by the end of 2024 (PwC, 2020). In the gaming sector, VR offers the ability to control and modify the game's environment. But, as this technology becomes popular in other sectors as well, the VR share in the gaming market may decrease in the upcoming years, as stated by experts. With the increased demand for VR-enabled games, new and improved content from virtual reality mobile game trends keeps hitting the gaming market. With VR headsets like Oculus Rift, gamers get to experience a realistic virtual world and 3D creatures in an advanced virtual environment. Thus, the competition of introducing the most impressive, advanced, and sophisticated VR wearables and input devices is the major focus point of many
VR game developers
.
Metaverse gaming has gained momentum in recent times. Players get to explore the immersive worlds in the metaverse virtual universe. In 2023, we can expect the emergence of mobile games that embrace the metaverse. Between 2022 and 2027, the global market for the metaverse is projected to be between USD 38.81 billion and USD 710.21 billion, at a CAGR of 38.2%. The metaverse games are improving day by day, and today there are a wide variety of metaverse games like Roblox and Decentraland available on the market. In the metaverse, players will have the opportunity to collaborate, socialize, and engage with others in a shared virtual space.
Metaverse gaming
has destroyed the boundaries between social media, gaming, and entertainment. Metaverse brings together different communities to engage and compete in these online games. You can play the solo games against the AI or other online opponents. It gives users the opportunity to connect with friends to game, socialize, and experience other adventures. Developers deploy functionality for their games to use the metaverse architecture.
Cross-platform support has become a huge deal in the world of video games. Multiplayer hits like Call of Duty: Fortnite and Warzone 2.0 have pushed crossplay into the limelight, and now most AAA games launch with the least support for partial cross-platform. Cross-platform gaming allows players to enjoy their favorite trending games without any hassle across multiple digital devices, including PCs, smartphones, and tablets. The demand for cross-platform games has skyrocketed in 2023. Developers are focusing on creating games that can be played across different platforms, enabling players to continue their gaming sessions seamlessly and get a chance to connect and interact with a larger community.
Wearables are electronic devices that incorporate sensors that are useful for assessing, identifying, and sharing data with users in real time. Wristbands and smartwatches are some of the common wearable gadgets that make use of wearable technologies. People usually associate wearables with health and wellness, but they are becoming popular in the gaming industry as well. You can use a data-tracking wearable device to keep track of the gaming sessions that players attend. Hence, it helps accelerate the gaming experience of the players by using and assessing this information. Besides that, wearable devices are also used to keep track of everything from checking, analyzing, and supervising the performance of players in real-time. You can use these wearables to boost streaming quality using microphones that enhance the whole gaming experience for game lovers globally.
eSports are Gaining Popularity
Esports is not a new name in the industry; this game trend has been popular for a long time in the mobile gaming industry. This game is considered a competitive game for professional players and gaming enthusiasts. Many people are fanatics about these games and watch them directly, either on TV, at various live events, or by exploring web resources. Users can take help from live steam services to watch their favorite games and play them in real-time. The estimated value of the worldwide esports market was more than $1 billion by the end of 2021, which was an almost 50% hike from 2020. Moreover, it is expected to increase by over $2 billion in 2022. Hence, we can all expect to see esports as a popular and constant future trend in game development.
The concept of cryptocurrencies instantly clicks into our minds when we hear it. It has become a global trend because cryptocurrency is highly secure and traceable. The popularity of cryptocurrency has opened a new door for crypto-based games. In crypto games, players who are associated with the game can have a share. It means that they can easily transfer their purchases, shares, and rewards to another game within the same crypto network. Blockchain networks are the foundation of such games, and every computer on the network can get access to equal amounts of data and information. As a result, the game is decentralized, and both owners and players gain equal power and authority. The concept of cryptocurrency became popular due to in-game transactions and the ability to purchase or win cryptos in the game environment.
The list of top mobile game development trends will remain incomplete without mentioning cloud gaming. Initially, gaming was quite an expensive deal. Players need to spend on hardware components, including consoles and other key gaming infrastructure. However, it isn't the case anymore. Throughout 2023, the shine of cloud gaming has brightened the gaming sector thanks to the availability of high-speed internet and the development of cloud infrastructure. Instead of investing in high-end hardware, players can easily stream and play their preferred game online. But why cloud gaming? The gaming trend democratizes gaming by minimizing early barriers and giving gamers access to vast library titles on different devices.
Multiplayer Functionalities
Mobile games are used more than gaming consoles. They will be easily available for people in 2023, and there will be more in the upcoming years. The portable smartphone devices and the wide range of gaming apps they offer make mobile games an all-inclusive, multiplayer function. Nowadays, we experience a massive demand for multiplayer games. Since esports have become a worldwide wonder, mobile games like PUBG have become more popular, and multiplayer games will become a huge trend in 2024. Multiplayer games not only connect people with local players but even other international gamers online. These types of multiplayer games have become more popular with the rise of social media.
What is The Most Trending Mobile Games Right Now?
| | |
| --- | --- |
| Games | Revenue Share |
| Pokemon GO | 46.4% |
| Subway Surfers | 51% |
| PUBG Mobile | 81% |
| Ludo King | 70% |
| 8 Ball Pool | 52% |
| EA Sports FC Mobile | 31% |
| Mario Kart Tour | 37.6% |
| Hearthstone | 26.7% |
| Clash of Clans | 21% |
| Candy Crush Saga | 85% |
| RPG | 9.42% |
The above-given information discusses the top 10 mobile game development trends. Nowadays, trends in game development are leaning towards creating personalized experiences and engaging users through engaging storylines and gameplay simultaneously. The new tech trends are emerging to change the ways people perceive online games. At RG Infotech, we offer trending
mobile game development solutions
that are based on the latest technologies and concepts.
Frequently Asked Questions (FAQs)