February 20, 2018
---
Mobile App Development Trends to follow and look out in 2018!
"Your mobile device has quickly become the easiest portal into your digital self." – Phil Nickinson, Editor of Android Central
Leading faces of different organizations have already accepted the changes and stated several times that mobile computing is the future, might possible Mobile App Development will takeover the web development in near future.
There are almost 12 million mobile app developers exist in the world with in-depth knowledge of mobile app development. So, you can assume "how big is the mobile market!"
Why Mobile App Development is needed?
Mobile Applications, one of the greatest market for Development Companies and the customer centric industries with around 2.53 billion smartphone users worldwide. The number of users predicted to reach at 2.87 billion in 2020 along with 14 million mobile app developers around the world.
Take a look at the beneath chart of worldwide smartphone users: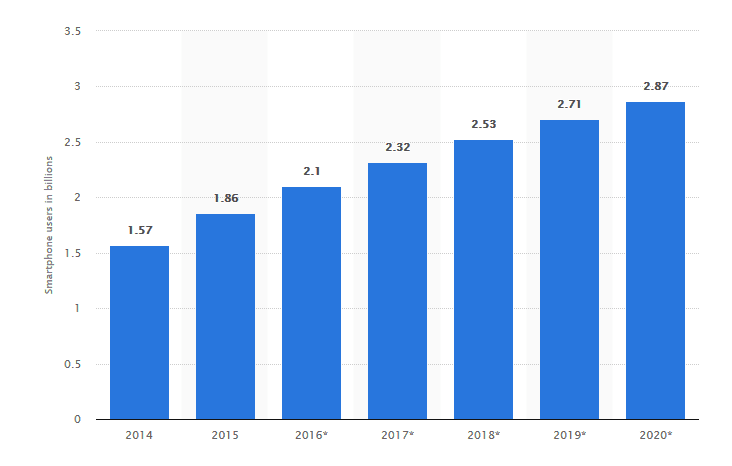 According to the above smartphone user's illustration, we can easily understand the requirement of mobile applications to spread our reach in a bigger sphere. There are almost 70% searches done on mobile devices, even around 63% searches perform on App Stores, you can take a look at the beneath chart: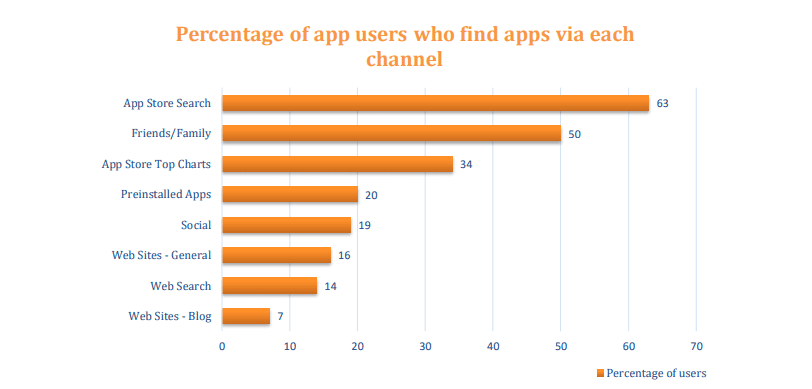 If you have an inception and want to transform it, just make a click and discuss with dexterous expert now!
The above illustrations, research and predictions are enough to make a clearer view about "why mobile applications are needed for a biz to grow?" Even according to the different case studies performed on leading giants, it's clear that with an application you can grow your market around 70% as they are worldwide acceptable and adaptable.
Take a look at the worldwide mobile app revenue, forecasted by Statista:
Before predicting Mobile app development trends to follow in 2018, we should take a look at the benefits of mobile applications first!
The benefits of Mobile Application!
There are around 5 million apps available on Google Play Store and iTunes, combinedly (as of March 2017), and more than 1800 apps launched every day on both app stores. If we believe on Statista stats, then around 197 billion apps were downloaded in the year 2017 and 352.9 billion is predicted in 2021, take a look at the illustration beneath: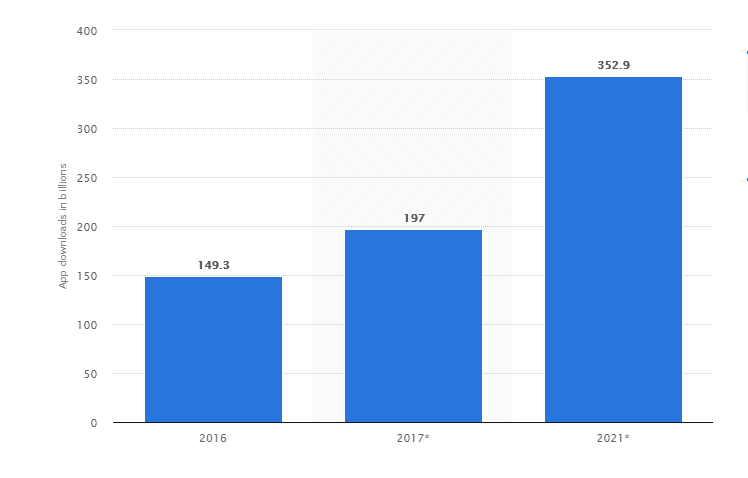 On behalf of the market revenue, user behavior and industry predictions, there are few benefits of mobile app development, we have extracted,
1. It Helps in Market Enhancement
According to the stats, there are more than 2.53 billion users worldwide, and with a single application we can spread our market to them. And what we need for that, just to hire mobile app developer, discuss our inception and execute it as per the market trend. Once it's uploaded to the app store, spend a bit of amount in App marketing to get millions of downloads and top position in the category.
2. It Helps in User Experience Improvement
Being a user what we look for – faster solutions and with applications that will be possible. Websites can be functioned differently according to the internet speed, browsers and other dependencies, while on other side, mobile application will perform similarly on different devices, which helps to improve user experience and for better conversions.
3. It Helps in Brand Establishment
An application will enhance your market reach through increased number of downloads and with each download, you set your logo on your user's device, which simply denotes your branding.
4. It Helps in User Engagement
Highly interactive and appealing mobile application will surely help a biz to improve user engagement and make a sensation in the market. It allows you to send updates and push notifications through SMS or emails directly to the user device, which informs a user regarding their interested product and service immediately.
Mobile App Development Trends in 2018!
The revolution of Mobile Industry simply identified by the device, you have in your pocket. Don't confuse, just rewind your memory few years back, when our parents used to have a keypad device without a camera, without internet, and even, without colors. Now, we have multi-pixel camera, HD display, 4G internet connectivity, lots of storage, and much more.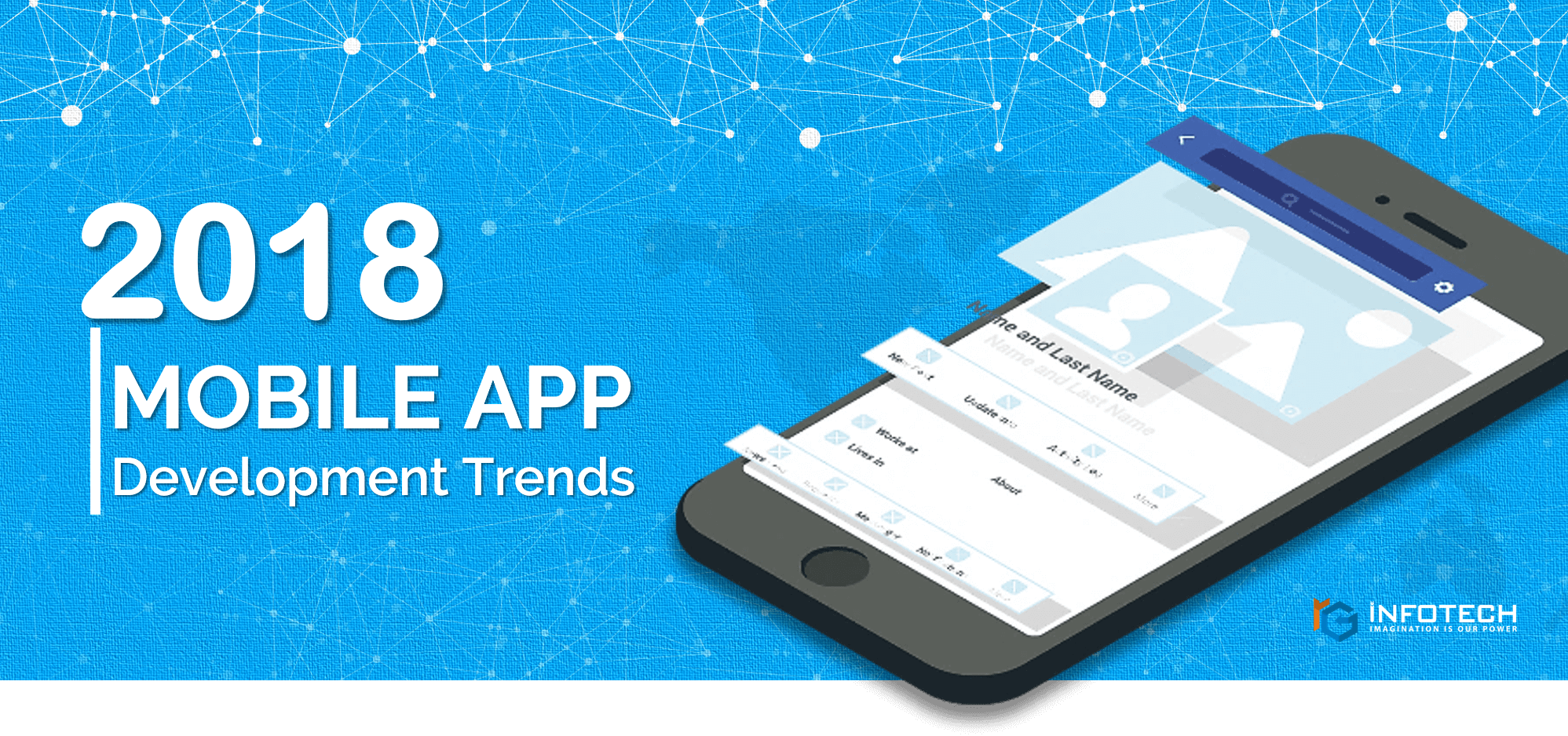 With the revolution of mobile devices, trends in mobile app development also changed with time. Now, we are familiar with 3D graphics, AI (artificial intelligence), and several other elements that affect our lives. And in 2018, that will surely enhance. So, take a look on mobile app development trends of 2018!
- Virtual Reality and Augmented Reality
The arrival of those terms completely changed the way, we used to saw this world.
In the year 2017, we witnessed a great change in entertainment and gaming industry, just because of Augmented and Virtual Reality. We have seen the craze of Pokémon Go, which was based on AR technology and addicted everyone. While on the other side, VR enhanced the way to engage a user through VR enabled devices like: Samsung Gear VR.
In the same year, industry experts adapted that technical change and implement it in other industries like: Retail, Textile, Real Estate, Health Care, Tourism and alike. For an example, you can explore IKEA – one of the leading home furnishing company. The firm uses AR technology in its "IKEA place app" to showcase the exact look of the furniture through allowing you to scan your room and place your furniture at your location virtually. It makes your assumptions clearest about the compatibility of the furniture with your interior.
Due to the predicted growth of AR and VR technology, Digi-Capital forecasted the market potential and illustrated through a chart: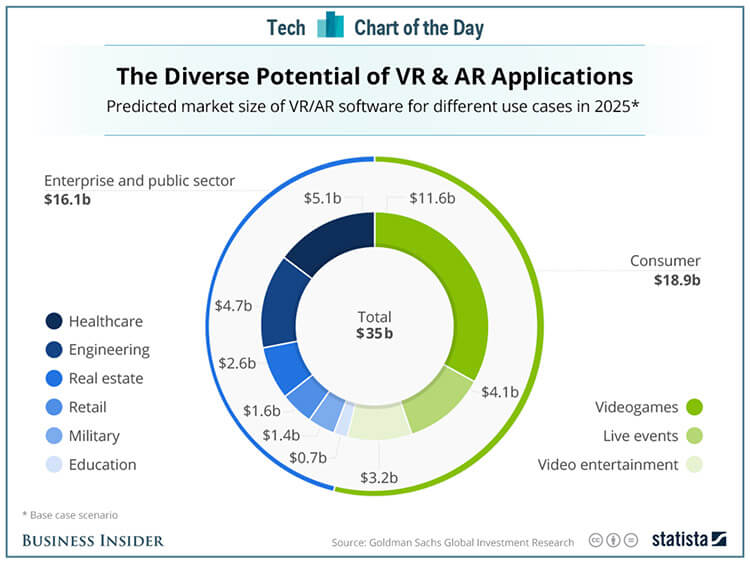 - Internet of Things (IoT)
The commencement of smart devices encourages developers to indulged into Internet of Things (IoT) and we witnessed a great boom in this trend previous year and predicted to get more increase in current year as well.
According to the Statista, around 20.35 billion IoT apps were installed in 2017 and 23.14 billion apps predicted in 2018, which clearly showing the increase in the demand of IoT Apps. Even according to this prediction, the number of installed apps will be reached at 75.44 billion in 2025. Take a look at the forecasted data about IoT app installation, here: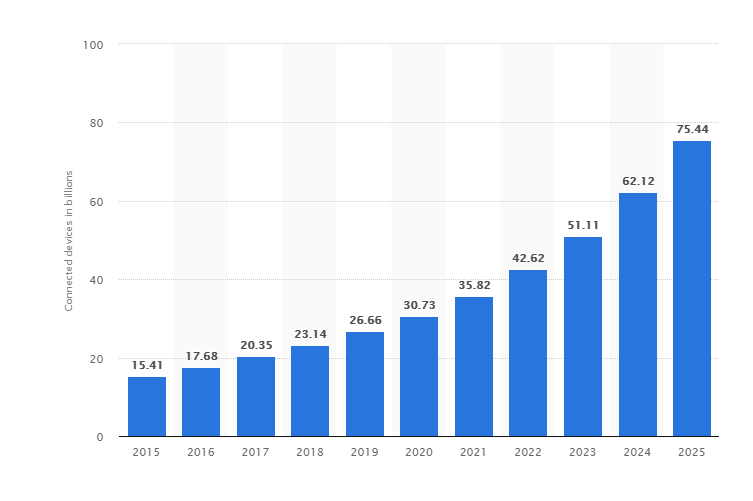 The change has already been adapted from Healthcare to Education industry and smart home to smart offices. And at a Compound Annual Growth Rate (CAGR) of 33.3%, it is predicted that IoT will grow from $157.05 billion in 2016 to $661.74 billion by 2021.
- Blockchain and Mobile Payments
Did you hear the term Blockchain in 2017?
No, then you definitely familiar with the term cryptocurrency or bitcoin. It's the most prominent technology that changed digital currency market completely and we have witnessed the impact over several economies, even 2017's scariest malware "ransomware" was based on cryptovirology that ransom for cryptocurrency – bitcoin.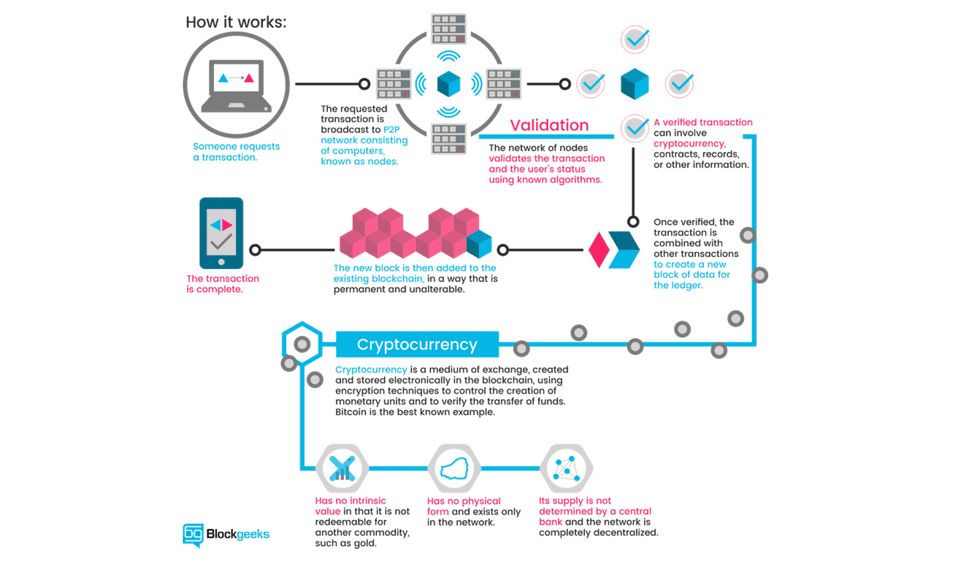 Apart from cryptocurrency, we have also witnessed the growth of mobile payment applications in previous year, which allows you to purchase online using your wallet money. The change encourages giants like- Google, Apple, Samsung, etc. to enter into the industry through their easy to use mobile wallets and pay applications.
- Artificial Intelligence and Machine Learning
Google has completely changed the search engine algorithm after the implementation of AI and machine learning that captures user's preferences & interest and refine results accordingly. After the success of Google, AI and machine learning also included in mobile app development to make a user more satisfy in IoT apps, Virtual Private Assistants, Security and more. According to the IDC (International Data Corporation), AI revenue predicted to grow $47 billion in 2020.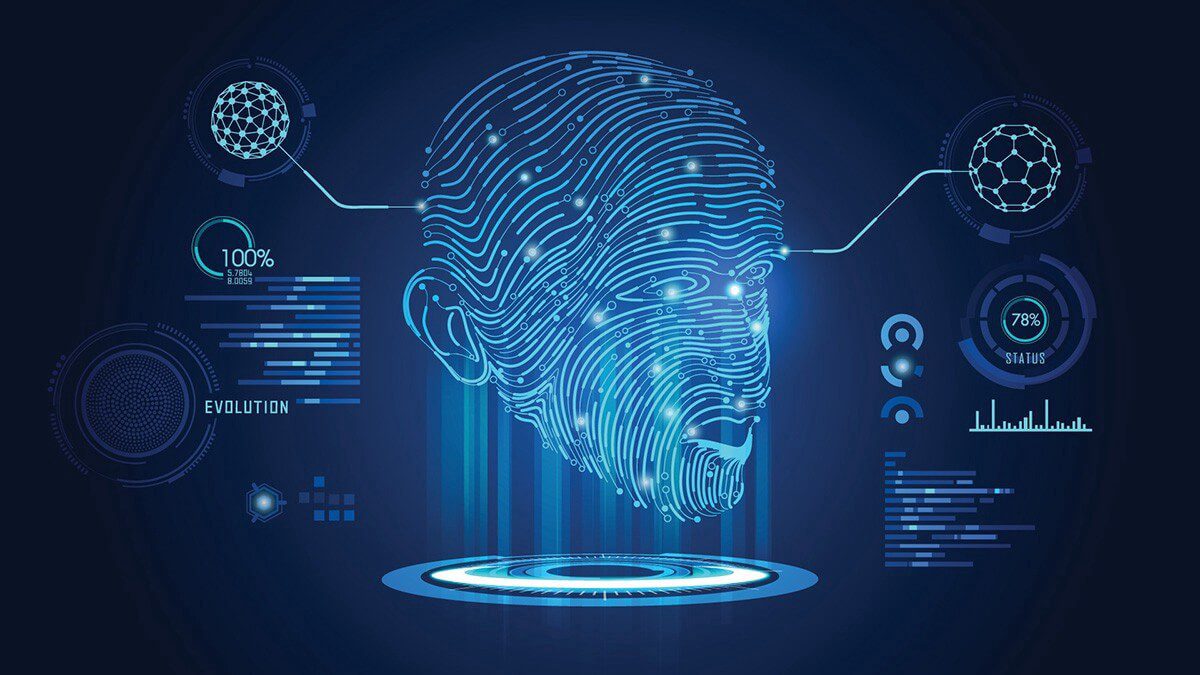 Default applications like – SIRI and Google Assistant are based on AI and learn user behavior to provide the best solution for their queries. Even, several industries like – Real Estate, Retail, Education, Banking, etc. adapting AI and machine learning for their applications to provide user centric data based on their behavior over the app.
This trend isn't a new one, but it will surely boost up in 2018 as the market requires more accurate results and business wants to capture audience attention to gather sales and machine learning will surely help them to target their audience with VPAs, push notifications, and chat boxes.
- M-Commerce and Cloud Tech
Growth in digital currencies, mobile payments and instant apps, encourages business entities to enter into M-Commerce and it will surely gain a raise in the current and upcoming years. By having an M-Commerce application, in your wearable or in your handheld devices with acceptable payment modes, you will be encouraged to perform shopping at anywhere anytime. This will also enhance users' selling and buying behavior and help a biz to grow their ROI.
Do you have a great product range, but still depended over retailing? If yes, then don't worry, we will help you to build trending M-Commerce Application under your budget. Let connect with us and discuss your biz concept with our expert, now!
While the market trend encourages a biz to enter into M-Commerce, therefore it also encourages a developer to produce a space savvy application, which enhances inclusion of Cloud tech in mobile app development to fetch the data. Cloud Tech will surely enhance their market, and it also stated by CISCO that it will drive 90% of total mobile data traffic by 2019. Take a look at the research result beneath, presented in a chart: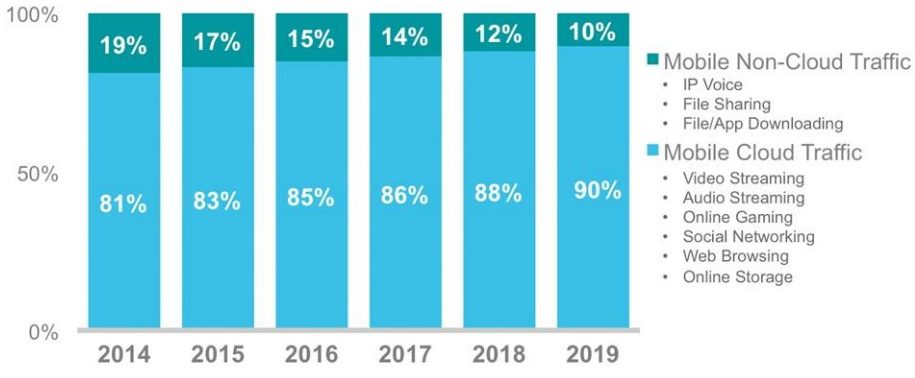 With an enhancement of technology, the dark side of it also increases as increase in hacking attempts, which we have witnessed in previous years. It makes more sense, when we talk about M-Commerce, Mobile Payments, mobile wallets, Blockchains, and alike, where we used to save our information on our handheld devices and always surrounded by the fear of theft.
In 2018, Cyber Security will dominate the market and provoke developers to develop security enabled applications. As users aren't aware about security, so developers need to enable it at their own end and make their application more secure, more advance and more performing. The leading organization – Apple, already adapt it and shift to its own programming language – Swift from Objective-C.
So, let's make your move now and include built-in security features in the applications, you are going to build in 2018.
Bonus Tips for Mobile websites!
Being a user, we used to face loading issues with images or other media files and it provoke us to close that web page immediately without waiting for long. This causes higher bounce rate to our landing pages and marked it as a negative relevance by the machine learning algorithms.
Dexterous Mobile App Developers already identified the solution for it and implemented it in several web applications and pages to avoid negative impact over user experience. This solution is called – Lazy loading and it allows images & other media files to load when their turn on the page comes.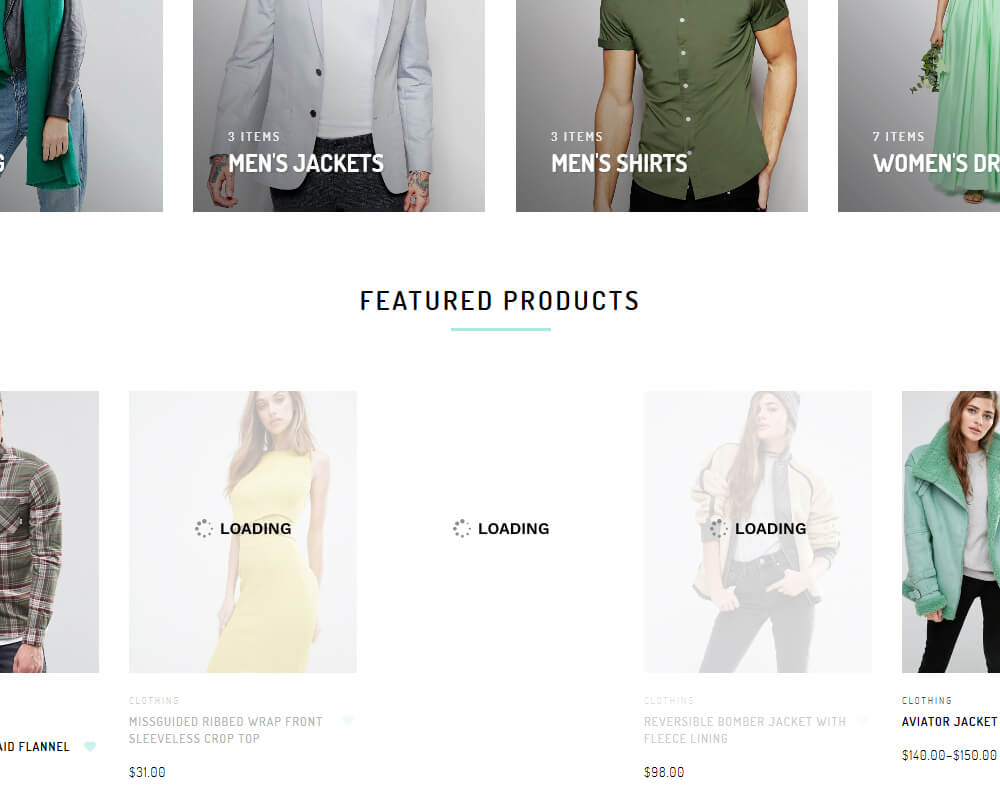 2. Accelerated Mobile Pages (AMP)
Since the announcement of Google to switching over mobile-first index, experts worked on different trends to make a website more mobile friendly using responsive designs, mobile sites, and Accelerated Mobile Pages.
In 2017, we have seen several ranking changes on mobile searches for AMP enabled websites and recently, the page speed insight update on loading speed that indicates Google's move on better speed and better search result.
As the name indicates, it will accelerate loading speed of a webpage on mobile devices through stripped-down version of HTML.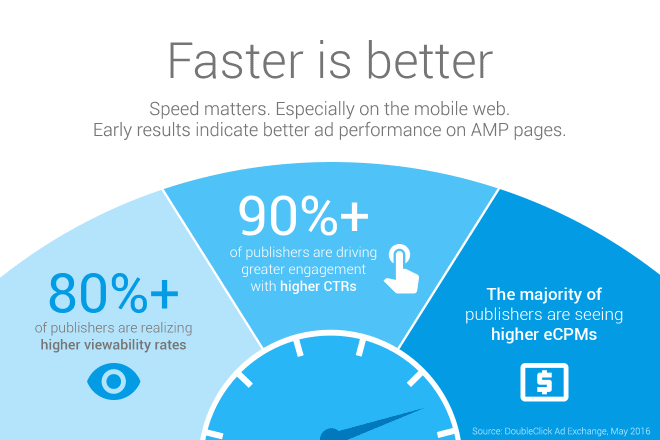 The fast loading feature will surely witness lowered bounce rate for businesses and improved performance on all mobile devices along with better Return on Investment (ROI). So, be ready to improve user experience by adapting Accelerated Mobile Pages for your business in 2018.
Users are surrounded by the mobile computing and even addicted, which encourages them to look out for the solutions that still apart from the axis of mobile devices. They have already connected their home appliances, their banks & financial institutions, their social networks, their buying capacity and alike with their mobile devices and in 2018, it will be enhanced due to the trends of IoT, AI, Machine Learning, M-Commerce, Mobile payments, Cloud Tech, and AR/VR applications.
So, try to tie those trends with your mobile app development and lead the market in 2018!